We use affiliate links. If you buy something through the links on this page, we may earn a commission at no cost to you. Learn more.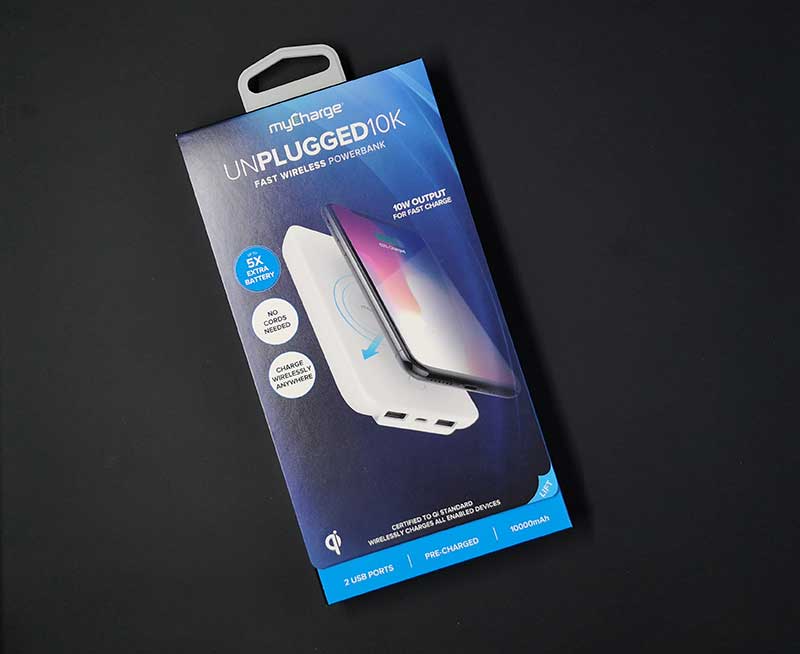 REVIEW – Powerbanks, external batteries, portable chargers, no matter what you call them, they are useful accessories to have in your gear bag for those times when you have no access to a wall outlet and your smartphone or other gadget has run out of juice. Powerbanks aren't the most glamorous gadget and pretty much only do one thing and that's charge a device. But today I'm going to show the myCharge UNPLUGGED 10K fast wireless powerbank that has an extra feature that increases the convenience of an already convenient product.
What is it?
The myCharge UNPLUGGED 10K fast wireless powerbank is a 10,000mAh 10W backup battery that has 2 built-in USB ports and built-in Qi wireless charging so you can charge three devices at once.
What's in the box?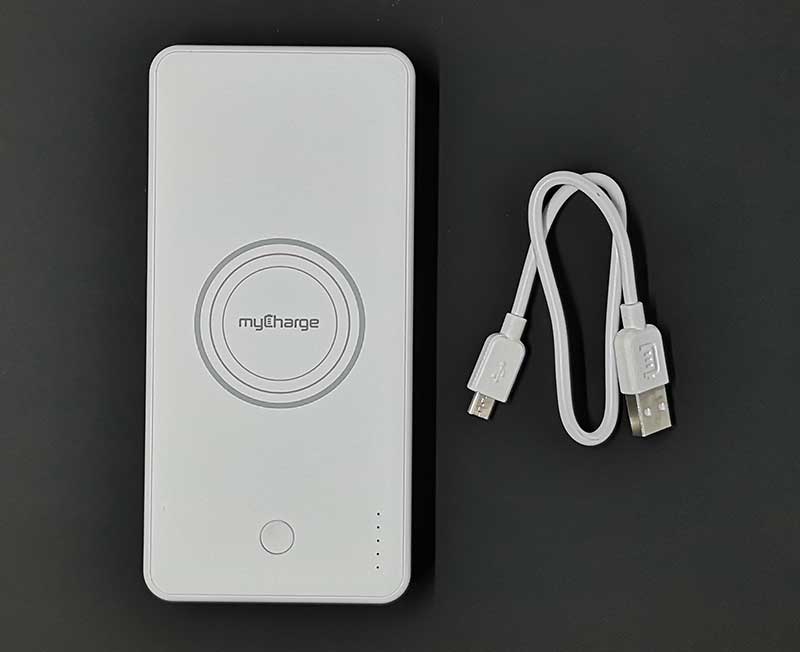 myCharge UNPLUGGED 10K powerbank
micro USB cable
Specs
Battery: 10,000mAh Lithium Ion
Product Dimensions: 2.8 in x 0.8 in x 5.8 in
Product Weight: 0.4 lbs.
Wireless Output: 10 Watts
USB port delivers 2.4A output
Design and features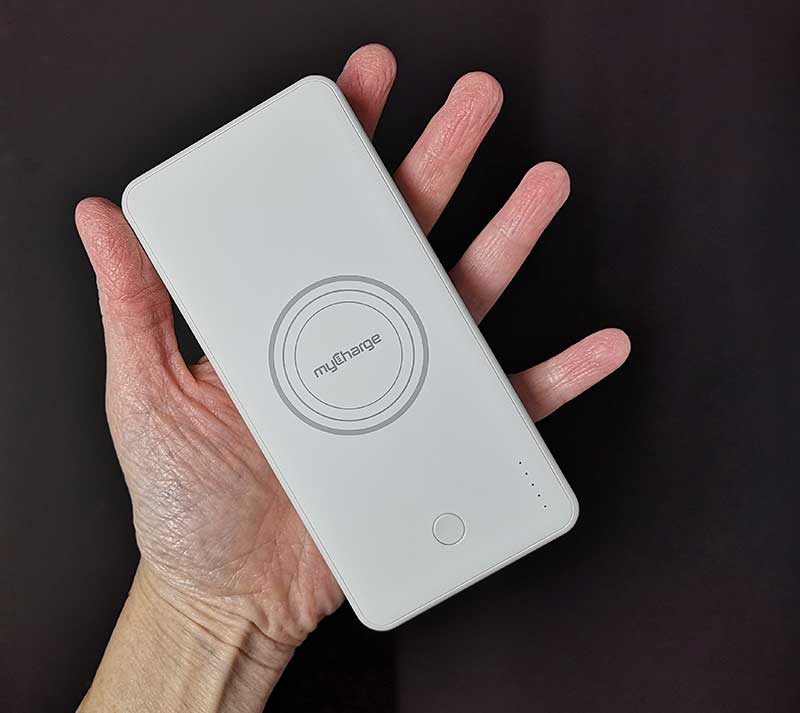 The UNPLUGGED 10K is a powerbank with a soft-touch white shell and a power button that turns on the wireless charger and is used to see the battery capacity by lighting up the row of status LEDs on the top.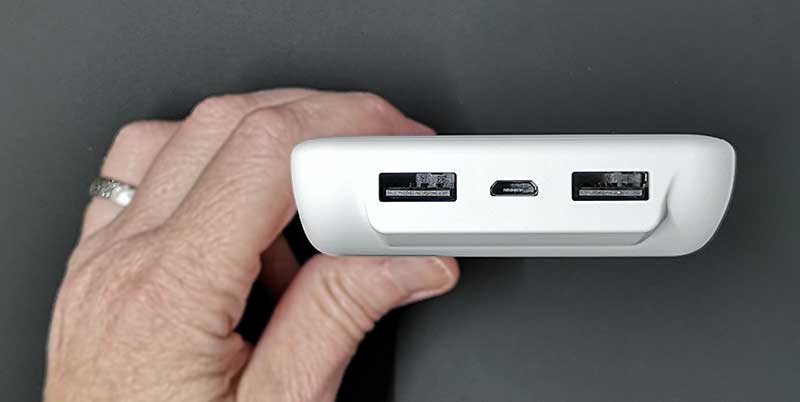 On one end are 2 USB-A 2.4A ports and a micro USB port that is used to recharge the powerbank itself. Note that this powerbank has pass-through charging which means that you can charge the myCharge at the same time the myCharge is charging up to 3 devices.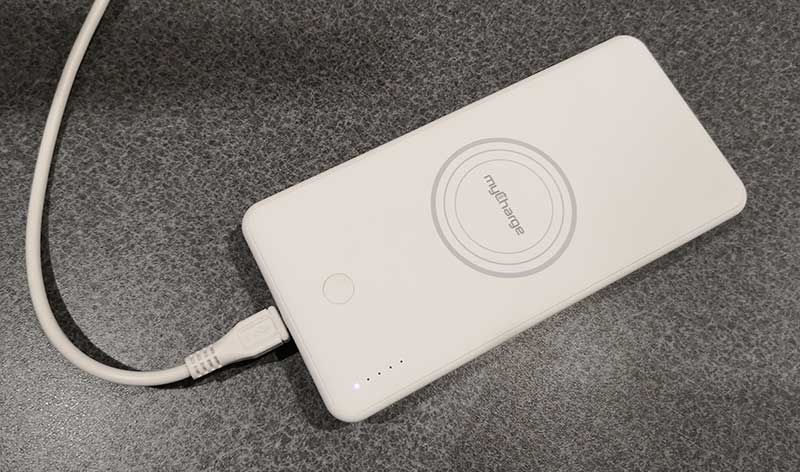 The UNPLUGGED 10K powerbank comes pre-charged and ready to use. But when it needs to be topped off, you just plug in a micro USB cable and let it juice up until the 4 white LEDs light up.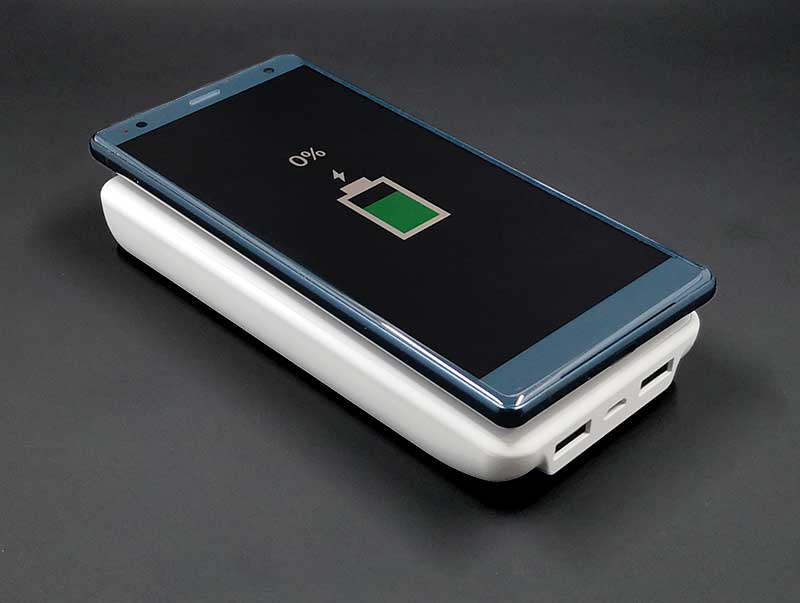 My first test of the myCharge was to see how quick it could re-charge a Sony Xperia XZ2 from flat to full. Here are the results.
Started with battery at 0%
30 mins battery 11% charged
60 mins battery 24% charged
1 hr 30 mins battery 38% charged
2 hrs battery 50% charged
2 hrs 30 mins battery 62% charged
3 hrs battery 71% charged
3 hrs 30 mins battery 81% charged
4hrs battery 92% charged
Test end
In another test, I connected my Pixel 2 XL and my drained Rowkin micro Touch Bluetooth earbuds to the myCharge the next day after my Sony test.
Pixel 2 XL battery at 29%, Rowkin earbuds 0% (or what appears to be 0%)
30 min Pixel 2 XL battery 47% charged, one Rowin earbud fully charged, the other still charging
1 hr 10 mins Pixel 2 XL battery 75% charged, Rowkin earbuds fully charged
2 hrs Pixel 2 XL battery 86% charged
2 hrs 30 mins Pixel 2 XL battery % charged
Test end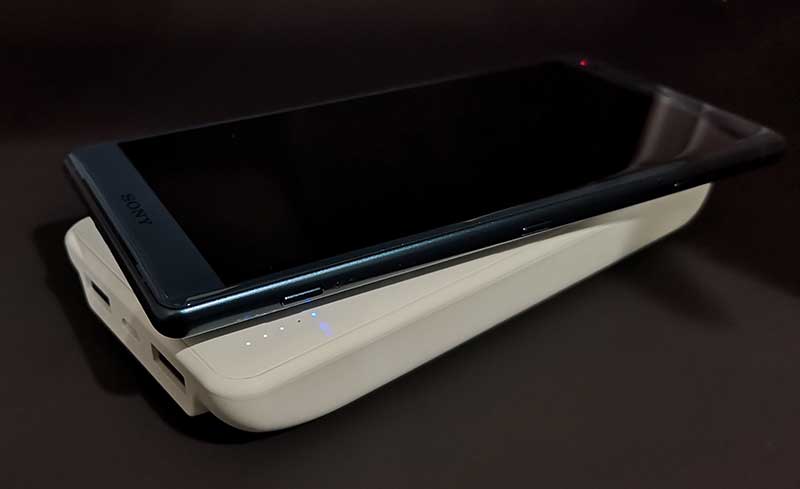 At the end of my 2 tests, the battery level of the myCharge UNPLUGGED 10K was down to just one lit LED.
What I like
Can charge 2 USB devices and 1 wireless device at the same time
Meets Apple and Samsung fast charge standard
Pass through charging – Can charge the myCharge AND charge 3 devices at the same time
What needs to be improved
Wireless charging is slow
Final thoughts
If you're in the market for a powerbank and you have a Qi enabled device like a newer iPhone, Sony Xperia or Samsung Galaxy, the myCharge UNPLUGGED 10K is a nice option because it offers the ability to charge those devices wirelessly and also charge 2 other devices at the same time. Even if wireless charging is slower than plugging in a cable, the fact that this one powerbank can charge more than one device simultaneously gives it an extra check mark for usefulness.
Price: $69.99
Where to buy: myCharge and Amazon
Source: The sample for this review was provided by myCharge.