We use affiliate links. If you buy something through the links on this page, we may earn a commission at no cost to you. Learn more.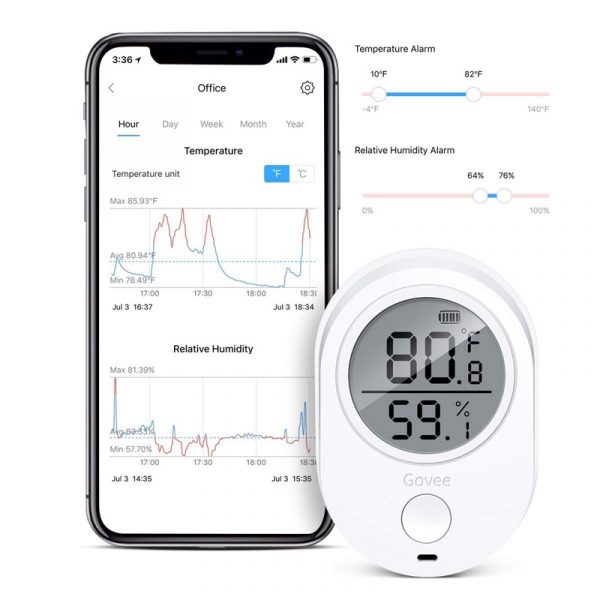 REVIEW – Are you one of those folks who think it's too cold at work? I'm the opposite! I always think it's too dang hot. Our office building HVAC system seems a little funny to me sometimes, so I thought something like the Govee wireless thermometer/hygrometer that logs data might come in useful.
What is it?
It's a battery-powered device that displays temperature and relative humidity on an LCD screen. The party trick is the ability to record up to 32,000 data points view the records over your smartphone via bluetooth.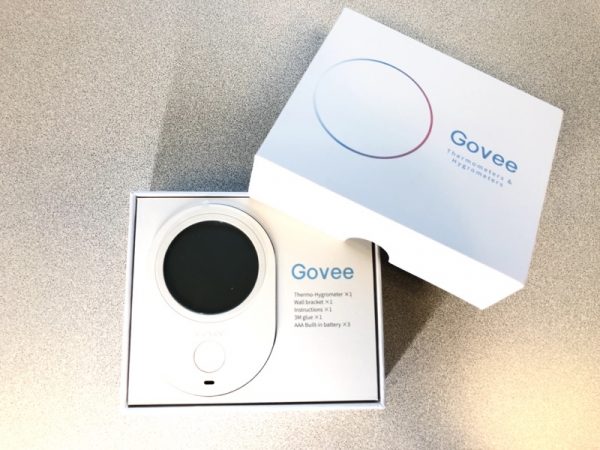 Hardware specs
Temperature Accuracy: -20°C to 60°C (-68°F – 140°F)

Humidity Range: 0 – 99%

Humidity Accuracy: ±0.3%

Dimensions: 40mm x 40mm x 16.5mm / 1.57″ x 1.57″ x 0.65″

Weight: 40g / 1.4oz

Battery: AAA (included)

Battery Life: Typ. over 1 year (more in normal conditions, less in extreme cold)

Sampling Interval: Every 2s

On-board Data Storage: 20 days

In-App Data Storage: 2 years

Compatibility: iPhone, Android
What's in the box?
You get the Govee device, a mount with peel-off adhesive, and documentation. AAA batteries included!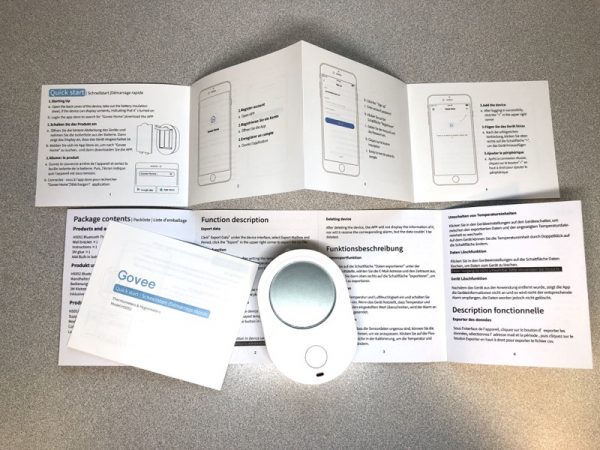 Design and features
There's not a whole lot with the device itself. There's only one button on the front to switch between Celsius and Fahrenheit.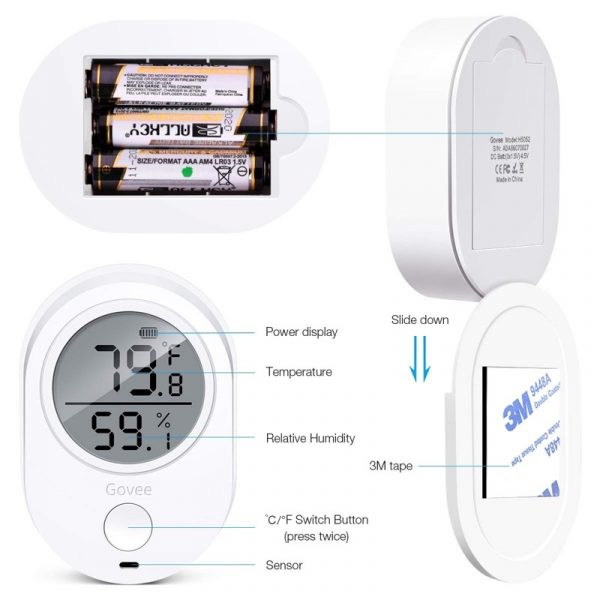 Don't forget to pull the little plastic tab from the included batteries!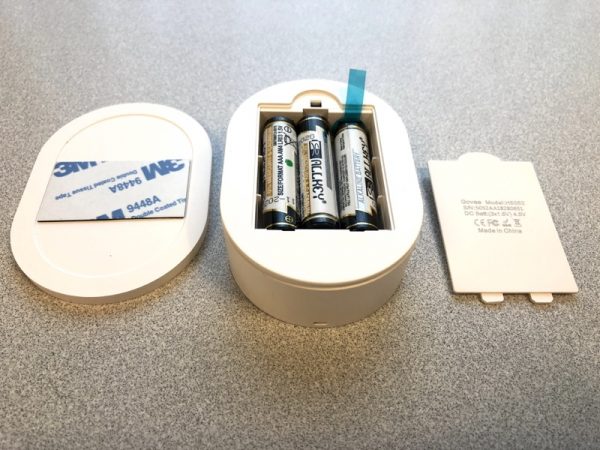 The device itself fits in the palm of your hand, with an easy to understand LCD display with a battery icon on top.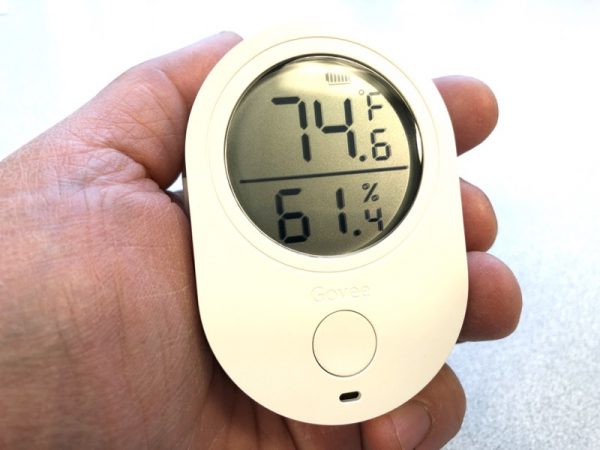 Setup
I downloaded the iOS app "Govee Home", shown below. It's free.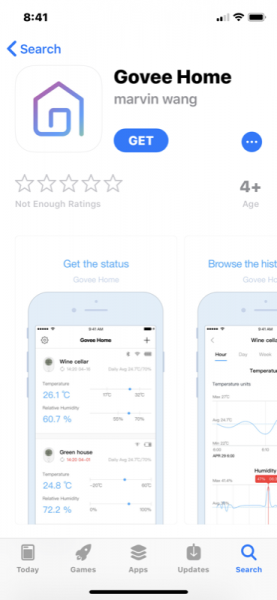 For some reason, you have to sign up with an email and password.
UPDATE: I found out the reason for the account signup! It's to store the temperature and humidity data. According to the manufacturer (emphasis mine):
Govee smart thermometer & hygrometer comes with free online cloud storage service, which allow people to store the data of temperature and humidity online. The latest 32,000 data storage is kept in the device itself, which is about 20 days data. We offer TWO YEARS data storage service for free for every customer. Those extra data over 20 days need to keep online, that concerns your account registered in Govee. More than that, once you set up an account with your email address in Govee, you can connect to as many Govee smart thermometer and hygrometer as you can. For example, if you have 5 Govee thermometers for different places, you can connect all of them to your Govee account, no extra registration. Last but not least, all accounts registered are protected by data encryption service, feel free to use Govee smart thermometer/hygrometer! Actually we have improved the setting up process, that's the best way we got from over 30 plans!
Performance
Once your smartphone is paired with your Govee, you can make changes to your settings. Note the temperature alarm slide on the left. I set the upper range to 80F to see what would happen. More on that later.
On the right is a snapshot of the data over a brief period. You can slide the records left and right in time.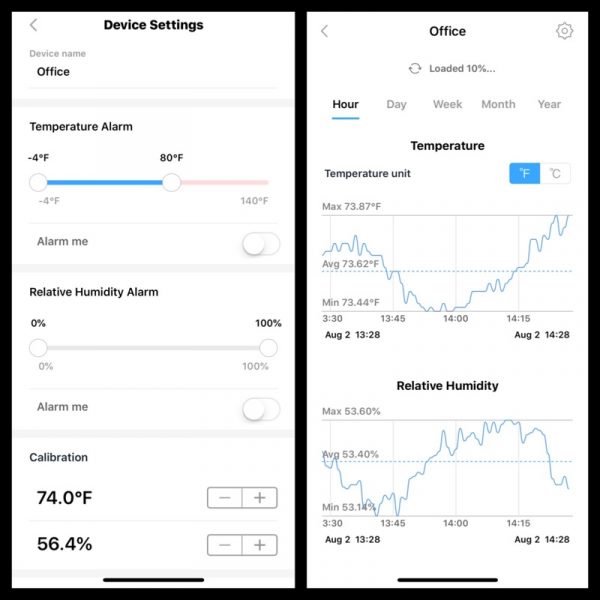 Once the data is uploaded to your phone, you get the grammatically questionable "Complete to upload the data". (Attention programmers: "Data upload complete" is shorter and better.)
I let the Govee sit in my office for a week to get a sense of what was going on with the temperatures. See the red peaks on late Saturday and Sunday? Those are times when the recorded temperature exceeded the limits I set at 80F. It appears that over the weekend, the air conditioning (what little there is) is shut off to save energy.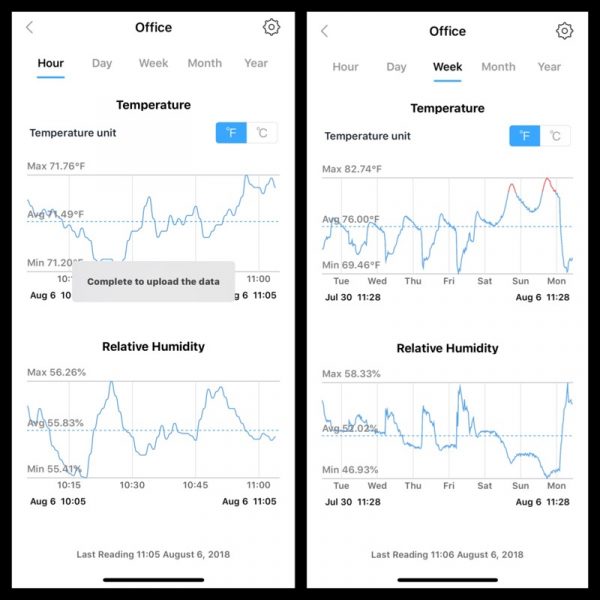 What I like
Simple to set up. Data is easy to interpret on a smartphone.
What needs to be improved
The grammar choices bug me a little, but only if you're picky!
Final thoughts
Easy, straightforward, and batteries included. I like it!
Price: $42.99
Where to buy: Amazon
Source: The sample for this review was provided by Govee.