We use affiliate links. If you buy something through the links on this page, we may earn a commission at no cost to you. Learn more.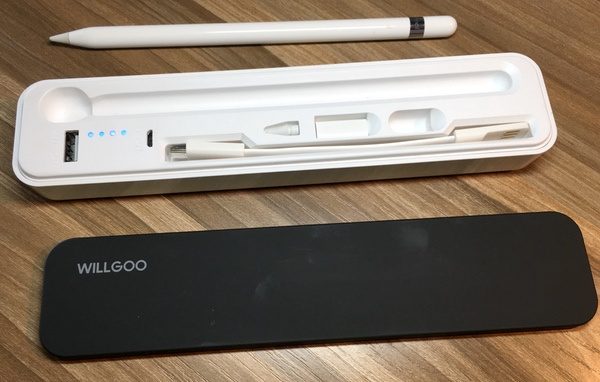 REVIEW – Tired of hauling your Apple Pencil accessories around in a zip bag so that you don't lose them? Me too. The Willgoo carrying case solves that problem for you and acts as an alternative charging source for your Pencil to boot. Let's have a look!
What is it?
It's a travel case for your Apple Pencil and all its accessories that also serves as a charging station.
Hardware specs
Length: 7.95 inches
Width: 1.73 inches
Height: 1 inches
Weight: 5.2 oz
Battery Capacity: 1700mAh
Input: 4.2V
Output: 0.3V-4.2V
What's in the box?
The Willgoo Carrying Case comes with the case and a USB cable to charge the unit. You'll need to bring your own USB Lightning cable to charge your pencil.
Design and features
The Willgoo is a sharp looking case, made from solid hard plastics with a magnetic lid. The case itself is *just* a bit smaller than the Apple Pencil box itself (see pic below for reference). At roughly 8" by 1.75" by 1" it's not super-compact, but it does slide easily into open spaces or slightly larger pockets in your bag.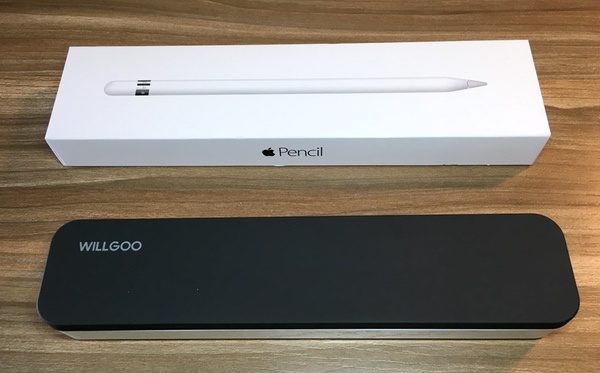 The hard plastic case does a good job of protecting your Pencil from knocks and bumps. The magnetic lid is secure enough that it won't come loose in the jumble that is your bag. It's also got a soft-touch padded on the underside to protect the components.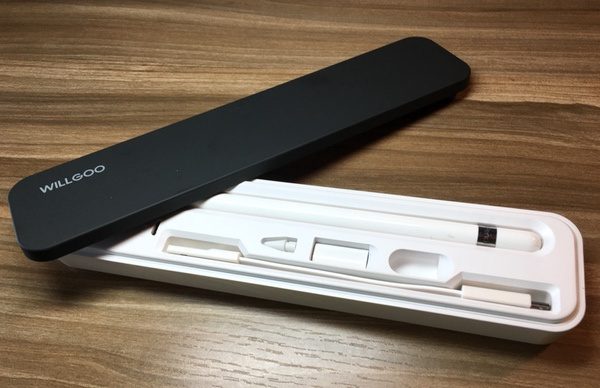 Pop off the lit and you'll find a set of slots for your Pencil, the charging adaptor, an extra nib & the Pencil cap when charging. The included USB-to-microUSB charging cable also has its own place. Everything has a happy resting place.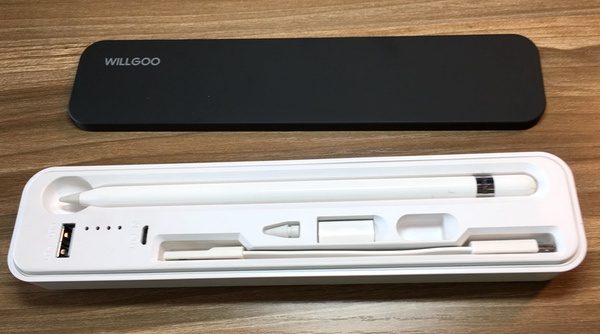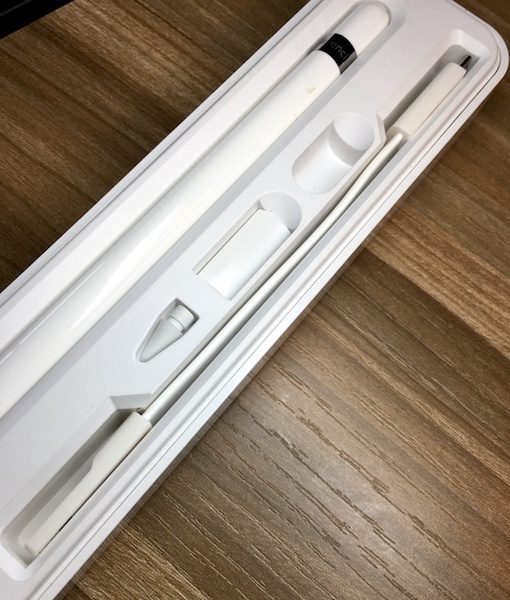 You'll also find two ports on the Willgoo: one for charging the unit (marked "input"), and one for charging your Apple Pencil (marked "output").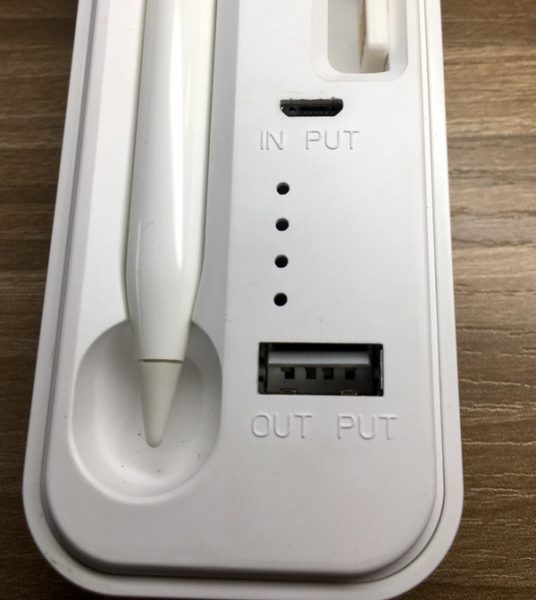 To charge the unit, you'll plug the included cable into the "input" micro-USB slot, and then into a USB port. Blue indicator lights let you know your charge level.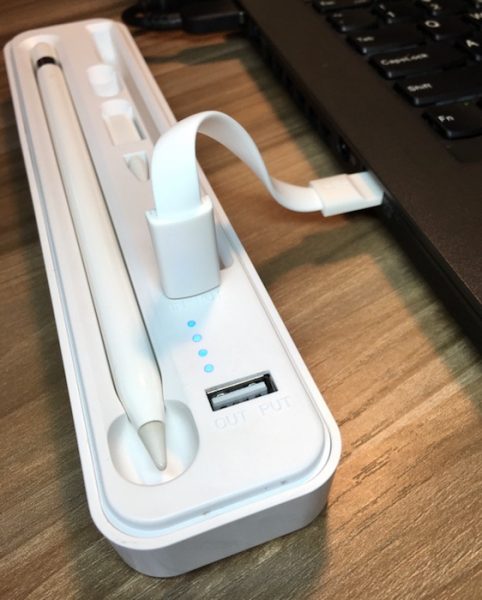 To charge your pencil, plug a lightning cable into the USB port on the unit. The same blue indicator lights are activated to let you know how much capacity the battery has left. Note that the cap sits nicely in its slot and hasn't run off to get into mischief…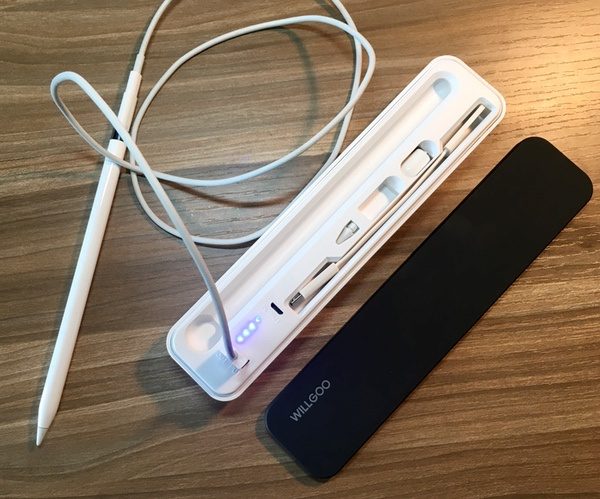 The case has a battery capacity of 1700 mAh, which will give you plenty of charges for the Pencil (86 mAh capacity). You could use it to give you a partial charge for other devices, but it won't get you too far.
Performance
The Willgoo Carrying Case and Power Bank for Apple Pencil solves a couple of storage problems. It's a great solution to keep around the office. I like the peace of mind it brings… I was always worried about losing the cap or that little charging adaptor. Mine is parked on the desk in my family room, keeping the whole kit in one space when I need it.
As far as travel and commuting go… well, it depends on your intended use.
For the day tripper, the Apple Pencil already has great battery life and portability. For that reason, most Apple Pencil cases are simply sleeves that you can attach to your iPad or a pocket. While this case does give you a spot for all your components, it is a bigger solution that will take up space in your bag. It seems like the unit is excessively beefy for what it holds and does, so carry minimalists may not be a fan of the solution.
If you're traveling and foresee a need to charge your iPad on the go, you're all set here. It will happily find an open space in your backpack, carry-on or messenger bag (or larger briefcase) and give you quick access to all the parts. While the charging capability isn't an absolute necessity, it gives you a nice option if you need it. I'd like to see a design that's a bit more compact, but the pros outweigh the cons in my mind.
I should also note that the components do sit loosely in those little slots. If you turn the case upside down with the cover off, they will spill out. It's something to consider if you're on the run.
What I like
A well-organized solution for your Apple Pencil & accessories
Nice protection in your bag or briefcase
Magnetized lid
Charging feature is a bonus, but not completely necessary
What needs to be improved
Could be more streamlined; probably too chunky for those with minimalist bags like thin briefcases or portfolios
Components will spill out of the case is flipped over with the lid off
Final thoughts
The Willgoo Carrying Case and Power Bank is a nice solution for managing the Apple Pencil and its components. There are a few things I'd change in the design, but it's a solid overall performer that has found a place in my daily kit. I'm happy to send the zip bag I was using for those little parts to the recycling bin.
Price: $25.99
Where to buy: Willgoo web site and Amazon
Source: The sample of this product was provided by Willgoo.