We use affiliate links. If you buy something through the links on this page, we may earn a commission at no cost to you. Learn more.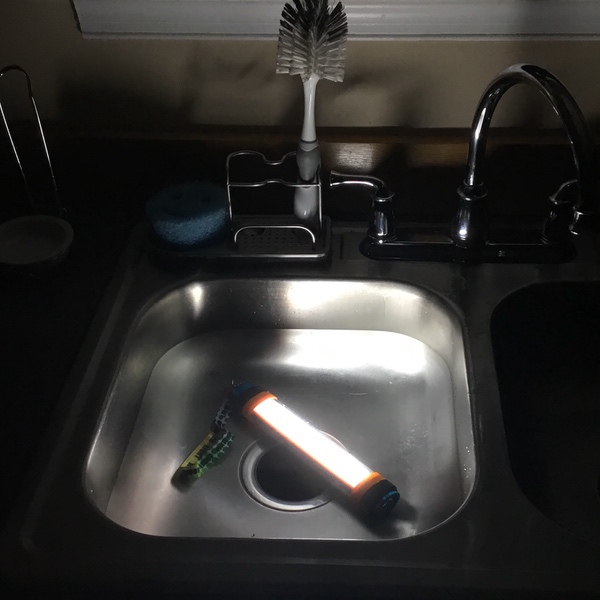 REVIEW – Yes, that's a flashlight submerged in a sink full of water. That's the kind of thing we do! The Audew Multi-function Flashlight has multiple light functions, clips on metal surfaces with magnets, and can even charge your smartphone in a pinch. And it's completely waterproof. It's very handy to keep around. To the review!
What is it?
It's a waterproof, rechargeable, multi-function flashlight that can also charge your devices. Did I mention it's also submersible?
Hardware specs
9.4 inches long
8.5 ounces
IP68 waterproof rating (submersible to 3 meters)
Rechargeable lithium battery
5200 mAh capacity and built-in USB port for device charging
Magnetic base for attaching to metal objects
What's in the box?
The Audew Multi-function flashlight comes with the flashlight, a carry lanyard, and a USB-to-microUSB cable for charging.
Design and features
A lot of multi-function electronic gizmos are a mixed bag of performance, slapping all kinds of components together In a package that may (or may not) work as a whole. I'm happy to report that the Audew Multi-function Flashlight is NOT one of those. It's all about lighting your way, and it does the job very well with a few bonus features that enhance it's utility.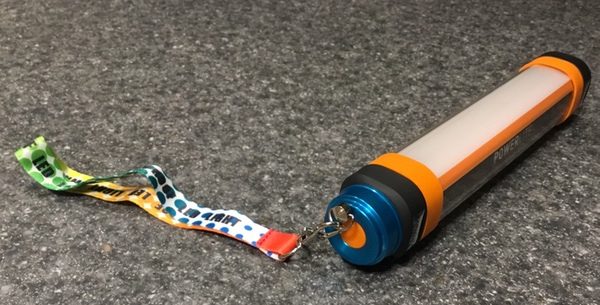 The baton-like form factor of the Audew Multi-function Flashlight is great to handle. It's made from durable thermoplastics with metal caps and rubberized rings at each end that, along with the squared body, make it easy to grip. It's also extremely lightweight at a mere 8.5 ounces and 9.4 inches long, so you can toss it in your glovebox or toolbox without adding all that battery weight. The vinyl leash is also handy for carrying around.
The Audew features multiple lighting modes, activated by pushing the rubberized button on one end. There's a traditional flashlight mode with the bulb on the opposite end, and a bar-style light that runs the length of the body.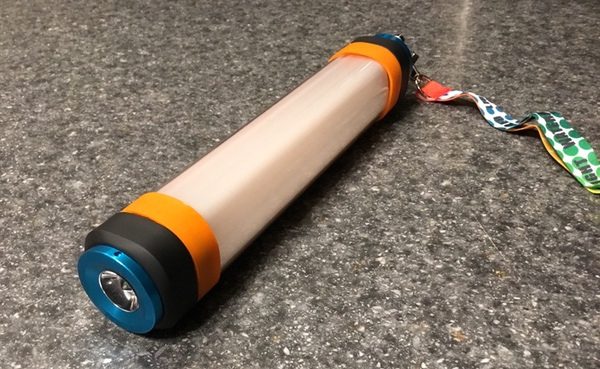 Flashlight mode is pretty straightforward. I caught this Tiki sneaking around my back yard…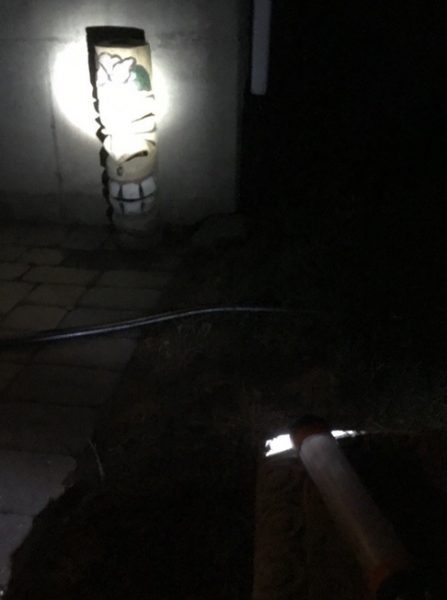 The bar light features 5 different lighting modes: low/medium/high brightness white lighting, an orange bug-repellent light mode, or an emergency mode that alternates blue and red flashing lights. You can cycle through the modes with a click of the button, or press and hold the button to turn it off. You can go for 10-35 hours between charges based on which lighting mode you are using.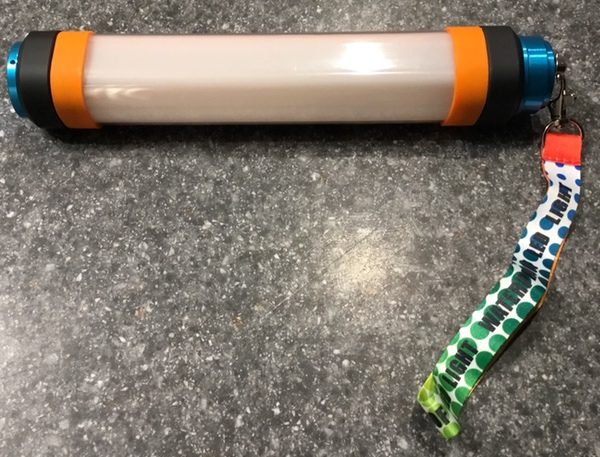 Here's low and high white-light mode, useful for lighting up your campsite or work area: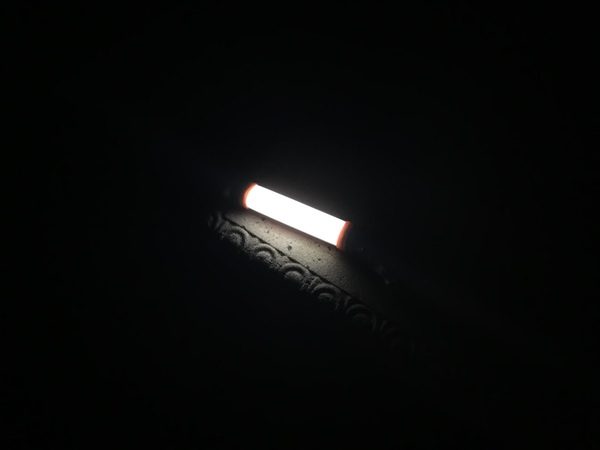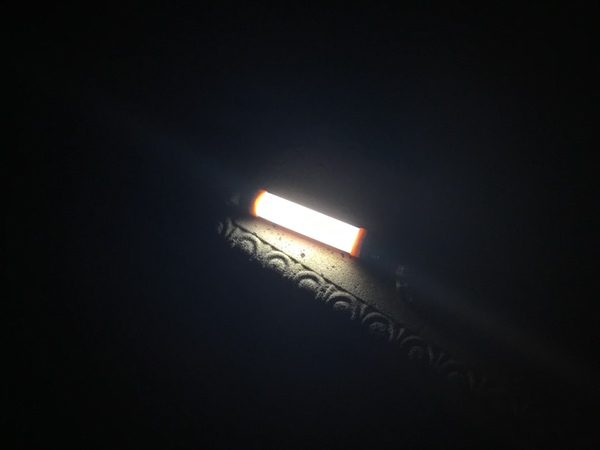 Here's "bug light" mode, which claims to repel mosquitos: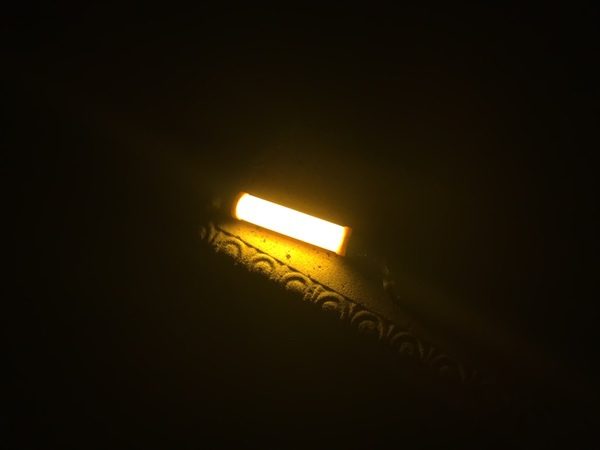 There's also and emergency that flashes between blue and red. I was having trouble catching the switch on my camera, but it would be very useful to stick on the hood of your car if you were changing a tire in the dark: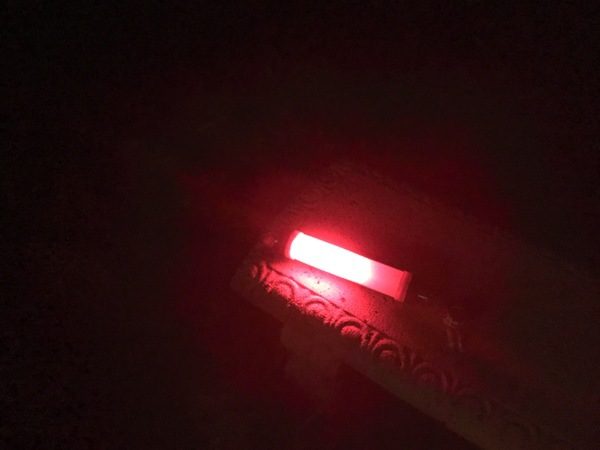 In addition to multiple lighting modes, the Audew has a few more tricks that add to its utility. There is a pair of magnets side of the flashlight so that you can attach it to any metal object like a car hood or metal toolbox. There's a D-ring on one end with a lanyard so you can hang it inside your tent, lash it to a tree branch, or attach near your workspace.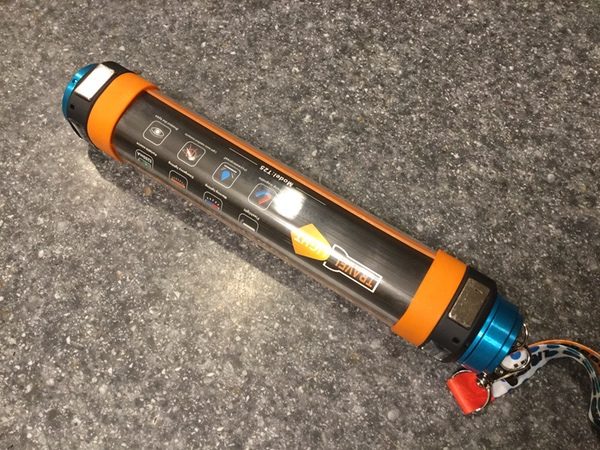 Here I have it attached to the door of my car. If you've got one of those all fiberglass bodies, it won't help much… but you could attach it to any bit of metal: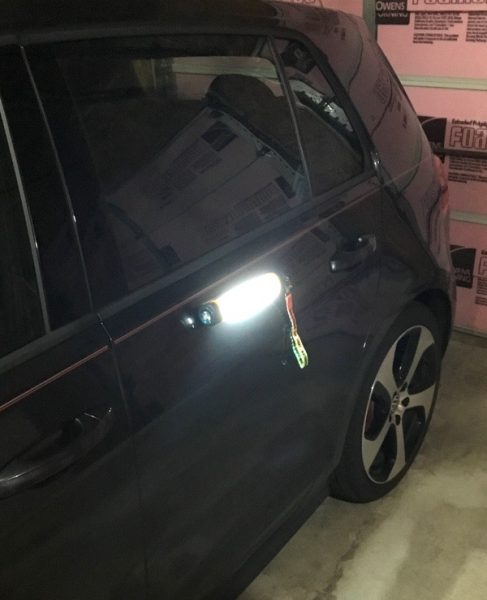 It also has an IP68 waterproof rating, which means it is submersible up to 3 meters, both end caps are sealed so that you don't have to worry about leaks. Drop it in a puddle, tie it to the side of your boat, get it wet… Audew doesn't care. I dropped it in a sink full of water for 10 minutes, dried it off with a towel, and it laughed at me. Been using it ever since. I can't say that about every "waterproof" electronic device I've tested.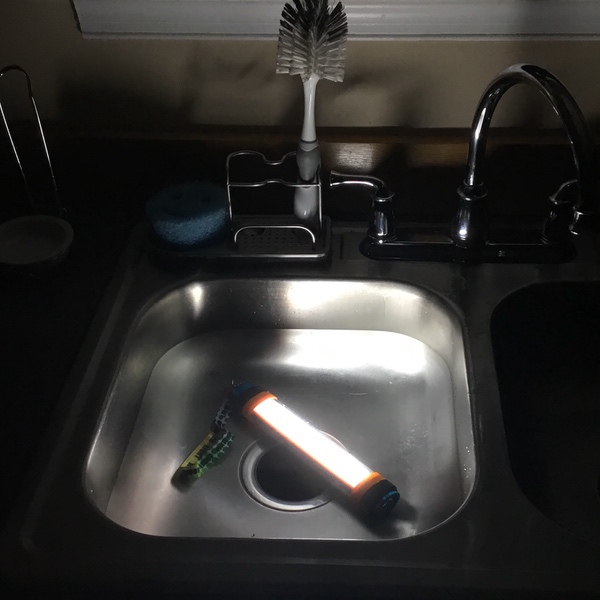 The charging port is located under the cap with the control button. Unscrew the cap to charge the flashlight with the included USB to micro-USB cable. There's also a USB port stashed there that you can use to charge your electronic devices. It's rated at a 5200 mAH capacity. That won't get you very far as a charging device (roughly 2-3 charges on your iPhone 6 at full charge), but it's a great feature if you're stuck in a pinch or lose power in the house (or car).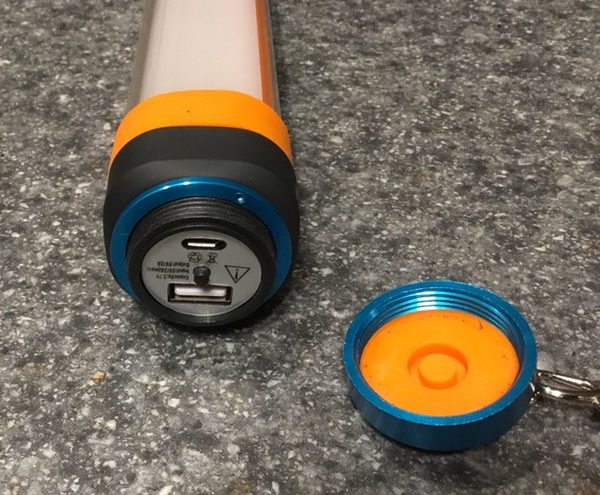 Performance
The Audew Multi-function Flashlight is a great little lighting multitasker that has a whole bunch of practical uses. I love this little guy as a general work light, especially for tight maneuvers like working under a sink. The waterproof feature is also great if that pipe just won't stop leaking. We've all been there. Its solid construction will take some bumps and bruises if you have butterfingers as well.
I really like the idea of getting one of these for each of our cars as an emergency light. I tested the light at full charge and full bar-light brightness and got more than the 8 hours of rated run time before it faded. It will go longer in lower power modes, up to 35 hours in the low-light setting. Good to have in an emergency. That blinky red-blue mode would also be useful if I ran into a roadside issue.
We'll be going on a camping trip in August, and I'm looking forward to testing it out in the great outdoors around the campsite. It doesn't have a super-low light mode for use as a night light, but you can clip it to a carabiner at the tent peak for interior lighting. Not having to lug a bunch of replacement batteries in my gear bag will be a nice space saver, and I'll be interested to see how the bug-repellent orange light mode works around the campfire. I'll post updates on this as we test it. I also plan on testing this with my product photography over the next few months; the ease of handling and multiple hanging modes will make it ideal for adding background lighting.
All in all, it's a great tool that also comes at a great price. You can pick one up for under 25 bucks on Amazon Prime. I'll test the long-term durability over the next few weeks, but it looks like a keeper so far.
What I like
Durable, lightweight, and compact
Long-lasting charge
Multiple ways to hang and carry
Backup charging for your smartphone in an emergency
Waterproof
What needs to be improved
Final thoughts
I really like the Audew Multi-function Flashlight. It's mission-focused and has a set of nicely related functions that work well together. The tough construction is ready for some punishment, and the waterproofing means I can use it for all kinds of household projects and outdoor activities. I'm going to pick up several more of these for the house and the cars.
Price: $22.99
Where to buy: Amazon.
Source: The sample of this product was provided by Audew.