The Gadgeteer is supported by readers like you! If you buy something through links on our site, we may earn an affiliate commission at no cost to you. Thank you! Learn more.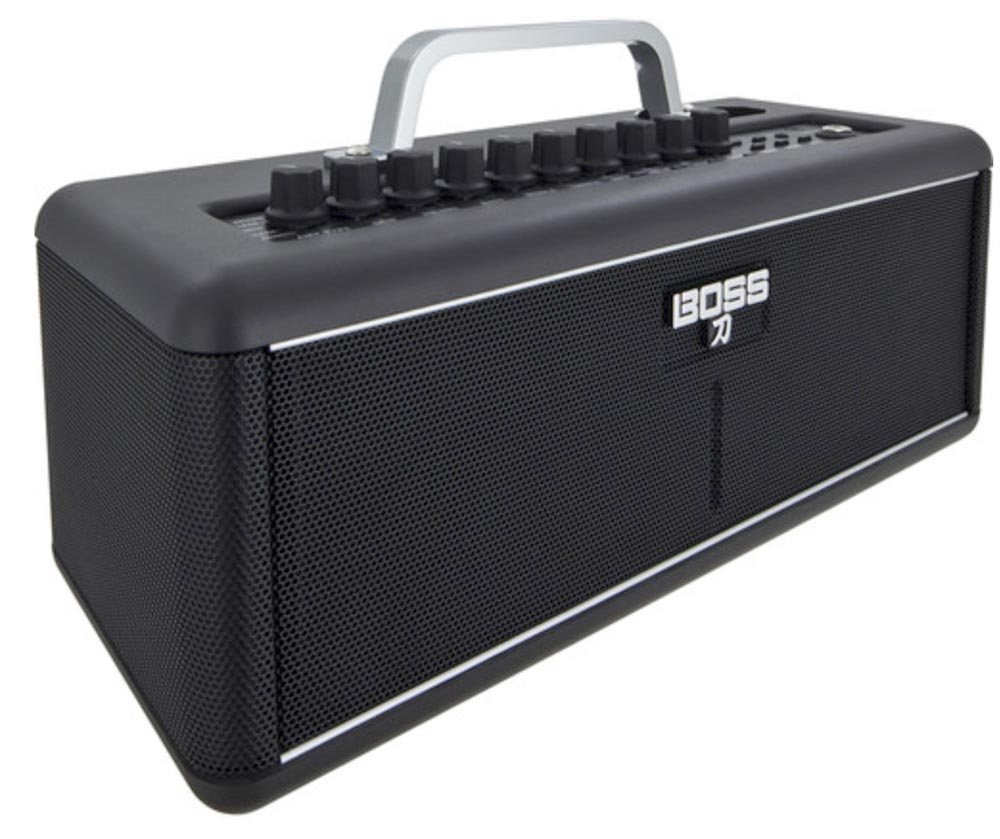 NEWS – I don't know if it's truly the first, but the BOSS Katana-Air 30W Stereo Combo Amplifier comes with a proprietary wireless transmitter to connect to your guitar to the amp.  The Katana-Air is a true stereo amplifier with two custom-tuned speakers.  You're ready to play anywhere with this BOSS.  It provides 30W of audio power when plugged into a power outlet or 20W when running off battery.  The amp uses "low-latency digital-wireless guitar technology developed by BOSS to provide transparent sound without any lag or dropouts."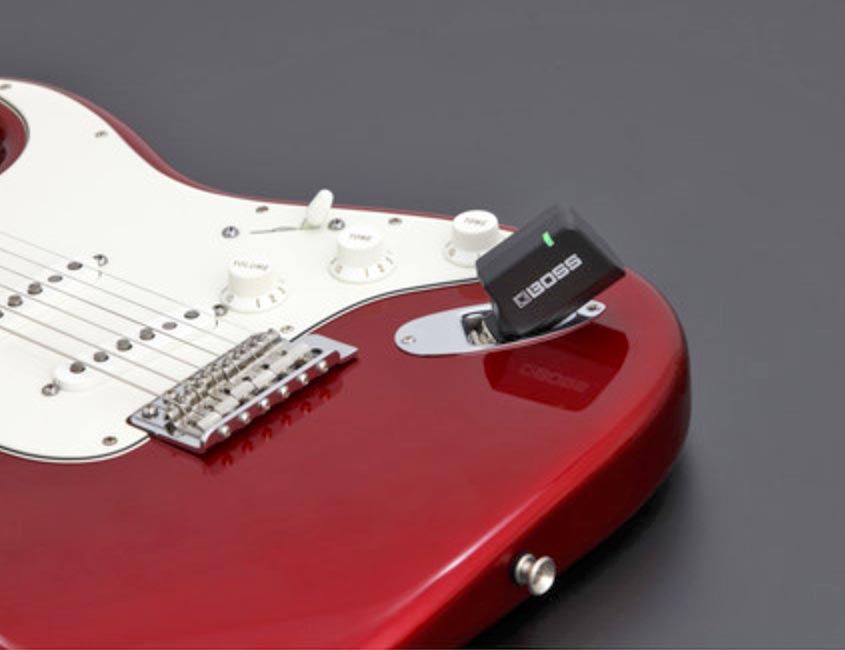 The guitar transmitter provides up to 12 hours of playing time.  It recharges with a dock on the amp itself.  It maximizes playing time by entering standby mode for both the transmitter and amp when you aren't playing.  When you pick up the guitar, the transmitter senses motion and turns on the amp.  The Katana-Air also has a headphone jack for silent practicing.
To be sure I don't miss anything, I'll let BOSS tell you about their effects and an associated app in their own words:
"Equipped with the same tones and sound-shaping controls found in larger Katana amplifiers, the Katana-Air offers timbres for any style. Five amp characters provide a wide range of tones, from sparkling clean to a custom, high-gain Brown sound evocative of a Marshall stack. There's even an Acoustic character optimized for playing acoustic/electric guitar. The amp also provides integrated access to over 50 BOSS effects, including modulations, delays, and reverb effects optimized for the Katana-Air's stereo speaker system. With six onboard memories, you can store and recall your favorite amp and effects setups at any time.
Available for both iOS and Android devices, a dedicated BOSS Tone Studio app gives you complete control of the Katana-Air right from your smartphone or tablet. You're able to adjust all the amp's panel controls, as well as access effects types and routings solely available from the app. You can also save setups to the amp's memories, organize sound libraries on your device, and download free patch collections directly from BOSS Tone Central. The app corresponds with the amp over Bluetooth."
When you aren't using the BOSS Katana-Air as a practice amp, it's a Bluetooth speaker for music playback from your computer or mobile devices.
The BOSS Katana-Air 30W Stereo Combo Amplifier with wireless transmitter is $399.99 at B&H.