We use affiliate links. If you buy something through the links on this page, we may earn a commission at no cost to you. Learn more.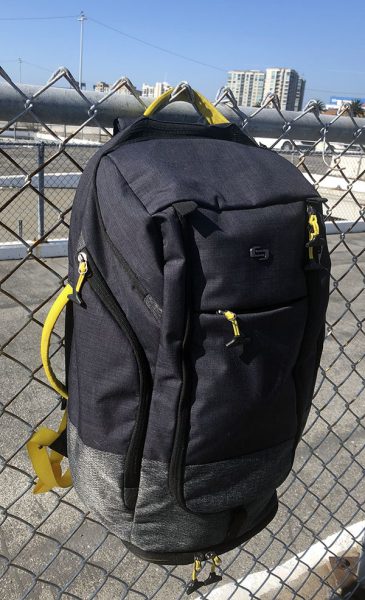 REVIEW – A good looking backpack with a clean silhouette, lots of pockets and organization at a great price? Sign me up, please. Click on through to find out more.
What is it?
The Everyday Max Backpack is an all-purpose pack from Velocity Collection of Solo NY that's meant to tackle all your needs in a single bag. Capable of carrying a 17″ laptop, gym clothes, water bottle and almost anything else you're likely to need in an average day, it does a really good job of living up to it's name and purpose.
Hardware specs
No hardware here, but that doesn't mean it doesn't have specs…
Dimensions: 21 x 13 x  8″
Weight: 2.4 lbs
17.3″ laptop compartment
Internal iPad/Tablet pocket
Separate shoe/gym compartment
Large zippered side pockets
6 additional pockets
Large centered 'duffle' opening
Padded carry handles (4!)
Padded straps and back panels
Design and features
Streamlined is the best word I can think of to describe this bag. The outside surface doesn't have bulges or unnecessary dangling things. When it's all zipped up it just looks clean. It's meant to hug your back and feel comfortable when hanging there.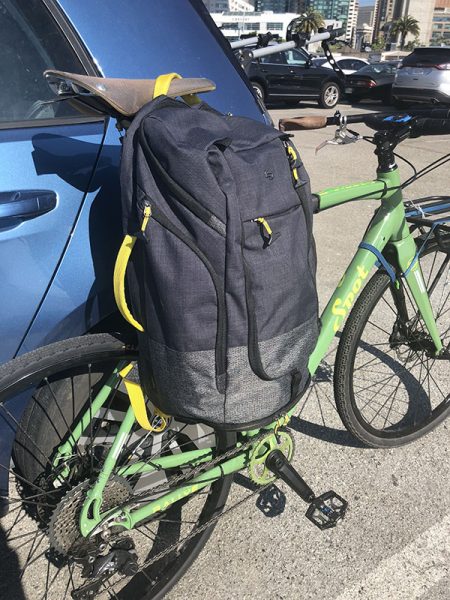 The outer materials are compromised of three main materials; a heathered ripstop in the lower third of the bag, a smooth twill in the upper two thirds and a tight air mesh used on the underside of the straps and the entire back panel.
The other details are as follows. The zipper pulls are all small T-handles threaded through the metal pulls in a typical outdoorsy way.
The handles and webbing are a slightly muted, but still bright yellow webbing with the former having a structural padded interior that amazing maintains its form over time and is comfortable to carry.
Never miss one of our posts again. Sent MON, WED, and FRI with the latest gadget reviews and news!
Setup
With a backpack, there is a setup step. Well at least for me there is. This is the step where you figure out what you're going to keep in each pocket and where your critical items live.
Some of these are obvious. The laptop, an iPad. Others like earbuds, cables, sunglasses may have multiple options… or none?
Let's lay out the bag, the organization and where all these pockets are…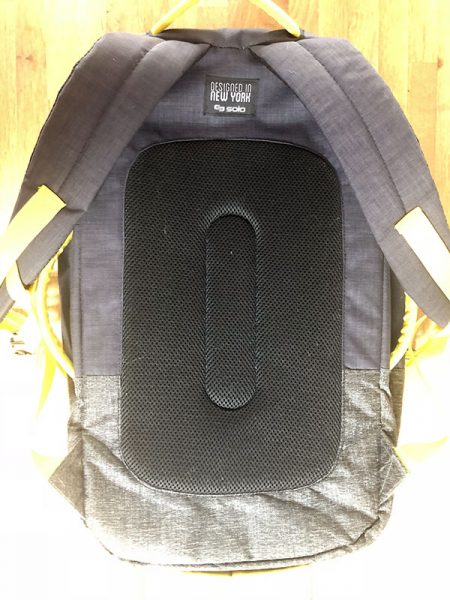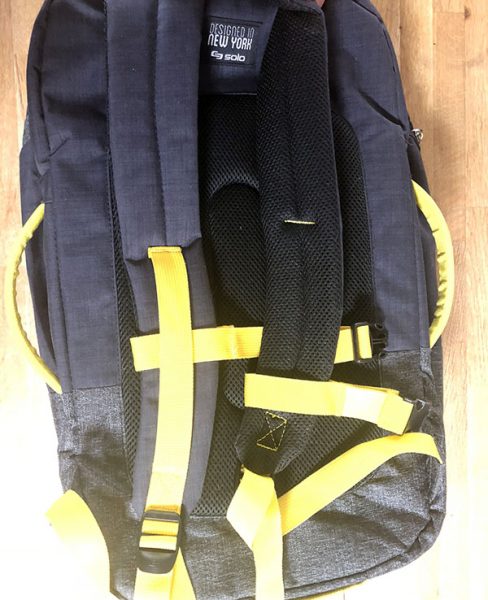 The back panel is fully padded along with the undersides of the straps. This material compresses well, doesn't thin out over time (so far) and isn't very slippery on top of outerwear. The straps have a durable webbing that holds its position well, not slowly slipping or being so hard to move that it's a pain.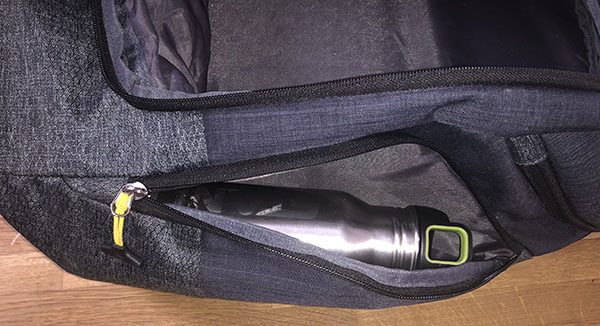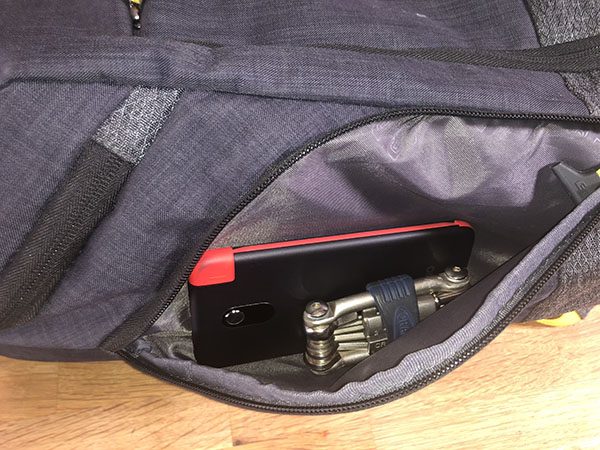 The side panels both sport large zippered pockets that are large enough to hold tall water bottles. As someone who's been hit in the head by my own bottle when bending over it's hard to understate how awesome this is, plus it's still separated from all the other stuff I'm carrying if my water bottle were to start leaking.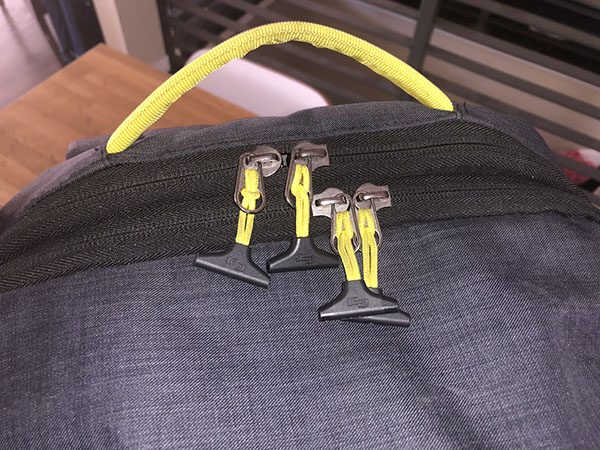 On the top, there are two zippers. The flat one opens into the laptop and tablet pocket. The other is on a bias and opens into the main compartment. Four zipper pulls on the top makes it very easy to open the wrong pocket. I'll likely cut off one of the two pulls for the laptop compartment to simplify a bit.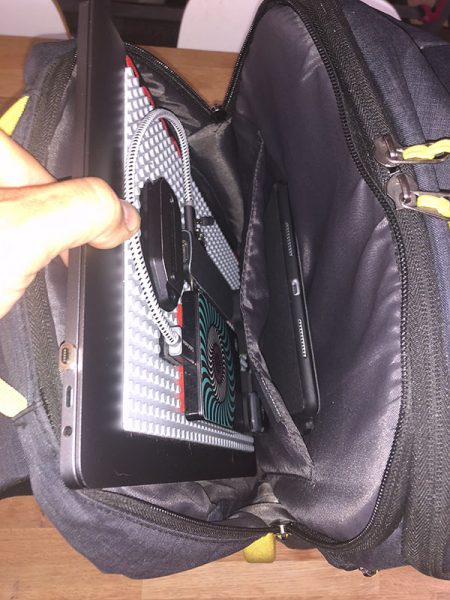 The above photo shows my 15″ laptop sliding into place. Here is also my largest concern with the bag. There is very little cushioning at the bottom of the laptop sleeve. If you are not holding the bag off the ground when you slide your laptop into place, you will hear it make contact. Later if you are setting the backpack down you'll want to do so gently as the 'thunk' is noticeable. I really hope they can make a running change as this is a critical issue.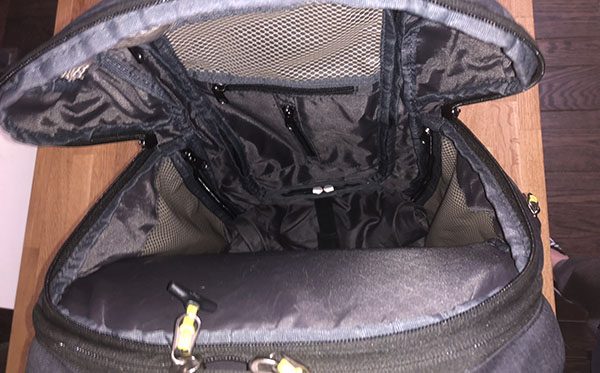 The large opening into the main pocket is great for loading and unloading, but not so great for getting into the many pockets you'll see staring back at you, which is where the next feature is so handy.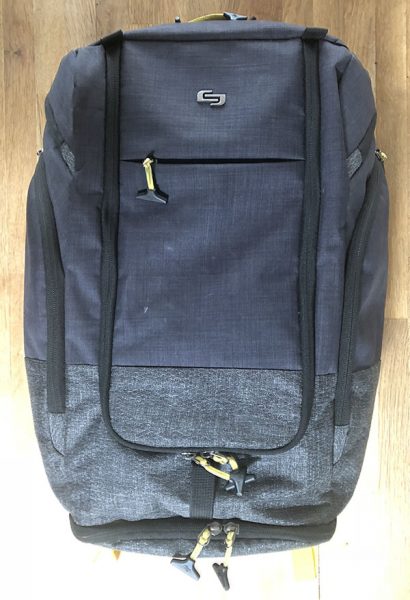 On the front of the bag, there's a small stash pocket and a long u-shaped zipper that opens up the whole interior of the bag like a duffle. With this flap unzipped you have unrestricted access to the two interior side pockets and the two pockets on the flap's inside.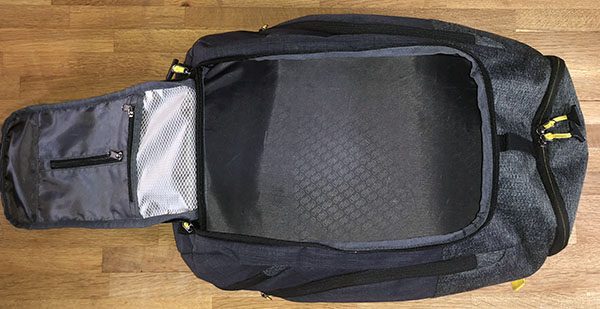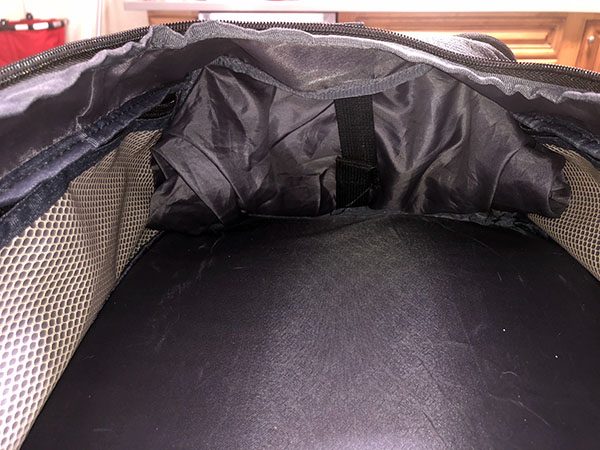 The other thing you'll find at the bottom of the inside is a small elastic and velcro tether for securing a collapsible bag that's accessed from the outside bottom pocket. This is great as you can ignore it until you need it. I've used it for shoes, power adapters, and lunches. In can eat up a considerable amount of space depending on what you put in there. Most of the time I have a hoodie or jacket in there for quick deployment if I'm hoping on my bike or if the SF weather does what it does. This bottom zipper has yellow teeth hidden behind the black zipper tape creating a cool hit of color when using the zipper.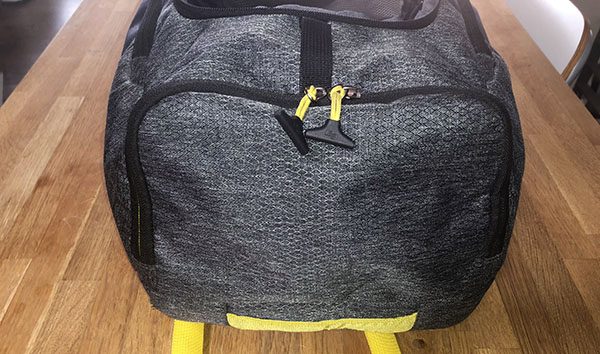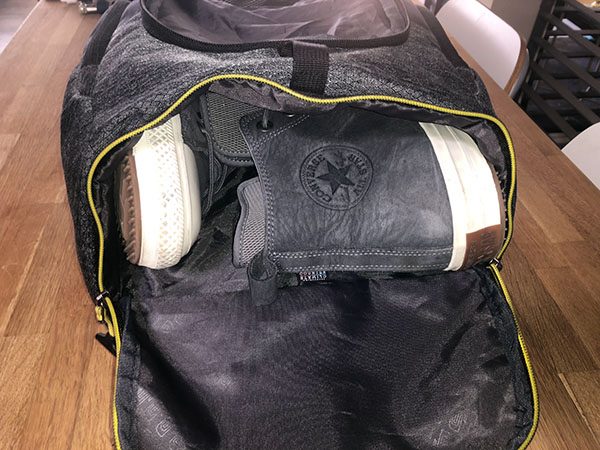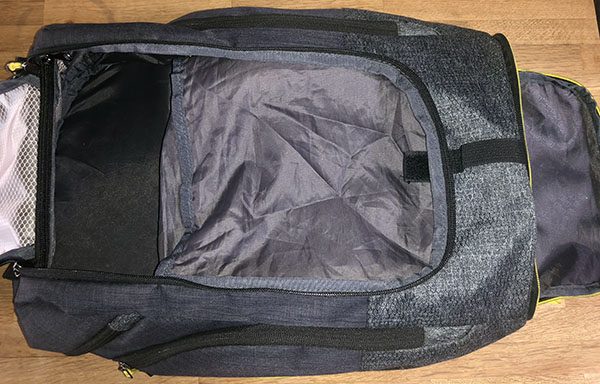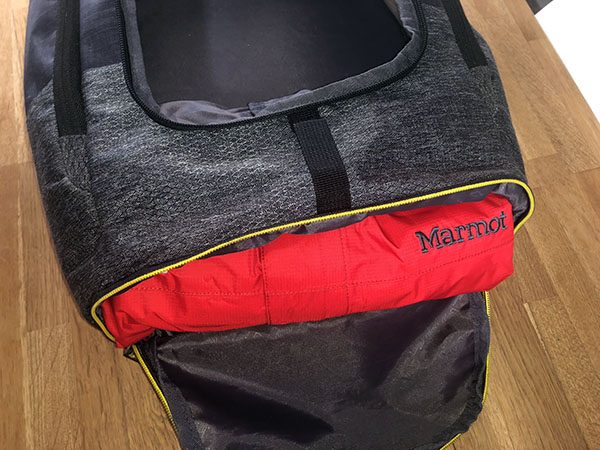 Performance
Overall this pack is exceptionally comfortable. I'm 6'3″ and the shoulder straps are long enough and the back pad strikes the right blend of comfort without a weight penalty. That's something I should call out. Solo lists this bag at 2.4 lbs, but it's one of the lightest packs I've used so I'm thinking that's packaged shipping weight. Heavily loaded or traveling light it's been comfortable the whole time.
Regarding daily use, there are definitely scenarios where you're carrying a pack like a briefcase, or lifting it into an overhead bin on a plane. Solo clearly wanted to make sure that you were never reaching for a handle that wasn't there as there's 4! One on each side. These grab handles are comfortable and hold their shape standing slightly off the bag as if begging to be handled.
Let's talk about the interior pockets. The two inside-side pockets are long (or tall) and work great provided you don't have a water bottle in the corresponding outside pocket (which you're very likely to). With the duffle panel open you have easy access to these and you'll find yourself using them frequently as well as occasionally forgetting that's where you put something.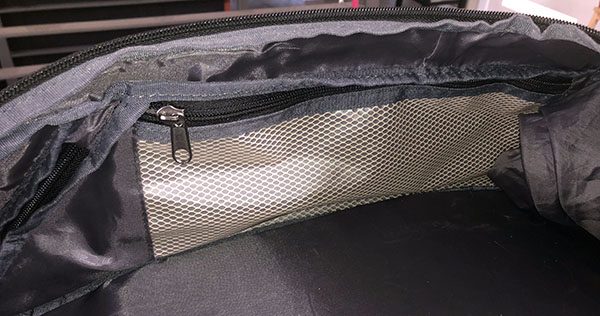 The remaining 3 interior pockets I definitely have some issues with. Like the pocket shown above, the first one closest to the opening has a clear material that lets you see what's in there. This is great until you unzip and all of it falls out because the flap is now flayed open and the zipper is on the downhill side of the pocket.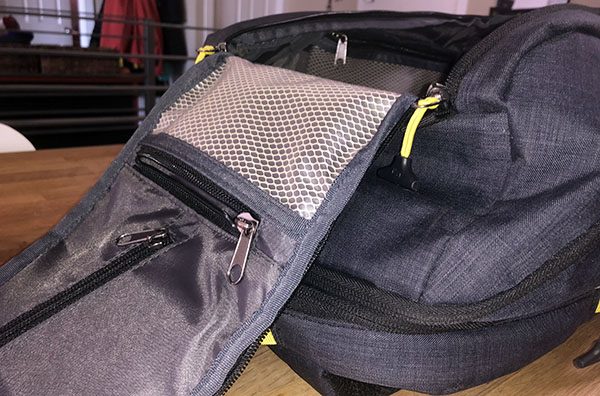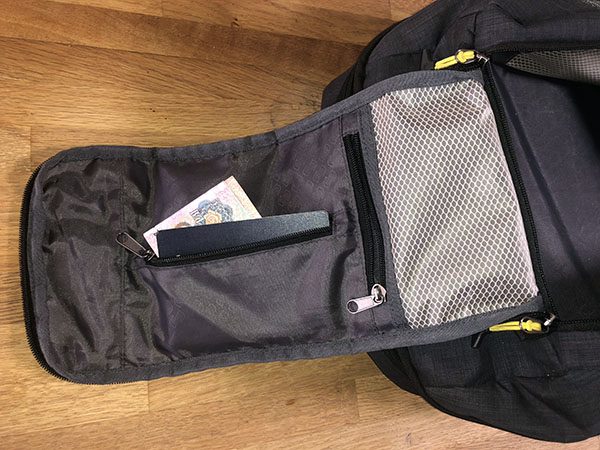 The second pocket inexplicably has the zipper right through the middle of the usable space. Something like a passport will fit, but it's a slide in, pry the other side and bend the passport scenario. The last pocket is on the underside of what is the top of the bag. It makes sense to get into it from the duffle opening, but it's not very visible that way. From the top opening, the zipper of the pocket is at the bottom, so I've ended up flipping the top inside out to use this pocket. Feels weird.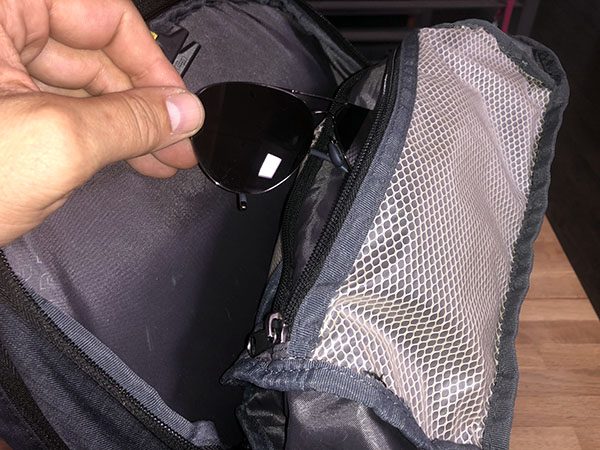 The last pocket is one that I typically use more than any other on a pack, and fight with on the Everyday pack. The outside front stash pocket. It's well placed and ideal for earbuds, gum, or dumping your phone as you go through TSA. My complaint is how narrow it is. I can get my four fingers in there, but not my thumb which makes it hard to get stuff back out.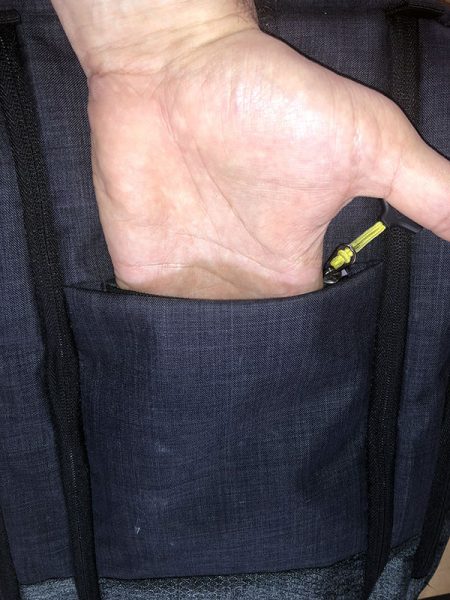 Again, in everyday (see what I did there?) use these issues have not been able to overpower the strengths of the bag which I can boil down to a great weight, comfort, accessibility and storage volume as well as a great aesthetic. Even the critical laptop padding issue has not kept me from wanting to use this bag. Since my laptop is smaller than the pocket I'll cut a piece of closed cell foam to place down in the bottom. Let's wrap this up.
What I like
The weight, or lack-thereof more specifically
Comfort; padded back and straps
Side pockets (fully enclosed water bottle!)
Bottom shoe/gym pocket
The multiple grab handles
What needs to be improved
Lack of non-compressing padding for the bottom of laptop compartment – Please fix!
Width of front stash pocket
Every pocket on the duffle flap
Tether for interior shoe pocket needs adjustability
Final thoughts
If it wasn't apparent in the review above, I have a love/hate relationship with backpacks. I usually get excited about, then buy a pack only to find a 'fatal' flaw in the first couple weeks. That's what stands out about the Everyday Max pack here. It's been a solid two months (review way overdue) and I'm still running it. All the photos above were shot at the end of this period of time. It's been with me to Shenzhen, Shanghai, Taiwan, Singapore, Barcelona, and Paris along with daily commuting from Oakland to San Francisco by car, Bart, ferry, bus, bicycle, and moped. It's taken everything I can throw at it including a 350W Bafang hub motor, large 48v e-bike battery, and all my EDC stuff. While I have some pocketry gripes, its missing sunglass-specific pocket and a dangerous lack of padding under the laptop it's still maybe the best backpack I've used. That's a hard statement to write considering what I've spent on some other packs. Time will tell as I revisit packs frequently and rediscover why I abandoned them to my closet of carrying. Looking like this one may be different. Let's hope.
Price: $79.99
Where to buy: solo-ny.com and Amazon
Source: The sample of this product was provided by Solo NY.