We use affiliate links. If you buy something through the links on this page, we may earn a commission at no cost to you. Learn more.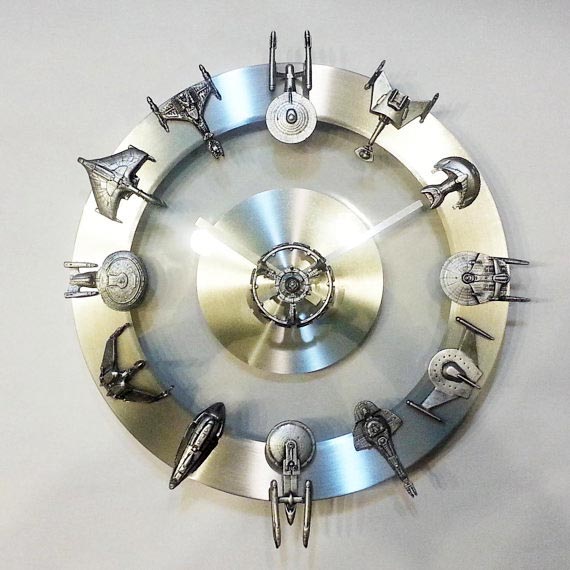 Fans of Star Trek will like these clocks from the YOUgNeek shop on Etsy.  The body is made of glass and brushed metal.  The hour markers and the center of the clock are all populated with vintage, classic Action Fleet Micro Machine starships, warships and other vessels.  The clocks are hand finished in a black and silver pewter-like color.
The vessel in the middle can be either Deep Space 9, Borg Cube, Federation SpaceDock, or Space Station K-7, or you can request the Star Trek logo.  The maker uses whatever vessels they have on hand, but you can specify your favorite series or even specify particular vehicles you'd like to have.  Be aware that special requests can take longer and may cost extra if rare vessels, like Voyager and Defiant, are used.
The clock itself measures 11-11/16″ in diameter, but may be as wide as 14″ (at the widest point) with the vessels attached. The Star Trek Clock is $129.99.  It is handmade to order, so allow some extra time for delivery.  Order your Star Trek Clock at the YOUgNeek shop.