We use affiliate links. If you buy something through the links on this page, we may earn a commission at no cost to you. Learn more.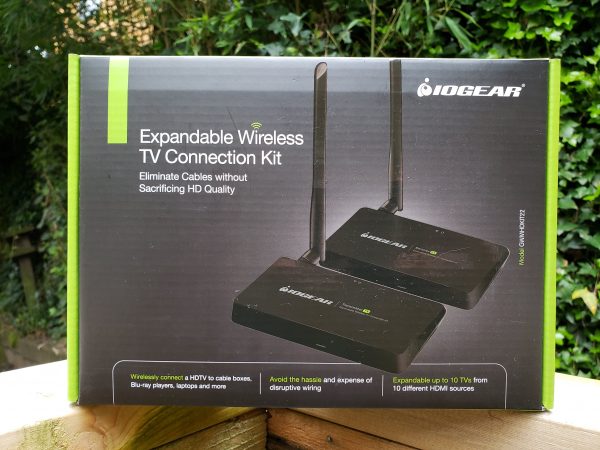 We love to entertain, and with our recent house remodel we added an outdoor movie theater to enjoy those cool Seattle summer nights.  With a small backyard it is hard to put the entertainment everywhere our guests are without an abundance of wires.  The IOGEAR Wireless TV Connection Kit promises to solve that problem and do it in full HD.  How does that claim stack up against reality?  Read on to find out…
What is it?
The IOGEAR Wireless TV Connection Kit is a transmitter and receiver combo which allows you to stream video via an HDMI connection from a source like your laptop or a cable/satellite receiver to a display device like a TV or projector.  It does so without wires up to a claimed 150 feet, and at a full 1080p and 60 frames per second without sacrificing sound or picture quality.  It uses the 5.8 GHz frequency so it should not interfere with any existing wireless networks, Bluetooth devices or home automation hubs.
What's in the box?
The kit includes a clearly labeled transmitter and receiver plus associated antennas.  You also get 2-3 foot HDMI cables (HDMI 1.3), 2 power supplies, and an IR Blaster (for the transmitter to control your device remotely) and an IR receiver (plugged into the receiver, it transmits commands from your remote back to the transmitter).
Design and Features
Our intended use is for our outdoor movie theater, and our projector is a full 1080p model.  In order to support simulcasting on our living room TV, we need a transmitter that also supports this.  Our original design included a 45 foot run of HDMI cable from a media connection box in the backyard, an HDMI splitter to handle one signal to two devices, and the ugly notion that we would end up cutting holes in the outside of the house, the open basement beams, and the living room floor to accommodate the cable run.
So, when IOGEAR offered this kit for review, I jumped at the opportunity to try it out.  Did it solve my problem?  In a word, yes.  As with any solution, there are some gotchas waiting along the way.  But nothing at all earth-shattering to overcome.
The kit comes with two boxes – one transmitter and one receiver.  Because the kit was originally intended to connect a cable box or satellite dish receiver to a TV, the box also includes an IR blaster and extender to allow you to remote control your input.  As my setup is driven by my laptop, these were not important – I tested them on my cable box and they work as well as any IR setup will.  If you use a Roku or other streaming setup that uses a different connection technology, though, you will have to come up with an alternate solution to remote control.  Thankfully there are apps to cover most of these scenarios, but your mileage may vary.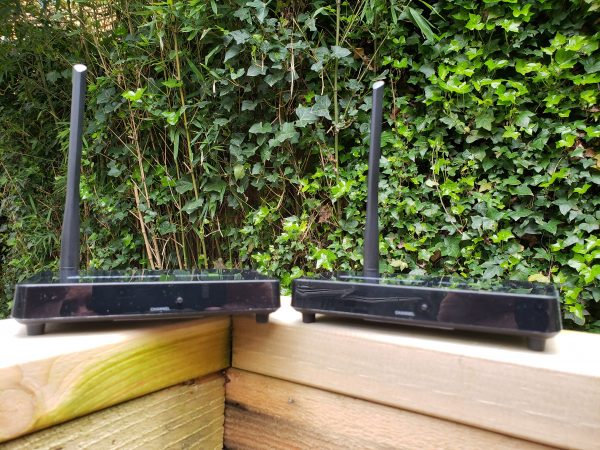 The antennas on each unit are omnidirectional, so you do not need to worry about orientation other than just being up.  The back of each unit has the antenna barrel connector, power input, IR blaster receiver/transmitter input and an HDMI connection.  Pretty simple.  The front of the unit has a power indicator and a channel button.  More on that in a moment.  Unless you have been living in a Luddite bubble for the last dozen or so years, setting this up should be drop-dead simple.  And the boxes tell you which is which, so again – easy to set up.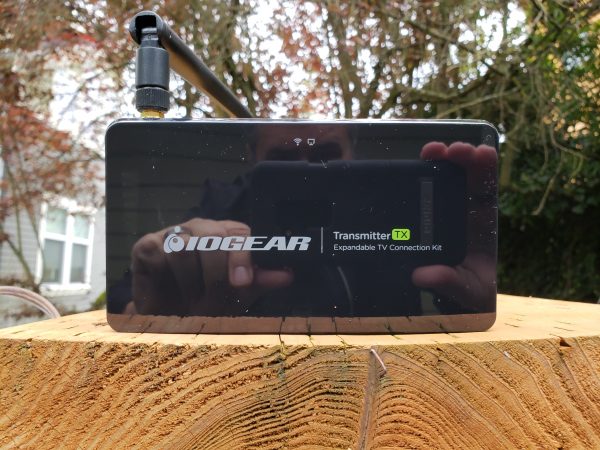 With the receiver connected to my TV, I plugged the transmitter into a USB-C cable with an HDMI plug running from my laptop.  Windows 10 immediately recognized the transmitter as an HDMI-capable device operating at 1080p and mirrored my desktop to the transmitter.  Here is where I ran into my first "issue" (and I put that in quotes because it is easily overcome, but may take a little sneaker-work if you are doing this alone).  The transmitter and receiver have to operate on the same channel, and unfortunately, there is not a channel indicator on the device – nor is there a scan feature that I could find.  This means you have to press the channel button on one unit and then see if the devices sync.  Best to have someone help you if there is a gap between the transmitter and receiver that won't allow you to see both at the same time.
Once synced, however, both devices displayed my desktop in great color.  This being a still image, the real test is in handling video.  So I fired up VLC and started playing Black Panther.  And I have to say I am impressed – if you didn't know otherwise, you would swear the connection was wired.  No artifacts, no interference, no lag – just a clear, bright signal with perfectly synced sound.
My laptop was running in my backyard and the TV/receiver combo was in my living room.  The signal had to go through my kitchen and a brick fireplace.  Total distance was about 25 feet, so I figured I would see what a little distance and the walls of a 101 year old house would do to the performance.  I took my laptop out the back fence and then set up a monitor just outside my front fence.  In addition to the house, there were trees, dogs and all manner of other signal disruptors.  The total distance between the transmitter and receiver was about 65 feet, with my wifi network, microwaves, smart home appliances, and Bluetooth devices in between.
The IOGEAR devices never skipped a beat.  Clear, strong signal with no apparent lag or artifacting.  The thing just worked.
What I Like
Very easy to set up and use
Even at 60+ feet through walls and foliage, the signal was strong, the audio clear and no static
If I wanted to use this inside with a hidden cable or satellite receiver the IR Blaster would likely work
It is a very cost-effective solution to a specific problem
What needs to be improved
Channel selection and synchronization between the transmitter and receiver can be tricky – a display on the front of the transmitter and receiver would remedy this
Final thoughts
Some things to keep in mind: if you are using this with a computer of any sort you will want to mirror your desktop, not extend it – unless, of course, you are able to see the receiver.  Without mirroring you will be unable to see where your cursor or windows are on the receiver.
Also, your receiver will only be as good as your transmission device – if the device hooked up to the transmitter does not run at a full 1080p or if the sound coming from the HDMI is not stereo, this device will do nothing to help you (to be fair, this is true of most devices in this class unless the transmitter specifically states that it will upscale the image).
And finally, if you use protected content (say a Blu-ray disc on your computer) you may have problems with security protocols built into those devices.  This means that a computer will likely not transmit the signal from a Blu-ray disc playing on it like a standalone Blu-ray player will because of the High-bandwidth Digital Content Protection (or HDCP) built into devices.
At $170 this is a great solution to a specific problem.  If you share my situation and are looking for a way to get a 1080p signal across a distance without a cable run, the IOGEAR connection kit could be your answer as well.  I did have to contact technical support during the course of this review, and I found their team responsive and highly supportive, so you can be assured if you run into issues there is someone on the other side of the sale ready to help you.
Price: $169.95 as described
Where to buy: IOGEAR's web site has additional information and you can buy there or at Amazon.
Source: The sample for this review was provided by IOGEAR.