We use affiliate links. If you buy something through the links on this page, we may earn a commission at no cost to you. Learn more.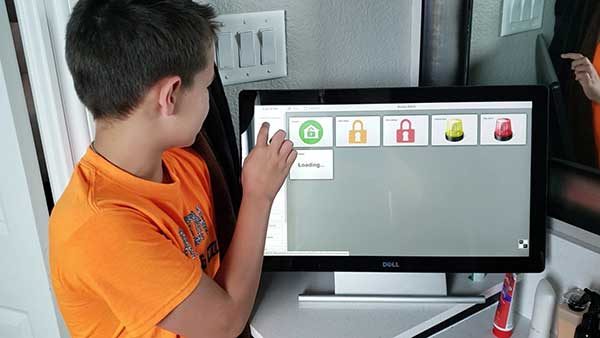 What is Jarvis Farley you ask? It's the home automation digital assistant that Matt Farley created that controls almost every aspect of his home from security cameras, to TVs, music, thermostats, etc. This system even gives his kids credits when they do their chores that they can then redeem for time allowances for watching TV and playing video games.
Matt, who has a background in software development and has been working as an IT Manager for a large company (Chevron) for 11 years, created the Jarvis system including programming the interface. He worked on Jarvis on and off for the past 3 years but started ramping things up in the past 12 months when he and his family moved into their new house. When I asked him how much money he had put into the system he replied:
I haven't tracked this, but not much.. I already had my home server. The 7-8 cameras were about $150 ea, the 8-10 Amazon Echos were $50-100 each. 2 thermostats $150 ea. WiFi sprinkler system $200, wifi power monitoring  device $200, hmm what else? The LiFX wifi lights were a fortune. 20 lights or so at $80 a piece, and then two string lights were like $300, and the light beam was $200-$300. Finally, all our TVs were expensive – 4 LCDs. Oh and the three touchscreens were $200-$300 each. The vehicle tracker was $120. The 2 tinkerboards were $80 ea., 3-4 raspberry pis $30 ea. Each TV is run by a Linux machine, they were$400 each x4 TVs. I may be forgetting something.
Matt and his kids made a series of short YouTube videos that demonstrate the power of Jarvis. Check out the video playlist and watch all the clips to see all the features of his impressive DIY system.
I don't know about all of you, but I'm inspired by what Matt Farley has built and plan to create something similar for my own home. You can read more about Jarvis by visiting jarvisfarley.com
Updates 08/15/18
Matt has added a write-up / guide of how to implement the Artificial Intelligence / Deep Learning: http://jarvisfarley.com/code/roomcheck/