We use affiliate links. If you buy something through the links on this page, we may earn a commission at no cost to you. Learn more.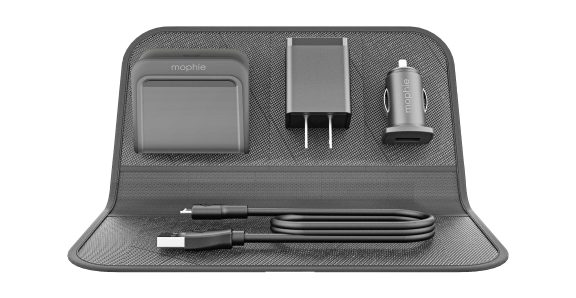 In this continuously evolving and advancing technology-driven world, many of us have become very dependent on our smart devices to manage our daily tasks. Our Smartphones, tablets, and PCs dominate our lives and are with us just about all day and every day.
One of the many challenges of living the "technology" lifestyle is to keep our devices charged so that we always have readily available access to the web. In response to this demand, many companies have developed power packs and charging solutions in every shape, size, and capacity to meet the need.
Mophie is just such a company, and in addition to their numerous models of power packs and charging devices that are already available, they now offer the Charge Stream Travel Kit. The aim of this kit is to provide everything that you would need to charge your smart devices when away from home, and all in a small and compact package. The kit includes a 2.4A wall charger, a USB-A to Micro USB cable, a 2.4A car charger, and the new Charge Stream Mini Pad. The Mini Pad provides a 5W charge to Smartphones compatible with QI wireless charging and can be purchased separately or as a part of the kit.
If you would like to purchase the Mophie Charge Stream Travel Kit, you can pick one up from the Mophie website or from Best Buy for $49.95. The Charge Stream Mini Pad can be purchased separately for $24.95.