We use affiliate links. If you buy something through the links on this page, we may earn a commission at no cost to you. Learn more.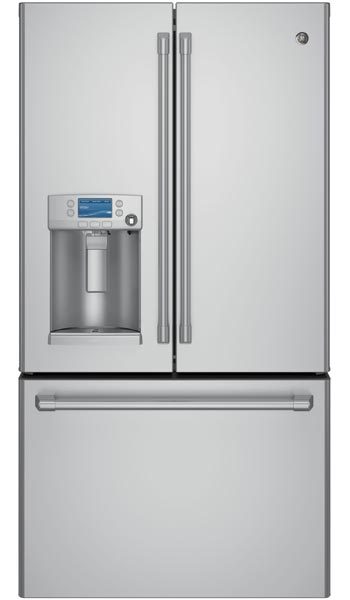 The GE Café™ Series 27.8 ft³ French-door refrigerator has lots of the bells and whistles you'd expect a well-equipped fridge to have, but those aren't the options we're interested in.  In addition to the ice and water dispenser on the door, this GE fridge has a Keurig K-Cup brewer that uses the dispenser to brew a single cup of coffee.  And it's WiFi-connected and compatible with Alexa and Google Assistant, too.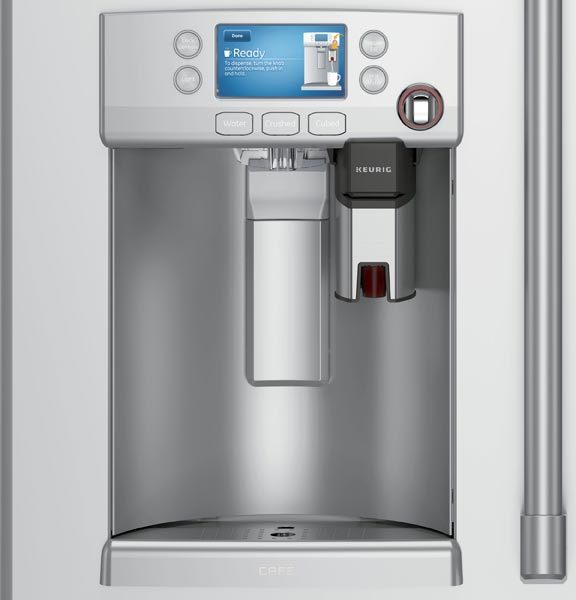 To brew coffee (or other hot beverage), put a K-Cup into the brewer, slide the brewer into the fridge's dispenser, select brew size, then start the water heating.  When it's hot, press a button to dispense the coffee into a cup.  You can also dispense hot water for use with brewing a pot of tea, making instant soup, noodles, or oatmeal, and other uses.  You can choose from pre-programmed temperatures or set your own.  There's even a slide-out shelf to hold a larger vessel while your hot water dispenses.  And if you need a measured amount of water, the fridge lets you select an amount to dispense for a quick, easy hot cup of water for a recipe.
This GE Café™ Series fridge has built-in WiFi connectivity, so you can get real-time feedback and alerts and  optimize performance of your fridge.  With the GE app, you can schedule hot water so you'll be ready to brew some coffee or make hot oatmeal the minute you get up in the morning.  And the fridge is compatible with Alexa, Google Assistant, and IFTTT, so you can control the fridge with voice commands.
The GE Café™ Series 27.8 ft³ French-door refrigerator has an MSRP of $3399.  Learn more about the fridge and find a dealer near you on the GE website.