We use affiliate links. If you buy something through the links on this page, we may earn a commission at no cost to you. Learn more.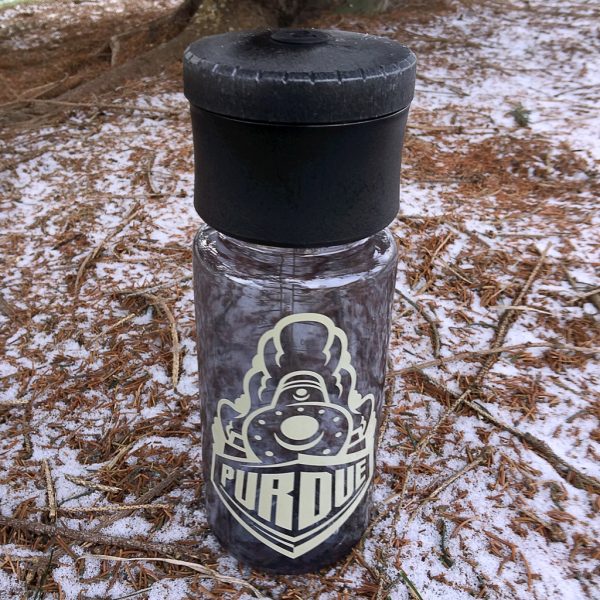 Two ideas among many that I am big fan of are hydration and multi-functionality.  Where is this going, you ask?  Allow PACElid to elegantly link these two ideas together.  When I'm out hiking, rucking, traveling or even just running errands around town, I usually have my Nalgene bottle along, and PACElid lets me take a few other small items along for the ride.  How does it do this, you ask?  Let's check out PACELid in a little more detail.  Gadget on!
What is it?
In military terminology, PACE is an acronym and methodology used to build a communication plan.  PACE stands for Primary, Alternate, Contingency, and Emergency means (i.e. technologies or systems) of communication.  Chris Way, inventor and developer of PACElid, has for the past 20 years "worked and played side by side with some of the most experienced and accomplished athletes, climbers, and military/government operators" and learned the value of trustworthy and reliable gear.   Chris founded Northstar Gear Co. as a way to produce PACElid, which is a screw-on lid for several popular wide-mouth water bottle brands that has its own storage compartment inside, allowing you to take along a few items atop your bottle.  PACElid began as a successful Kickstarter campaign and has since become a successful product in its own right.
Hardware specs
Injection-molded high-impact plastic material
Watertight screw-down lid
2017 version with universal threads fits wide-mouth Nalgene, Klean Kanteen and Hydroflask bottles. Original version (reviewed here), fits only wide-mouth Nalgene and Klean Kanteen bottles.
Available in Black, Red, Green and Blue colors
What's in the box?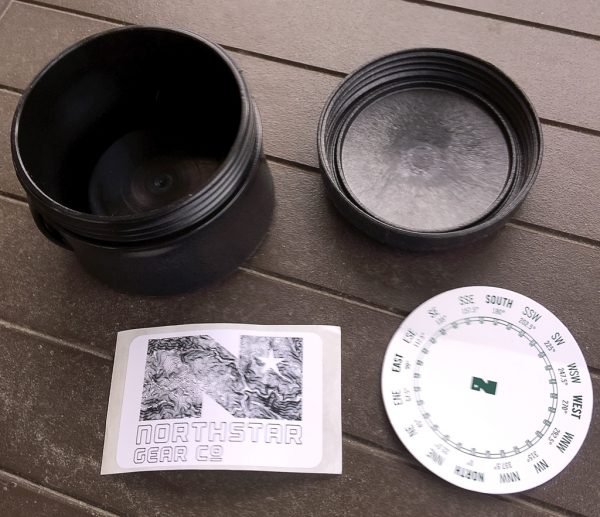 PACElid
Northstar Gear Co. logo adhesive decal
Northstar Gear Co. compass adhesive decal
Design and features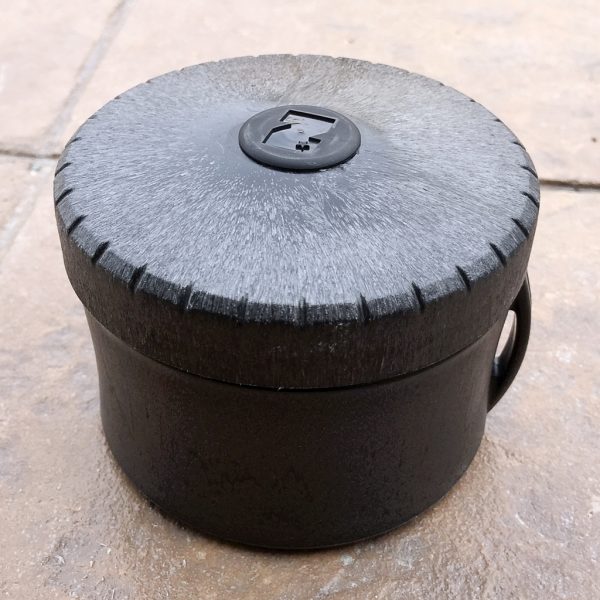 Right out of the box, PACElid looked and felt like a very high-quality, durable item, one designed and built for folks who are hard on their gear, go on hardcore adventures, or both.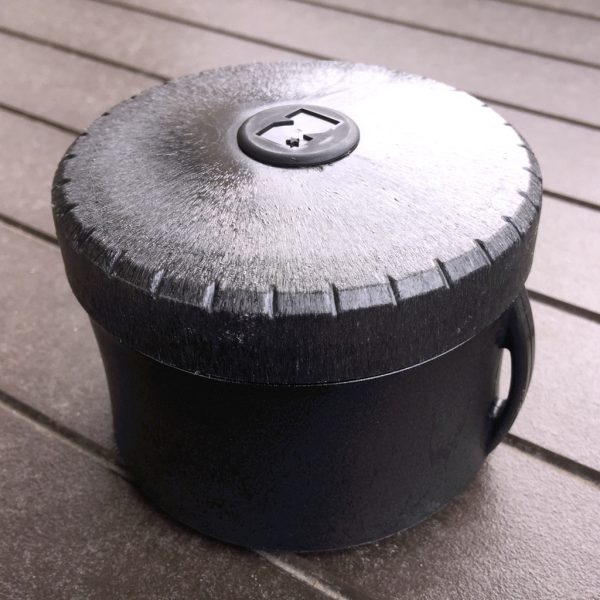 PACElid has a series of notches around the perimeter of its lid, which makes it easier t0 grip when twisting the lid on or off.  Note that the newer, 2017 version has a series of raised fins around the perimeter, along with the notches.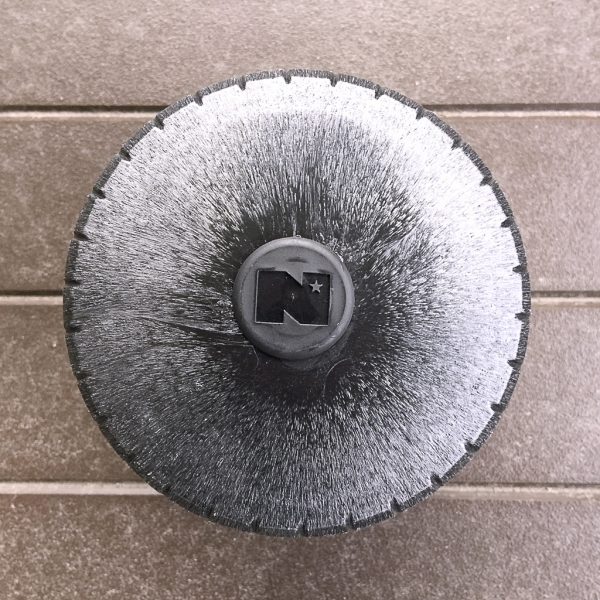 This original version of PACElid has a cool visual appearance molded into it, as seen in the image above (more on this below).  In addition, the Northstar Gear Co. logo is embossed into the top of a small, raised "button" on the PACElid's lid.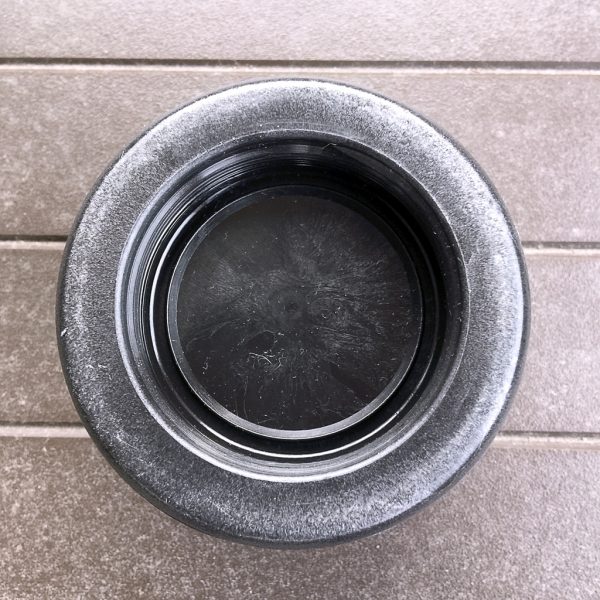 Note that the version being reviewed here is the original PACElid, one that is compatible with wide-mouth Nalgene bottles and Klean Kanteen bottles.  (The latest version, the 2017 version with universal threads fits those plus Hydroflask bottles.)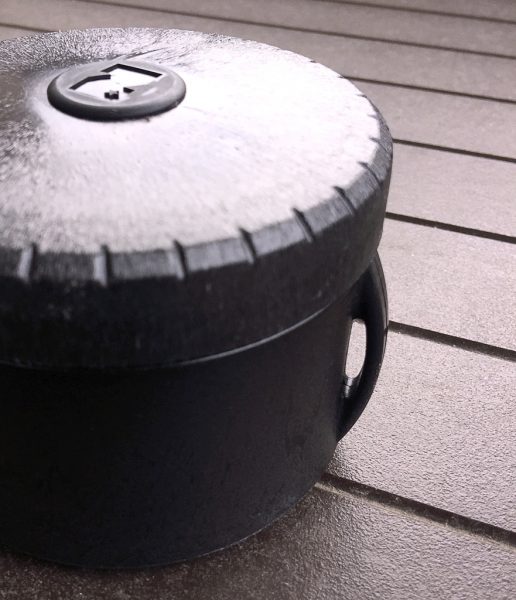 One of the subtle yet functional features of PACElid is the small loop molded into its side.   This loop can be used to attach PACElid to its bottle (so you don't lose it), or it can be used to attach items like a carabiner or other fastener.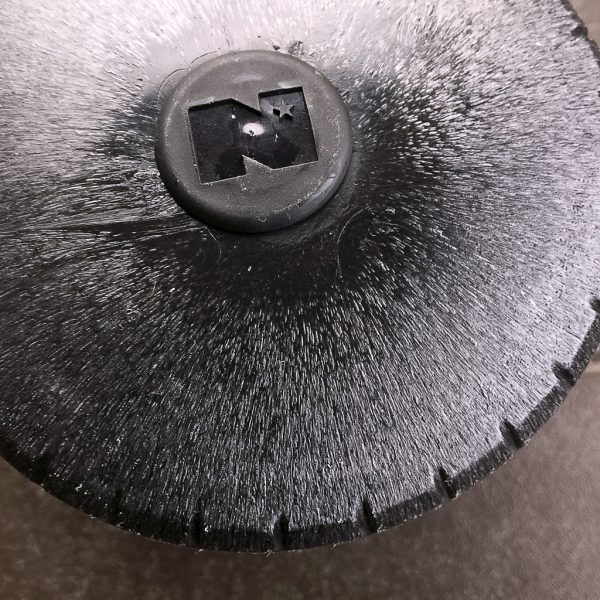 Above, a closeup of the PACElid's surface.  While the surface appears as if it would feel "grainy," it actually doesn't.  This texture is just below the smooth surface and is visible, but not tactile.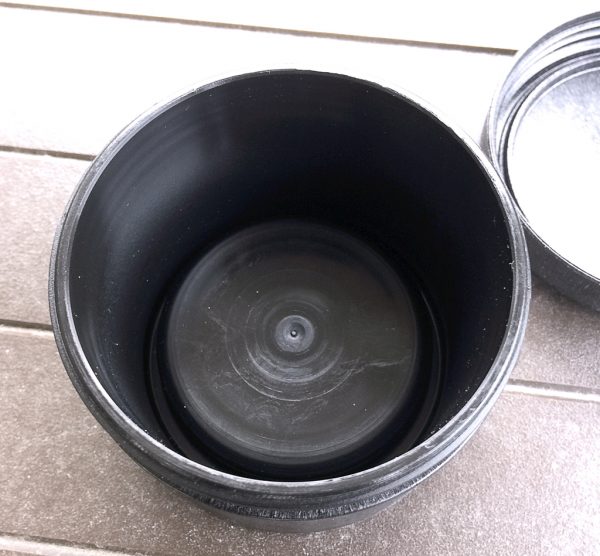 So what does PACElid look like on the inside with its lid removed?  See image above.  It's basically what you'd expect: a cylindrical space with a raised bottom to allow clearance for the bottle threads.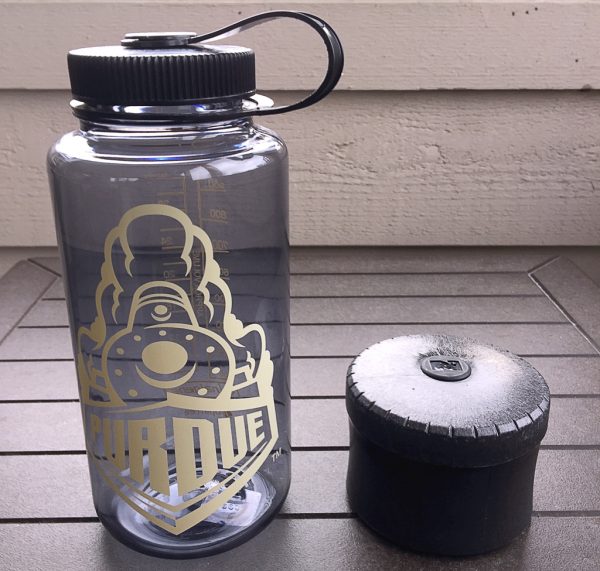 Above is the Nalgene bottle that I used in my evaluation of PACElid.  It is a standard, wide-mouth 32-oz Nalgene bottle (and Boiler Up! to you Purdue fans out there).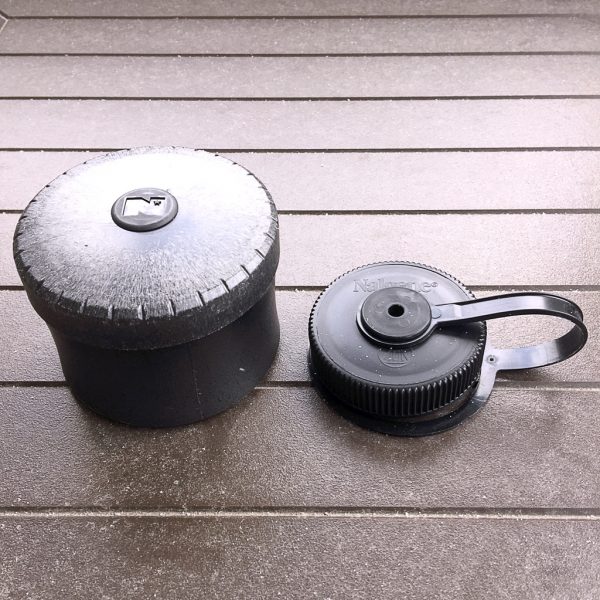 Above is a side-by-side photo of what PACElid (on left) is replacing: the Nalgene bottle's lid (on right).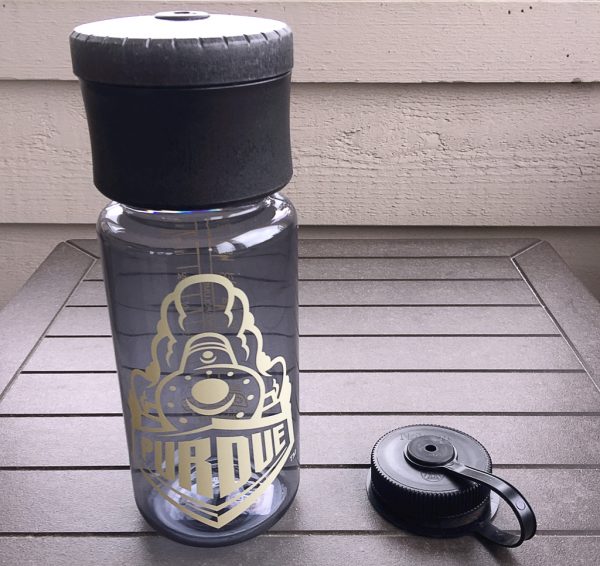 And finally, the above image shows the PACElid atop the now lid-swapped Nalgene bottle.  PACElid is obviously a much larger lid than the stock Nalgene lid, but it does have a screw-down compartment inside.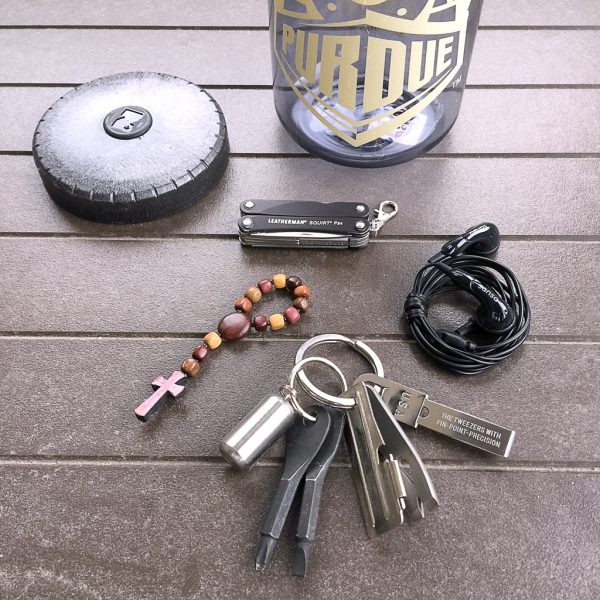 I wanted to try loading PACElid with a few small EDC items to see how much it could hold (see above).  I included my Leatherman Squirt PS4 mini multi-tool, a set of earbuds for my iPhone, a small set of EDC tools, most of which I reviewed here a while back, and a small One-decade Rosary.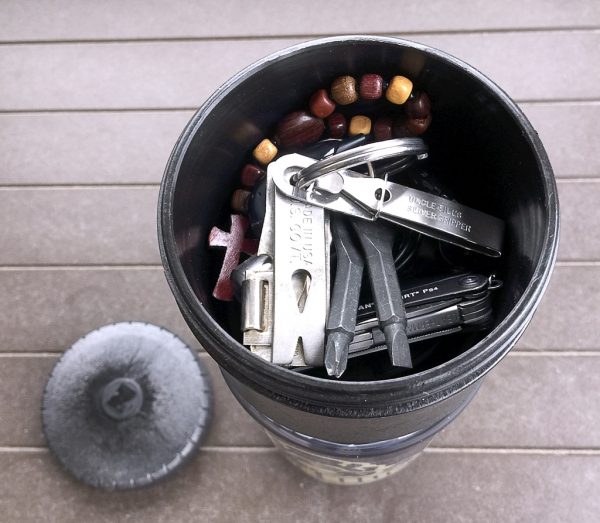 As you can readily see in the photos above and below, all of these items fit inside the PACElid's compartment with a bit of room to spare.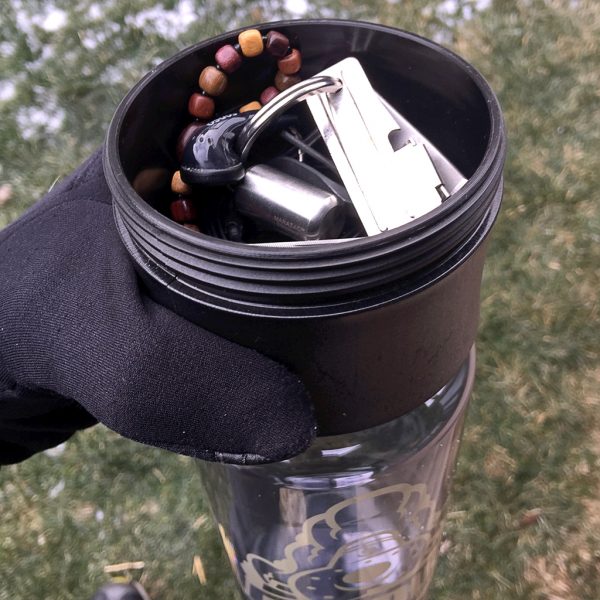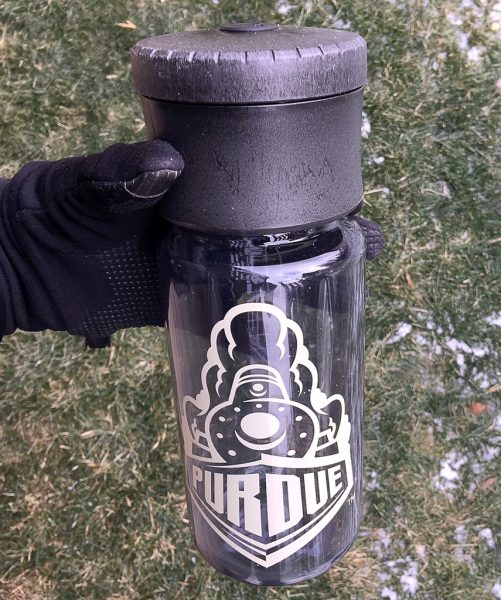 I took the now-filled PACElid on a short wintertime ruck (hiking with a weighted backpack) and it performed flawlessly.  I even dropped PACElid on the hard ground a couple of time and it was not damaged at all, save maybe a few scuffs.  It was really convenient to have the EDC items at hand and readily accessible.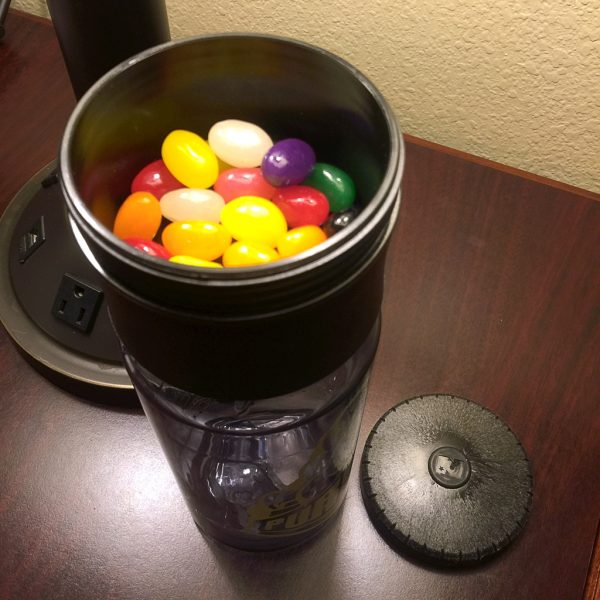 In the above photo, I had taken PACElid on a family vacation where we did a lot of hiking.  I dropped a few handfuls of jelly beans into the PACElid's compartment, filled my Nalgene bottle, threw it all in my backpack, and took off.  The jellybeans were a nice little "pick-me-up" along the trail.
What I like
If you already carry a Nalgene, Klean Kanteen or Hydroflask, PACElid gives you a quick and easy way to store a few items along with it
Very reasonable cost
What needs to be improved
Even with PACElid empty, the combination of water bottle and PACElid can be a bit top-heavy if the water bottle itself is not full of liquid
Final thoughts
PACElid is a really clever idea that was realized into a really durable, well-built product.  It gives your water bottle a little bit of extra versatility by providing some extra storage space, and couldn't we all use that?  It's a great product and I'm looking forward to seeing what else Chris Way and Northstar Gear Co. come up with in the future.
Update 5/24/20
PACElid is a clever product, but I don't find myself using it often for the simple reason that I don't use a standard Nalgene bottle for my day-to-day hydration.
Price: $19.99 (2017 version with universal threads), $24.99 (original version, reviewed here)
Where to Buy:  PACElid.com (2017 version with universal threads), Amazon (original version, reviewed here)
Source: Item was purchased with the reviewer's own funds.