We use affiliate links. If you buy something through the links on this page, we may earn a commission at no cost to you. Learn more.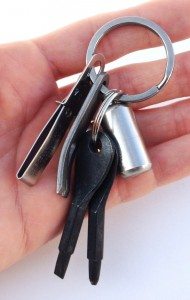 What do you EDC?  EDC stands for everyday carry, and it consists of the items that you carry on your person every day, the things you can't live without (or at least think you can't).  Many people do this without even consciously thinking about it, and most who do include at least one tool in their EDC repertoire, while some stash what seems like an entire toolkit in their pockets.  Kaufmann Mercantile, purveyor of goods that are rugged and durable (and generally a bit on the expensive side), has bundled several handy EDC items into their EDC Kit.  Let's check it out!
NOTE: Click any image to enlarge!
Packaging
The EDC Kit comes in a very nondescript thick brown envelope.  Simple and recyclable.
Contents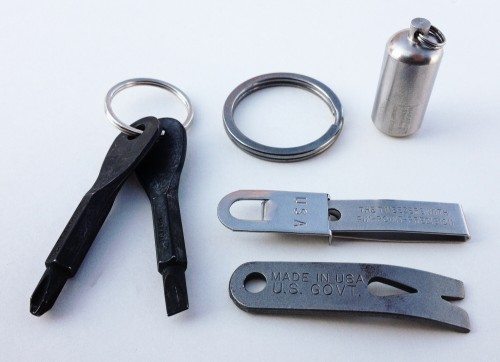 The EDC Kit consists of the following items, all made in California, USA:
Screwdriver keys
Mini pry bar
Precision tweezers
Capsule lighter
Titanium key ring
Items
Titanium Key Ring
The titanium key ring is just that—a large, thick split-ring made from titanium, which makes it lightweight yet very strong.  It forms the hub of the EDC Kit and everything else attaches to it.  Or you can add your own EDC essentials.  Heck, you could even get really crazy and put keys on it.  The sky's the limit.
Screwdriver Keys and Keyring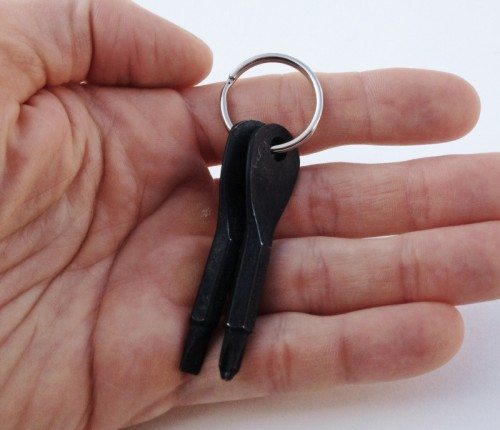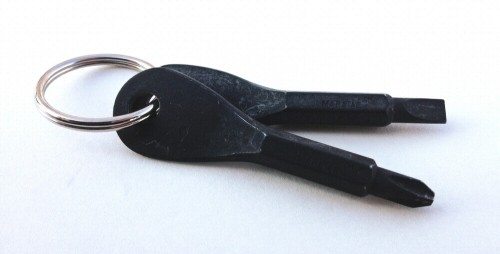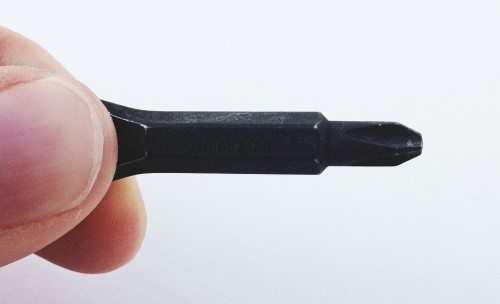 The screwdriver keys (complete with their own keyring) consist of two 2.5 inch long key-sized screwdrivers, identical except that one is a standard flat head, the other is a Phillips head.  They are made of hardened steel with a black oxide coating.  At the non-business end, they have a flat oval shape, which gives some surface area to apply a bit of extra torque when driving a screw.  These guys look and feel quite stout, so to test them I actually removed an old door knob and and replaced it with a new one.  They performed flawlessly, and in fact, their short length helped me get to those hard-to-reach doorknob screws just a bit easier.  One item to note is that the tips of these drivers are sized more for screws on the largish side, not something like you would use to repair your spectacles.
Pry Bar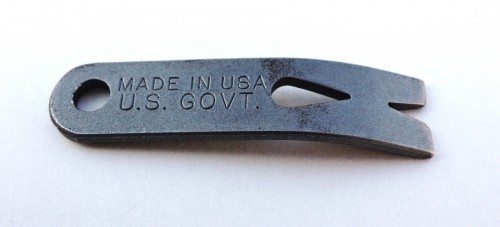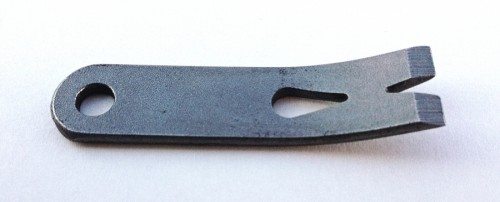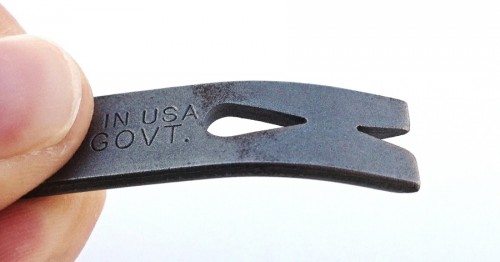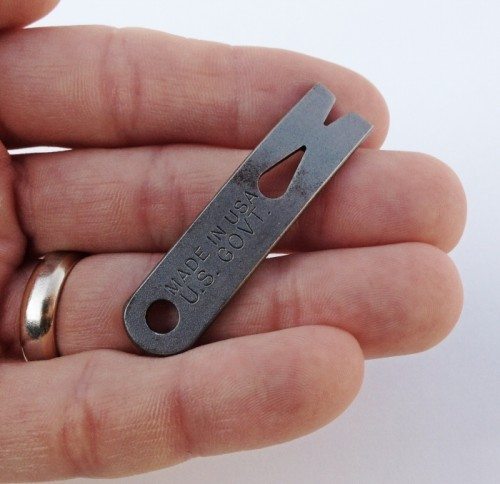 Also called the picopry or the pico widgy, the pry bar is really a tiny, 2 inch long crowbar without the hook end.  It is made of hardened D-9 tool steel with a matte finish (mine had a few spots of some form of corrosion, not unexpected with tool steel) and is about the size of a key.  The business end basically has a smaller version of the claw side of a hammer's head, the side used to pull nails.  It is curved for prying leverage and tapers to a chisel-like point, with a small V-slot notched into it.  There is also a teardrop-shaped hole for additional nail-pulling capability.  The non-business end has a hole for attachment. This little dude is quite versatile.  To test it out, I used it to scrape paint, pull a small nail and cut into a box.  All in a day's work for this versatile little tool.
Precision Tweezers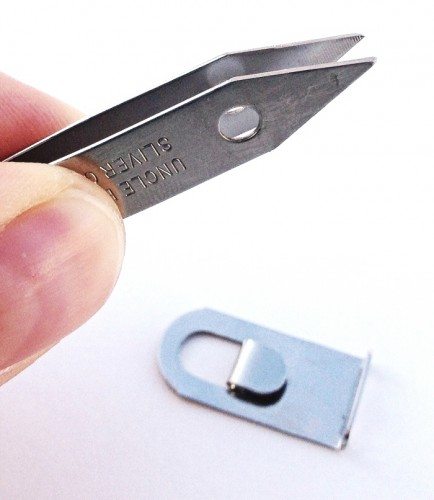 The precision tweezers are just that, precise.  And by precise, I mean very pointy and sharp.  But hey—that's what you want with tweezers, right?  What makes these tweezers unique is that they are made from a single piece of bent spring steel, and the very sharp triangular ends align perfectly when squeezed together.  They also include their own combination holder/tip protector that attaches to the key ring, with the assembly a total of 2.5 inches long.   The uses are numerous, but they are absolutely essential for removing splinters, slivers or the wild eyebrow (just don't get it too close your eye—this thing is way sharp).  Two other things to note.  These tweezers are available individually from various sellers under the name "Uncle Bill's Sliver Grippers" (which is stamped on the side of these).  Also, a very similar item, the A. G. Russell Field Tweezers, were reviewed by former Gadgeteer Judie Lipsett back in 2004.
Capsule Lighter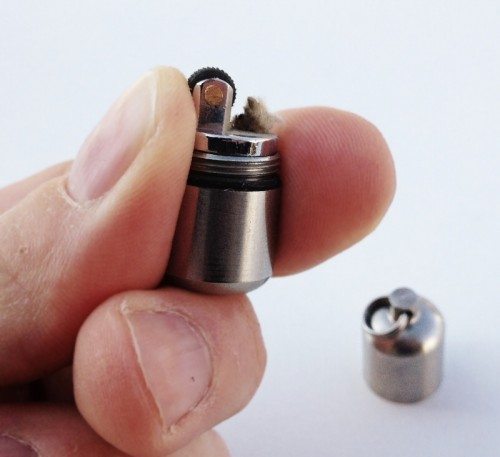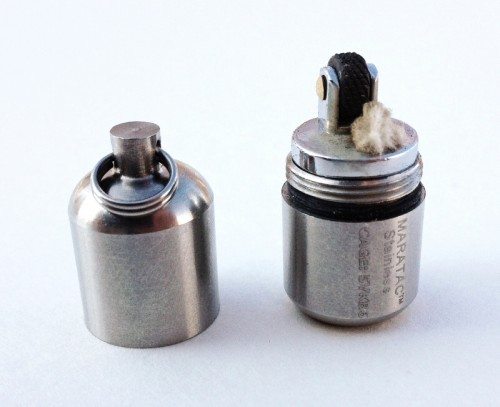 Finally, the capsule lighter, sometimes called the "split pea."  Machined from solid 300 series stainless steel, this compact yet fully-functioning lighter has a screw-down cap with a water/air-tight gasket and a flat base to allow it to stand on its own.  It includes two replacement flints and a single replacement gasket (not shown in the photos above), but it does not come with lighter fluid, so you will have to remove the striker insert and saturate the cottonball-filled reservoir with fluid prior to use.  Then, just give the wheel a flick or two and it's "flame on!"  If that's not enough, it can be converted to a water-resistant pill carrier by removing the striker assembly.  However, due to its size and capacity, this lighter is probably best suited for emergency situations only, not necessarily heavy everyday use.  It also includes a tiny split ring for attachment.  Replacement flints are available from Kaufmann Mercantile for $2.50.
Full Kit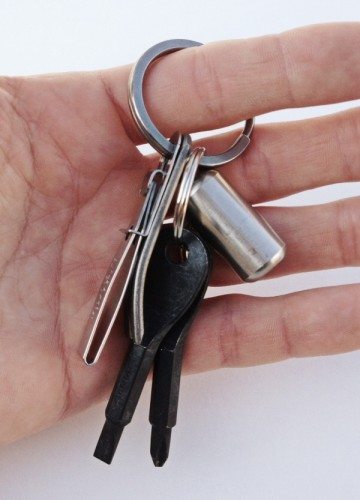 The full EDC Kit cost is $44.00.  Notably, all of the items except the titanium split ring can also be purchased separately from Kaufmann Mercantile: screwkeys $9, prybar $7.90, tweezers $7, lighter $22 for a total of $45.90 plus the split ring, so buying it together as a kit does save some cost.  The full kit weighs less than 2 ounces and takes up a small amount of space relative to other items that you might carry to perform the same functions.  Adding a car and house key to the split ring would not be totally unmanageable for most people in terms of bulk, unless you are of an ultra-minimalist mindset.
Kaufmann Mercantile's site states, "The company that makes these keychain tools also supply goods to the U.S. Military, local police forces, firemen and serious survivalists.  Nothing is made shoddily and they use the strongest materials most appropriate for the job."  I would have to agree that none of these tools are cheaply-made, disposable items.  They are built to consistently function well and to last a long time.
Conclusion
Kaufmann Mercantile's EDC Kit combines several useful, versatile tools into one relatively small, lightweight keyring kit.  It would be great for folks who use a few small tools every day, or those who just want to be prepared.  Alternatively, one could pick and choose which items they may want to carry for particular situations.
Updates 04/09/15
I don't actually carry this set of EDC tools with me, but keep it in my car and have used it often. A useful set of tools in a small package.
Source: The sample for this review was provided by Kaufmann Mercantile. Please visit their site for more info.
Product Information
Price:
$44.00
Manufacturer:
Kaufmann Mercantile
Requirements:
Pros:

+ Lots of useful tools in a small kit
+ Lightweight
+ Durable

Cons:

- A bit pricey, but you get what you pay for and this kit is built to last