We use affiliate links. If you buy something through the links on this page, we may earn a commission at no cost to you. Learn more.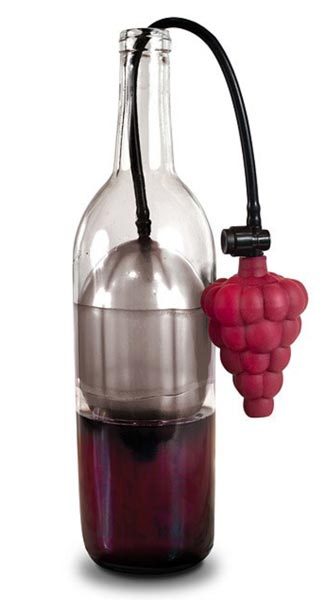 Forget those fancy metal and silicone stoppers, too.  You can seal off an unfinished bottle of wine with an inflatable Air Cork that creates a "protective, impermeable seal between the bottle's contents and the taste-altering air above."
Just lower the inflatable air bladder into the bottle until it just touches the liquid, then pump the grape cluster to inflate the bladder until it expands to the exact shape of the bottle.  The air-tight seal will protect your wine for three days.  If you aren't ready to drink the wine yet, just give the pump a few more squeezes to tighten up the seal.  When you are ready to drink the wine, just press the valve to release the seal.
The Air Cork contains plastic, rubber, silicone, stainless steel, and a medical-grade latex balloon.  It is not dishwasher safe and should be hand-rinsed.  You'll actually get two of the latex balloons in the kit.
The Air Cork is $28.50 at UncommonGoods.