We use affiliate links. If you buy something through the links on this page, we may earn a commission at no cost to you. Learn more.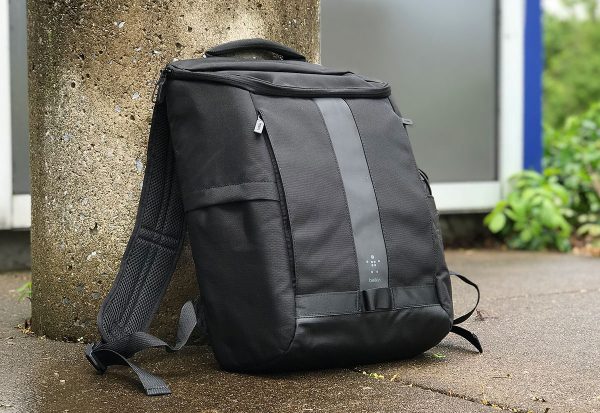 Commuters. City-walkers. Road warriors. Office samurai. Whatever you want to call them, there's a good chance if you find yourself working in an office, you have a bunch of stuff to carry with you on a daily basis. There are thousands of options for containing those items, but does your bag hit the perfect trifecta of comfort, content and looks, all at a great value? Belkin's Active Pro Backpack aims to check off that whole list.
What is it?
The Active Pro Backpack is an unassuming, padded backpack built for protection, organization and on-the-go convenience. It's well-suited for commuters carrying laptops, tablets and other mobile accessories in a variety of travel conditions.
Hardware specs
Dedicated protection for laptop (up to 15") and tablet
Adjustable mesh padded shoulder straps
Padded back panel
Water-resistant coating on base
Reflective strips for visibility in low light
Top loading, upright design stands without support
Internal organization for ancillary items
Vertical pockets allow fast access on-the-go
Hidden high security pocket
Loop for a bike light
Luggage strap fastens bag to trolley or case
Knapsack opening for visibility and easy access
width x height x depth: 11.8" x 17.3" x 6.7" depth / 30cm x 44cm x 17cm
weight: 1.7lb / 776g
What's in the box?
Design and Features
Whenever I asses the usefulness of a backpack or other bag, I usually split my thoughts into three categories: Looks, Organization (which includes carry capacity) and Comfort. Let's dive in!
Looks
The Active Pro Backpack is relatively unassuming, in a good way. It doesn't look expensive, but it doesn't look cheap, either. It looks like the kind of bag you'd see on the back of a regular commuter or city walker that sort of blends right into the rest of their outfit, and to me, that's exactly what it was designed for. The logo on the outside of the bag is relatively small.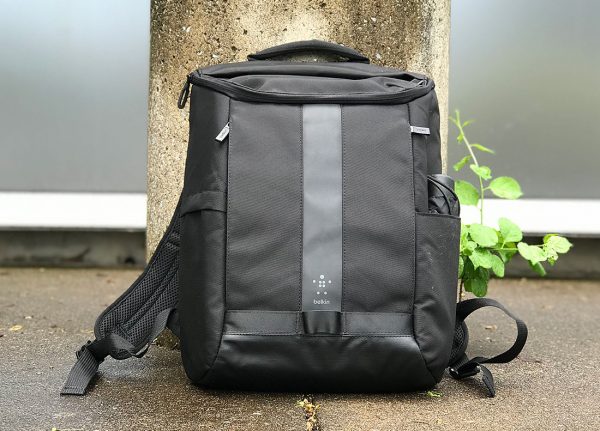 The bottom of the bag is coated in a rubberized, water-resistant texture. It seems like the bag could handle being set down in a puddle for a bit while protecting the contents, but I wouldn't call it super-rugged, and certainly not something you'd want to leave out in the rain.
There are a couple of reflective strips on the back and on the shoulder straps to be more visible in a dimly-lit crosswalk.
Overall, it's not flashy and doesn't advertise "hey look at me, I got some 'spensive stuff inside." It's forgettable, which is perfect.
Being a black backpack with a rough texture, it did pick up quite a bit of lint and cat hair from the couch-side area I usually store my bag. The material felt a bit more clingy than you'd expect.
Contents / Organization
I get a little thrill whenever I explore a new backpack and find a multitude of pockets and zippers and compartments. Belkin's Active Pro Backpack has plenty to spare.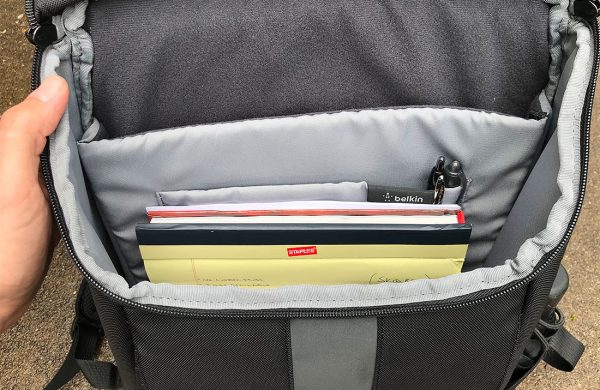 First off, I love the top-loading main compartment. The entire top of the backpack unzips to reveal a wide entry point to the main compartment, which is itself divided into 3 vertical compartments — one padded area for a laptop or tablet, one smaller area for an e-reader or other small books, and a wide main area, flanked by a zippered, netted pocket.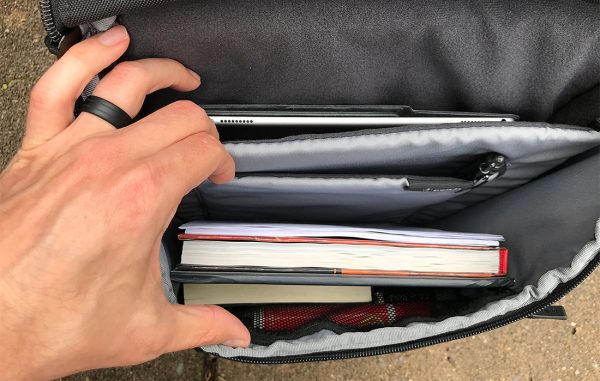 It's worth mentioning that the bag stands up on a flat surface and doesn't slump over or fall to one side if the contents are properly balanced. Nothing worse than having to contend with a tipsy backpack while trying to get something out of it.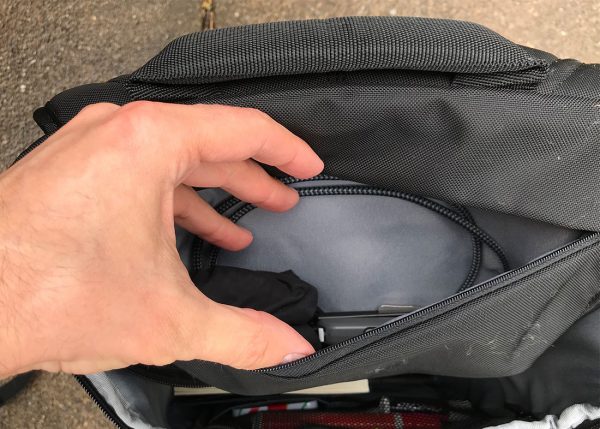 The top flap of the backpack has a zippered pocket. I do appreciate more organization, but this pocket could become somewhat annoying depending on how much stuff you put into it. It basically has to flip the contents of that pocket 180º in order to get into the main compartment. It does easily flip over to the back of the backpack, but all I can think about is all the items in that pocket tumbling over themselves every single time.
The vertical zippered pockets are actually two separate compartments and are meant to be accessed quickly by swinging the backpack around to the front of your body.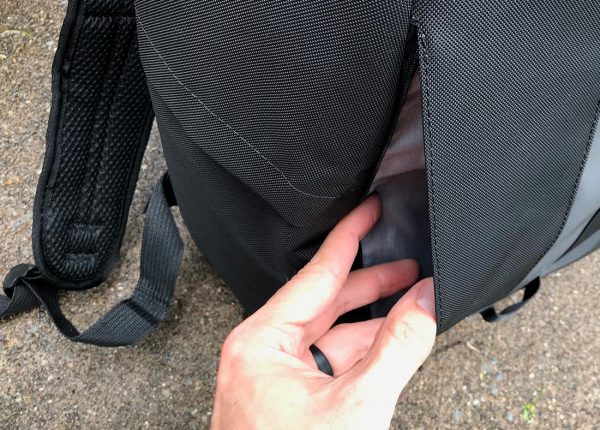 Additionally, there are two narrow side pockets. One is simply an open pocket for storing an umbrella or thin water bottle, and the other has a more secure velcro flap.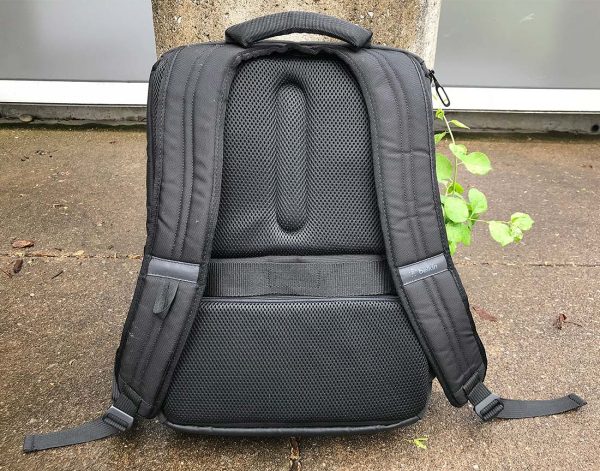 Finally, there is a super-secret, zippered and padded security compartment on the backpack right where it would meet your lower back while wearing it. And wouldn't you know it, it's the perfect fit for my Nintendo Switch. I don't always go looking for a Switch-sized compartment, but I do often take it with me, so when there's any sort of padded area that can accommodate it, bonus points.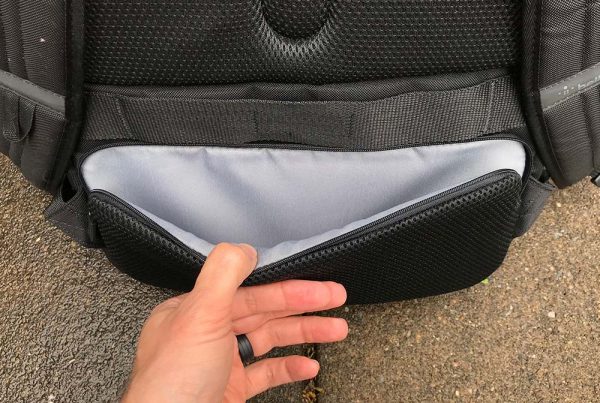 Just for some real-world application, I'll include what I was carrying in my bag when I took these photos:
an umbrella
iPad Pro 12.9" size with Smart Keyboard
Legal pad
5th Edition D&D Players Manual
A multitude of pens and cables
A book of writing prompts
Small stack of papers
Carry Comfort
All of these features would be practically useless if the bag itself was uncomfortable to wear in a typical commute. Fortunately, the Active Pro Backpack lives up to its namesake and is very comfortable to wear for extended periods of time, thanks to its heavy padding on the shoulder straps and back.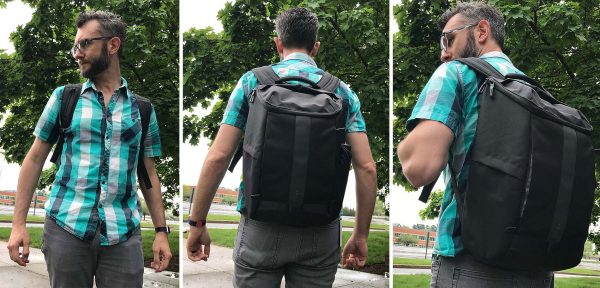 I wore the backpack on several hikes around the business park where I work, some of those walks on warm days. My back did get warm, as you'd expect, but not stifling… it still felt like it had breathability against my back.
Your mileage may vary from exactly how much weight you add to the pack, but at least the initial weight of the bag is light.
If you're a cyclist or are rolling some luggage behind you, there are sturdy luggage straps on the backpack as well.
The straps are stitched on very well and the bag itself seems plenty durable.
Final thoughts
The Active Pro Backpack checks all my boxes for looks, comfort, and organization while also maintaining durability and a fair price. I can wholeheartedly recommend it to anyone in need of a commuter bag.
Price: $49.99
Where to buy: Belkin or Amazon.
Source: The sample of this product was provided by Belkin. You can find out more and see their full line of products on their website.