We use affiliate links. If you buy something through the links on this page, we may earn a commission at no cost to you. Learn more.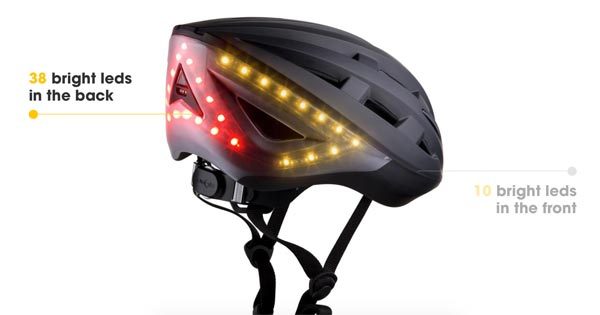 Sure, you can signal your intention to make a turn with hand signals while riding a bike, but those hand signals might not be so visible at night.  I've seen gloves with lighted turn signals on them, but not everyone wears gloves when they bike.  Everyone wears helmets, though, and Lumos has added LED lights and signals to their helmet that are bright enough for day or night use.  And they even include a remote control to activate the lights to signal your turns.
The white LEDs on the front and the red triangle on the back light up to make you more visible to others in front of and behind you.  Yellow turn arrows on the back blink to show your intended turn, and half the front lights blink to show the direction of your turn, too.  And the accelerometer knows when you're slowing down and can signal that with the helmet, as well.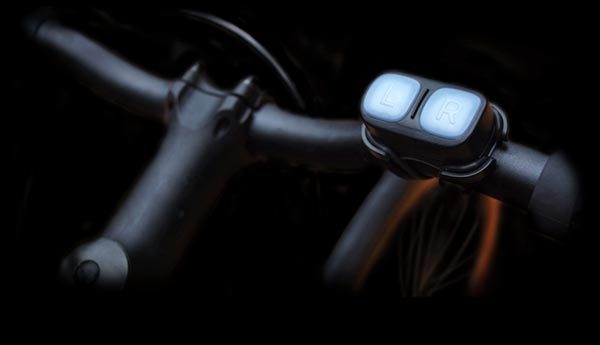 Attach the remote control to your handlebars so you can trigger the Lumos helmet to signal a turn.  The remote is weatherproof and detachable to prevent theft while the bike is parked.  One is included with the Lumos.
The Lumos helmet also connects to the Apple Watch.  When you manually signal with the arm wearing the watch, your movements trigger the Watch to turn on the appropriate signal on the Lumos.  It also syncs with the Strava app and Apple's Activity app.
The Lumos helmet is available in adult size (54 – 62cm / 21.3 – 24.4in) in pearl white, cobalt blue, or charcoal black for $179.99 at the Lumos website.  You can also get the helmet in all three colors at the same price at Amazon with free Prime shipping.