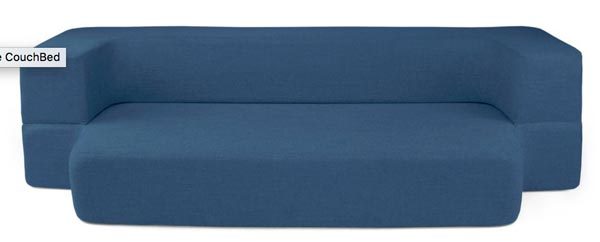 When space is limited in your home, you need furnishings that do double duty.  This product from CouchBed is the ideal product for folks living in a tiny home, a studio apartment, or for those without a guest room.  As the name suggests, the CouchBed is a couch that easily converts to a bed.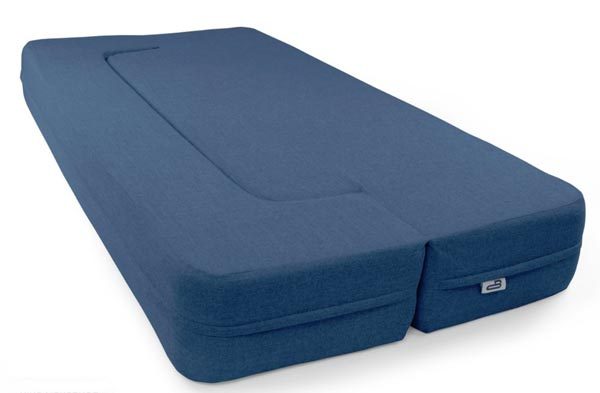 The CouchBed is a 10″ Memory Foam mattress that's "made with 100% CertiPur certified ultra-dense memory foam, combined with phase-change material to actively cool the sleeping surface, so it won't get hot like traditional memory foam."  CertiPur means the product is free of "ozone depleters, formaldehyde, mercury, lead or heavy metals, and meet CertiPUR-US® standards for content, emissions and durability."  The mattress is made with a "hinge", so you can flip up part to turn the mattress into a couch.
CouchBed says it's sturdy and comfortable enough to be used as your daily couch and daily bed.  It's available in a twin size for $299.99 or a queen size ($449.99).  You'll select from a black, charcoal, limestone, blue, or red cover, and you'll receive two bamboo-infused Memory Foam pillows free with each CouchBed purchased.

If you desire a little extra height for your sofa and your bed, you can pre-order the adjustable platform.  The solid wood platform adds 10″ of height.  It slides closed when the CouchBed is in the couch form and slides open to accommodate the mattress form.  Platforms will begin shipping in June.  Twin size is $249.99 and the queen is $299.99.  If you are buying the CouchBed and platform together, use the COMBO code for a $50 discount.
Learn more and order at CouchBed.
Support The Gadgeteer
:
We may earn a small affiliate commission from purchases made from buying through links on our site. As an Amazon Associate I earn from qualifying purchases. Learn more.