We use affiliate links. If you buy something through the links on this page, we may earn a commission at no cost to you. Learn more.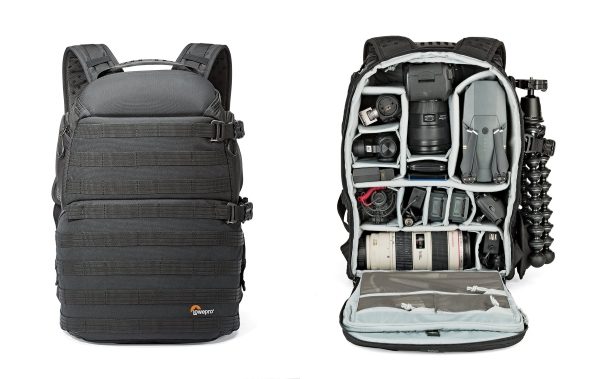 Continuing on my search for the perfect backpack for my photography gear, I have been looking at the Lowepro ProTactic 450 AW Camera Backpack. This backpack can hold 1 to 2 DSLR camera bodies, a large lens like a 70-200mm attached, up to a 15-inch laptop, an additional 8 lenses, a tripod on the exterior of the bag, and other accessories. A modular accessory set made up of a water bottle pouch, two cinch straps, a tripod cup, and an accessory case are included.
The internal organization consists of MaxFit System dividers that allow the bag to be configured to accept the maximum amount of gear. There is also a "CradleFit" laptop pocket to properly hold and protect your laptop.
On the exterior, there are several accessory pockets, and it is built with the ActivZone harness to adequate provide ventilation, support and comfort. An all weather AW cover is also included to further protect the backpack and its contents from external elements.
The versatility of this backpack also allows it to be used to store and carry the DJI Mavic Pro drone.
The Lowepro ProTactic 450 AW Camera Backpack can be purchased from Amazon or B&H Photo Video for $199.95.