We use affiliate links. If you buy something through the links on this page, we may earn a commission at no cost to you. Learn more.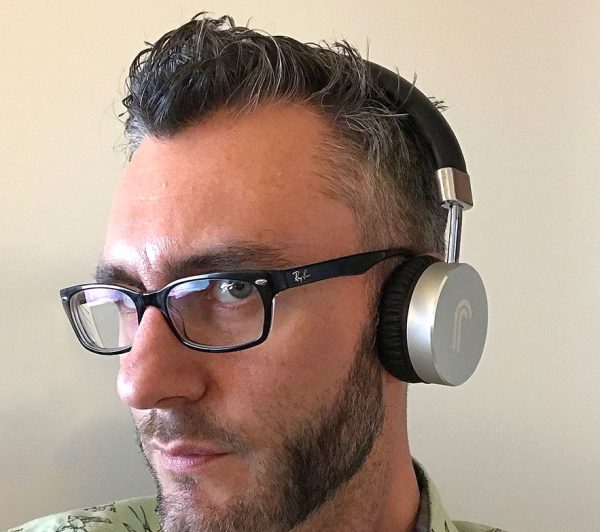 When it comes to headphones, there seems to be a sliding scale of form and function. Looks, comfort, sound quality and price are all factors that fluctuate wildly. Do the Fanstereo Studio43 Bluetooth Headphones deliver on all categories?
What is it?
The Fanstereo Studio43 Headphones are premium wireless Bluetooth headphones with clean aesthetics and comfortable, sound-insulating design.
Hardware specs
Bluetooth V4.1 (Operation range up tp 35 feet)
Sensitivity 102 + 3db, Frequency Response: 20-20 kHz
Drivers: 40 mm
Impedance: 32 Ω OHM
Charge connector Micro USB
Charging time 1-2 hrs max
Standby time 300 hrs max
Playing time 13 hrs max
Weight: 162g
Battery capacity 250 MAH
What's in the box?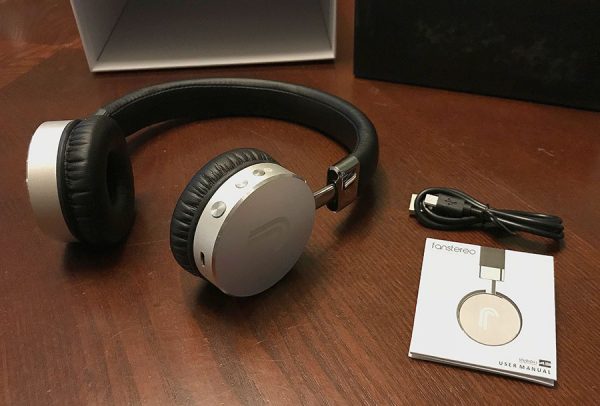 Fanstereo premium aluminum headphones
Owners manual
Micro-USB cable
Design and Features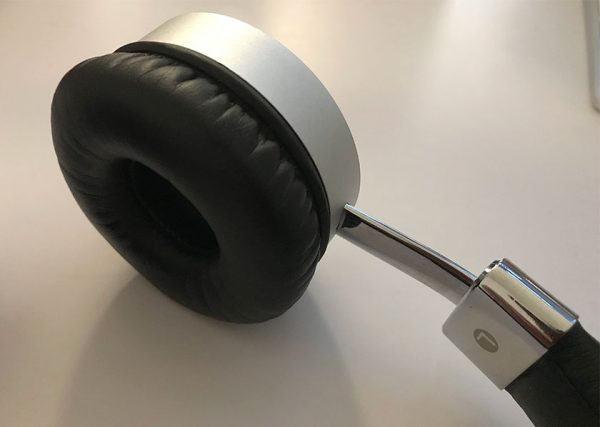 I like the overall aesthetic of the Studio43. They're nice and simple and look great on my desk next to my iMac and other black and stainless steel office supplies. They also look expensive. They feel like premium headphones. The ear cushions are as soft and plush as they appear, perhaps even more so, and do a great job in forming a seal to insulate noise. They don't leak much sound to the outside.
Fit and Feel
As mentioned, the Studio43 headphones are high quality. The headphone band is very flexible and exerts a very small amount of pressure on your ears. The band doesn't feel like it would break very easily.
Most of the force keeping the headphones on your head comes from them resting on top of your head. I've never really been a fan of over the head headphones because of my thick hair… they tend to irritate my scalp after an hour or so. These were no different for me, however, that seems like it would be limited to me in particular.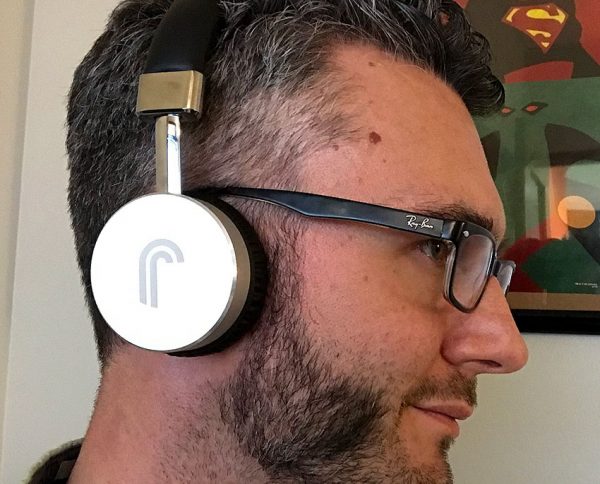 My ears didn't get sweaty or hot, which is another issue I run into with these type of headphones, because they rested so lightly on them and the earphones have an excellent amount of cushion. Overall, they were comfortable. I think I'd have a much better go if my hair was much shorter.
Sound Quality
I'd rate the sound quality of these headphones somewhere in between Fair and Good. The mids and treble seemed quite good, but they were a bit lacking in the bass. Some minor adjusting so as to create a better seal around my ears did help the quality a bit. I was able to coax them into a fuller sound through some equalizer in the music apps I tested them with, but out of the gate, I'd rate them as Adequate.
Functionality
On the back of the right headphone, there are three buttons that serve multiple functions. The large button serves as the power button as well as start/pause. Holding it for about 5 seconds powers the headphones on or off.
The two smaller buttons are the volume up and volume down. Double clicking those buttons work as forward or reverse track skip.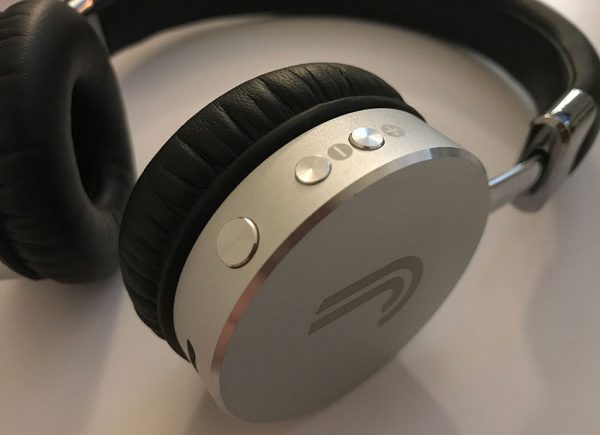 There is a neat "AI" function when your phone receives a call, a voice prompt simply asks "Yes or No?" and awaits your answer. It doesn't read the name or number of the caller, so you'd have to check your phone screen to see if you want to talk to that person or not. But the response mechanic works well. I answered "No" and the mic picked up my voice and started the music again.
Battery life seems to be close to advertised. The manufacturer claims the headphones have a 13-hour life, and I was seeing numbers closer to 12, which is pretty great.
One thing that drove me crazy about these headphones was the confirmation beep for every action. It's fairly typical to hear a feedback tone when adjusting the volume or maybe even skipping a music track when you're pressing a button on the headphone itself. But the Studio43's gave the same feedback beep when adjusting things on the actual device. So when I hit the volume button on my iPhone? Beep. I dragged the volume slider on my Mac. Beep beep beep beep forever increment. I selected a new playlist. Beep. It even beeped when one track ended and went to the next song, without pressing any buttons on any device. It was just like, "BEEP just thought you'd like to know that you're listening to a different song now!"
There was no way to disable this as far as I can tell. I noticed that it didn't do this in Spotify, but did so in the Apple Music and Amazon Music apps, on my iPhone and my iMac. Your mileage may vary.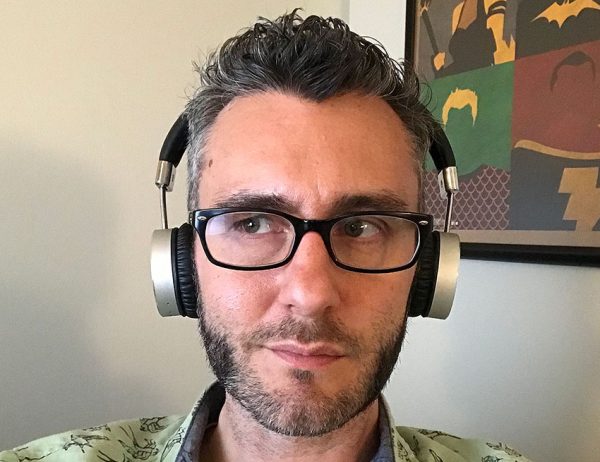 It also features a small personal peeve, the Intermittent Blinking LED. It's one of those external indicators that let you know that the headphones are on, which is unnecessary. LED on when it's charging? Sure. That's a good method of letting you know that it's actively charging. I usually work in a dimly lit room, and I can't deal with a blue strobe light illuminating any close surface every 6 seconds. The light isn't that bright, but it's just one of those design choices that irks me.
What I like
Good sound isolation
Looks great
Comfortable
What needs to be improved
Just okay sound
Beeping feedback with *literally* every action
Final thoughts
With a product like headphones whose entire purpose is to deliver sound, if they sound awesome but are uncomfortable, that's almost as bad as comfortable headphones that sound terrible. The Fanstereo Studio43 headphones offer a good mix of high comfort, great looks, and just-good sound.
Price: $139.00
Where to buy: You can buy the Studio43 Headphones in silver or camel brown from their website or Amazon.
Source: The sample of this product was provided by Fanstereo.