We use affiliate links. If you buy something through the links on this page, we may earn a commission at no cost to you. Learn more.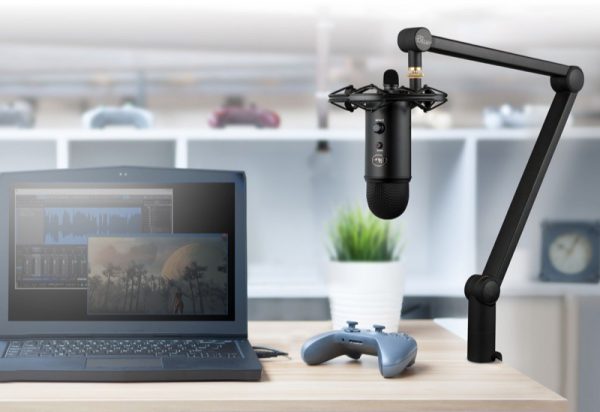 One of the golden rules of audio is to put the microphone where the sound is. For recording purposes, this means placing the microphone close to your mouth, but not in an obtrusive way. Blue Designs, the makers of the popular USB Yeti Microphone, introduces a sleek adjustable boom arm with good looks to boot.
What is it?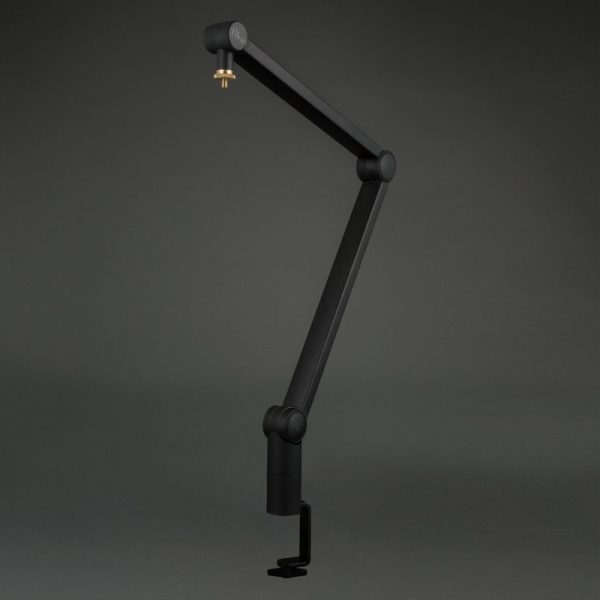 The Compass is sold as a standalone product, which is good news for those of us with (too) many microphones and other audio gear. It looks like a desk lamp but without the springs and knobs you normally find on such a thing.
Hardware specs
Boom Type: Extruded aluminum
Desktop Mount: C-clamp
Rotation: 360 degrees
Max Horizontal Reach: 32"
Max Weight Hold: 2.4lbs (including mic and shockmount)
Cable Management: Hidden-channel cable management
Threading: standard 5/8" threading, adapter for 3/8" threading
What's in the box?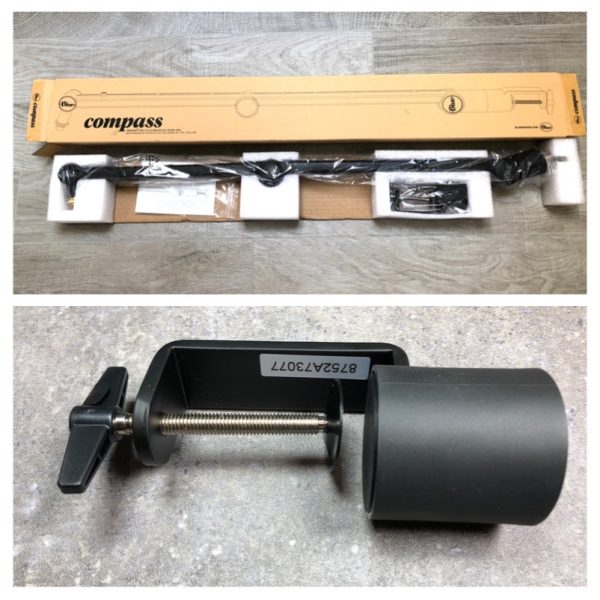 In the box, you'll find the compass desktop boom arm, C-clamp for desktop mount, and a 3/8" to 5/8" adapter.
Design and features
In order to test the Compass with the corporate brethren, I was given a Yeti Microphone (in black) to test, alongside a Radius III shock mount (an update from previous versions).  All three items are available as a package called the Yeticaster.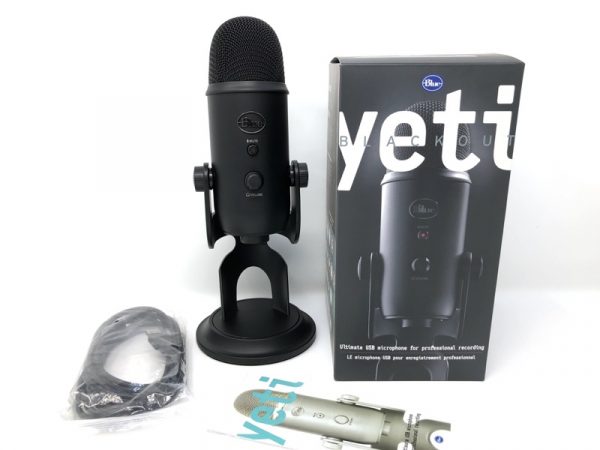 The Yeti should be a familiar sight by now.  This one is called the "Blackout" which matches the Compass arm perfectly.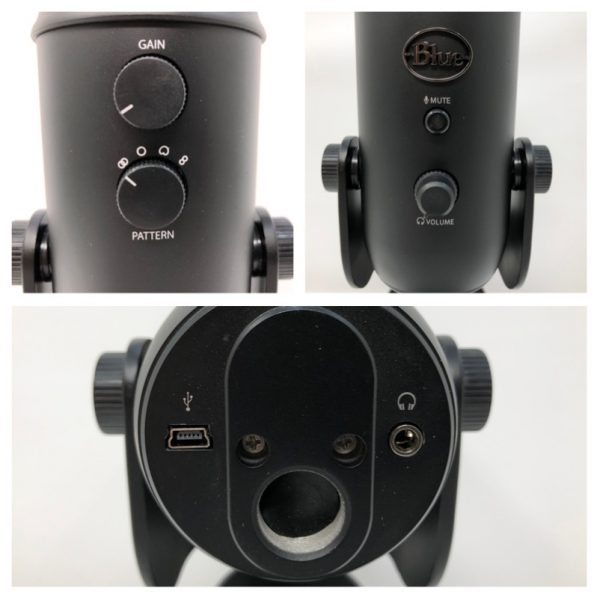 Here's a peek at the Yeti's controls, including gain, pattern selection, mute, headphone volume, mini-USB, mic stand thread and headphone output.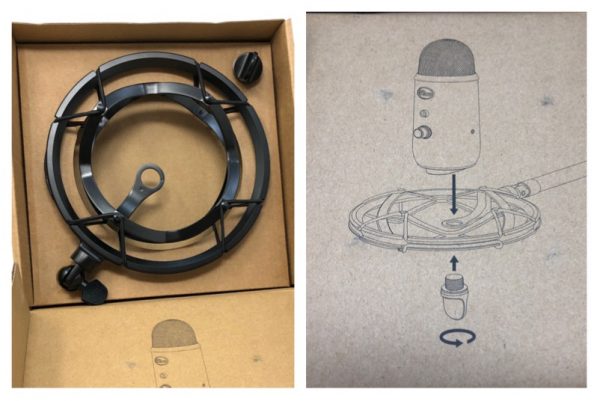 The Radius III shock mount comes in a plain cardboard box with a clever diagram for assembly.  For the Yeti microphones, a thumb screw attaches to the base of the mic.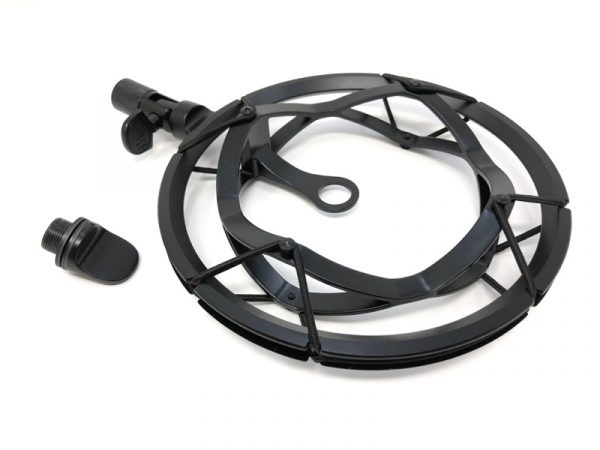 There are only two pieces in the entire box, in matching black.
Setup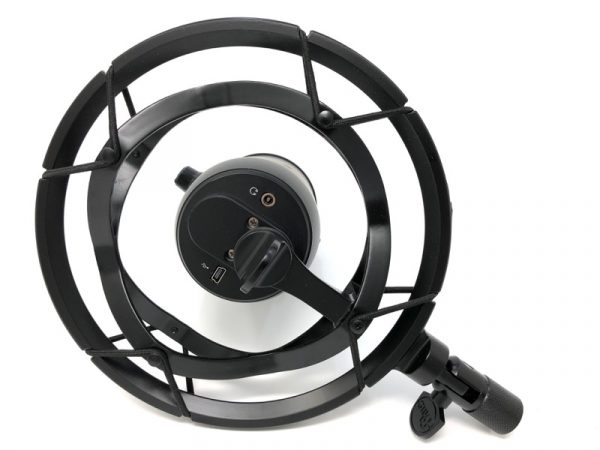 The thumb screw is shown attached to the bottom end of the Yeti mic. The four elastic bands isolate the microphone from external vibrations.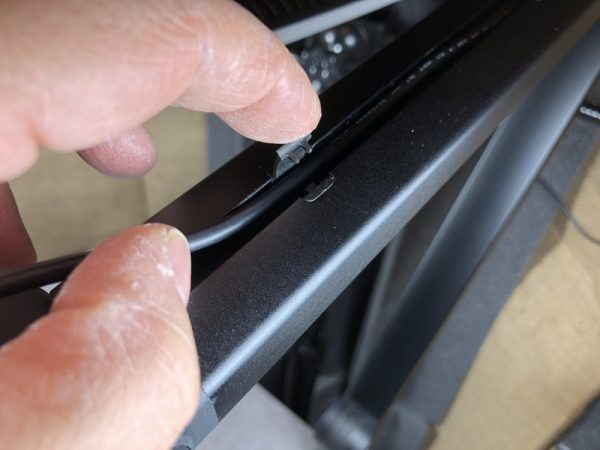 The compass arm has a channel with snap tabs that hold cables in place.  You'll need a fingernail to pry the tabs open.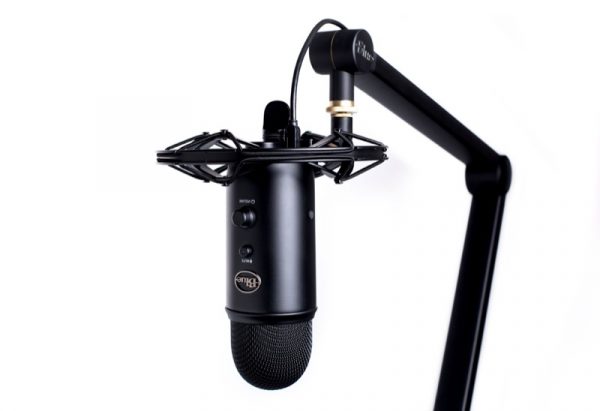 When fully assembled, the matte black color is really sleek.
Performance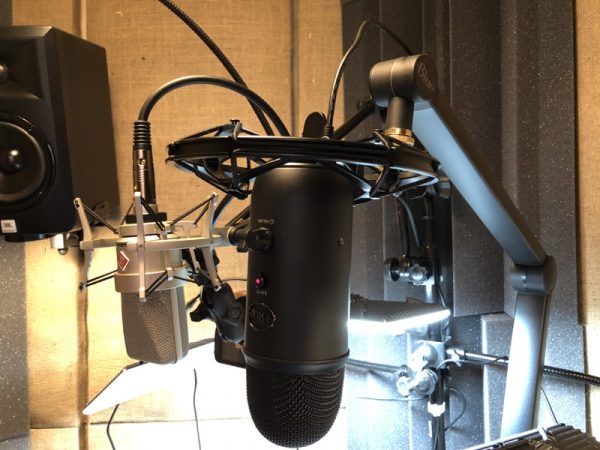 My recording booth setup is pretty cramped. I put the Yeti/Compass/Radius combination next to my Neumann TLM103 mic setup and recording a track side by side.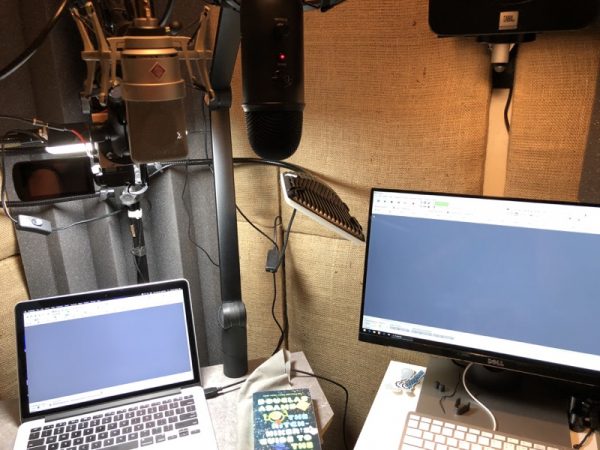 I read an excerpt from The Hitchhiker's Guide to the Galaxy.  Don't panic!  Both tracks were recorded simultaneously with the same settings on each with no processing.  The Yeti was set for a cardioid pattern.
As I had expected, the Yeti sounded very good. The Neumann had much, much more low end made more apparent by my deep voice. Your results will vary heavily on recording environment. I was recording in a treated room that was specially built for audio.
What I like
Handsome hardware at a reasonable price
Yeti punches above its price point and is fine for 99% of your average podcaster
What needs to be improved
Compass tension adjustment knob could use a little more "grip" or meat. Right now they're a sliver of plastic.
Final thoughts
If you're looking for a slick, adjustable microphone boom arm, the Compass boom arm is the way to go. The matching Radius III shock mount pairs perfectly with the Yeti USB microphone, or purchase all three as a bundle with the Yeticaster kit.
Price: $99.99 (Compass), $129 (Yeti microphone), $49.99 (Radius iii) or $199.99 (all three, the YetiCaster Kit)
Where to buy: Blue Designs
Source: The sample of this product was provided by Blue Designs.