We use affiliate links. If you buy something through the links on this page, we may earn a commission at no cost to you. Learn more.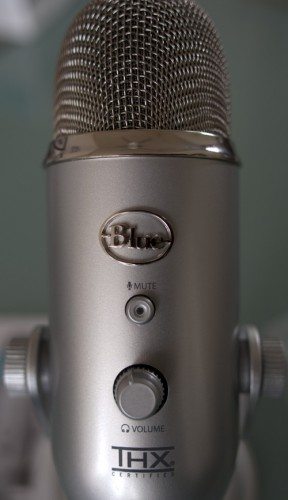 Blue Microphone has extended their USB microphone line to include the Yeti. The Yeti is a retro-looking microphone that has the flexibility to use four different recording patterns to adjust to your recording needs. These include:
Stereo
Cardiod
Omni
Bidirectional
When Julie asked if anyone would be interested in reviewing this microphone, I became Horshack to her Mr. Kotter (and yes, I DID just make a mid-to-late '70's reference). My day job is instructional design which increasingly involves more and more e-learning projects. I have been looking for a USB mic, and this was definitely a contender.
Who is Blue?
Blue has a very good reputation with musicians. They have a very high-end line of microphones. Their tube-based Bottle microphone runs $6,000, so they should know quality microphones. Their USB line started with the Snowball microphone, a softball-sized USB mike that they claim was the first professional USB mic. They kept the theme with the smaller Snowflake microphone. So when they brought out the huge microphone I am reviewing here, they must have thought… "hmmm, it's Big… kind of like the Abominable Snowman… I know… Yeti!".
First Impressions
I really like the packaging. It is creative, entertaining, and very informative. The mike and stand come packed in a styrofoam, and they include a USB cable and a short manual.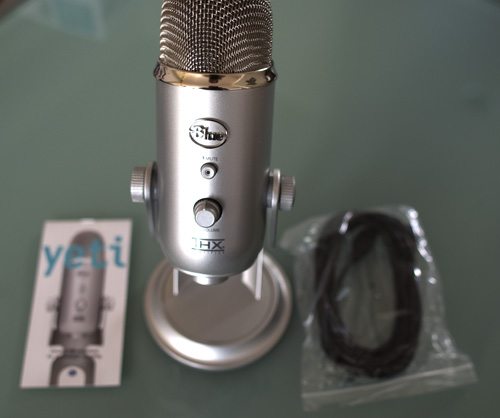 This microphone is big. And it is heavy. But I am not complaining. The weight feels comfortable to me, it feels very stable on the desktop. I really like the stand that it comes with, but if you need to, it has a standard threaded mic stand mount on the bottom between the micro-USB and headphone jack: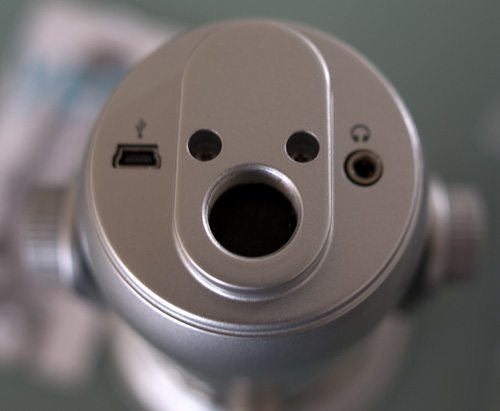 Setup
Setup is very simple. Plug the USB cable in the mic, plug the other end in the computer, then use. I tested on my MacBook Pro with Garageband with no issue. The mic is immediately recognized by name on the Mac.
Most of my work with this mic will involve Adobe Captivate, so my next task was to use it in Windows. Again, it shows up fine in Windows as a Blue Yeti mic (I run Windows in VMware Fusion). I will include a sample captivate demo at the end of this review.
Use
The controls on the microphone are pretty simple. The back of the microphone has a Gain dial to control how sensitive the mic is. There is also a 4-position dial to control the pattern the mic will use. From left-to-right you have Stereo, Omnidirectional, Cardioid, and Bidirectional.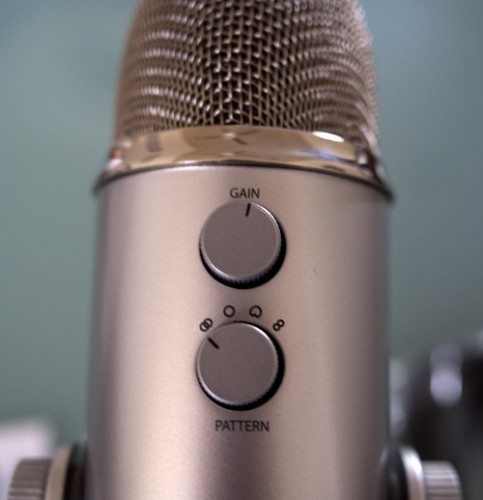 The front includes a mute button (it flashes red when mute is on, solid red when plugged in and ready to go) and a volume knob for the headphone jack.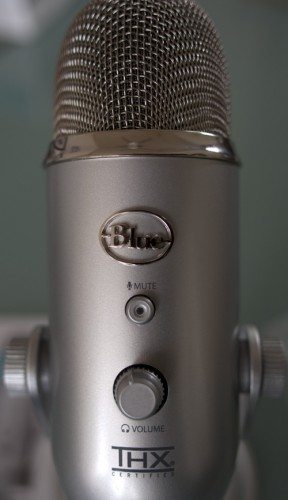 Performance
I was immediately impressed by the performance of the mic. The recordings I made on the Yeti were significantly better than the ones on the built-in mic (to be expected) and to other mics I have used in the past.
My only concern with reviewing this mic was my lack of professional experience (beyond voice-overs for e-learning). For that, I carted it up and visited a friend who is a first-rate musician named Tony Miracle. He is part of the band Venus Hum (who use a number of Blue Mics themselves) and releases solo projects under the names Satellite City and Tony Miracle.
I let him play with it a little bit, and he was able to do things with the Yeti I could only dream of. Obviously with his own home studio, he has better (and far more expensive equipment) but he was impressed by the capabilities.
The only performance issue I encountered at all was some occasional lag in the recording. This is due to the USB nature of the mic. Tony had expected it, and I have learned that most USB mics can experience lag, and it is dependent on your system. The only implication for me is I wait for a few beats after starting record to talk, and wait for a few beats after talking to stop the recording.
Demonstration
I wanted to give a demonstration of the Yeti in this review. To do this I went to the tools I use. And that is Captivate. Captivate lets me record audio, but keep in mind, this is no Pro Logic, the recording is for voice-overs. I did almost no work on the recordings. In the finger-picking example, I used a feature in Captivate to normalize volume since it was far softer than other recordings, but other than that it is unprocessed.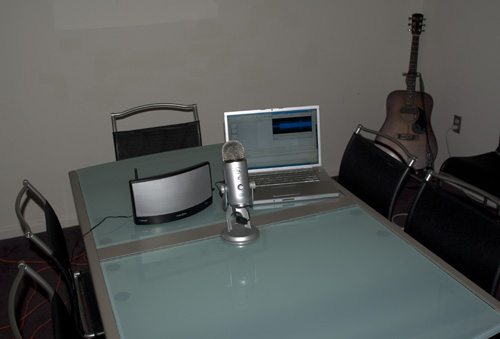 I kept the setup pretty basic. This was done in my living room, and I used my Tenqa SP-109 speakers as an audio source for the pattern demonstrations. Tony Miracle graciously allowed me to use a cut (Song for Charley Harper) from his album Cincinnati Modern to provide a consistent sound. SO the setup was:
Yeti Microphone
MacBook Pro
Adobe Captivate
VMWare Fusion
Tenqa SP-109 bluetooth speakers
T-Mobile G1 phone to play music
Alvarez Yairi Guitar
Disclaimer
I did not spend any time tweaking the audio, beyond the normalize feature on the finger-picking section. I wanted to give as raw a look at the mic as possible. I am sure I will learn a lot how to further enhance the recordings later, but this review focuses on the mic. I also did not spend a lot of time scripting it out. I hope this helps give you a better picture of the microphone's capabilities.
Conclusions
For some, the size of the Yeti might be a con. It  has a big footprint, but I like how stable it is. It is a USB-only mic, so you won't be using it without a computer, but it is a very nice USB microphone. I won't be exploring other options for my microphone needs, this fills it very nicely.

Product Information
Price:
149.99
Manufacturer:
Blue Microphones
Pros:

Big and Stable
Flexibility (4 patterns)
Retro Look

Cons:

Big
Typical USB-lag
USB only