We use affiliate links. If you buy something through the links on this page, we may earn a commission at no cost to you. Learn more.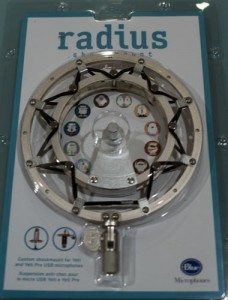 Blue Microphone recently released the Radius shockmount for their Yeti and Yeti Pro microphones (both microphones have the same mount and form-factor). A shockmount is used to isolate your microphone from vibration while recording. The mount is specifically designed to work with the Yeti and Yeti Pro, but could be used with almost any microphone with a standard mount.
Blue sent me a Radius to use with the Yeti Pro I recently reviewed. I was happy to give it a spin.
Packaging
The mount comes in standard plastic clamshell packaging. The only directions come from the two photos in the front displaying a Yeti with a desktop stand, and Yeti Pro on a boom stand. The lack of extensive directions is understandable, it is a simple device. Here is a picture of the mount: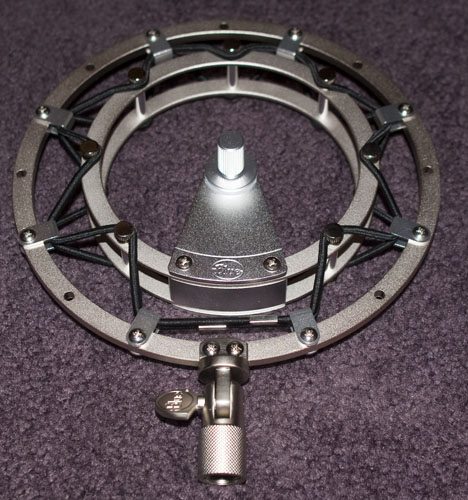 At the bottom of the picture is the connector that attaches to your stand. The radius does not include a stand, but will screw onto any standard microphone stand. As you can see in the picture, the inner ring that attaches to the microphone is attached to the outer ring only by the elastic cords. This prevents vibration from the microphone stand transferring to the microphone.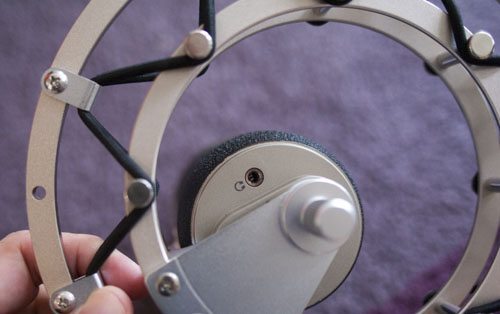 Looking from the bottom, you can see the Yeti Pro mounted on the Radius. While on the Radius, you can rotate the microphone a full 360 degrees to get the right direction for the microphone. Of course, with the USB or XLR port on the bottom of the microphone, you are limited to a range slightly less than 360 (you need space to plug it in), but that is sufficient to provide flexibility in setting up the microphone. In this case, the microphone is rotated 180 degrees, and the XLR port is blocked. Since this would be pointing the microphone back at the stand, this is not a big issue, but you should be aware of it.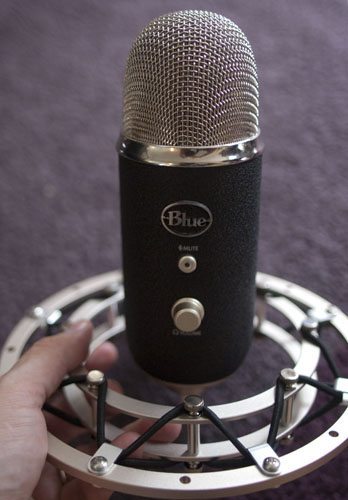 Here is the Yeti Pro installed on the Radius. In this case the microphone is centered in the radius, and points away from where the Radius mounts to the microphone stand.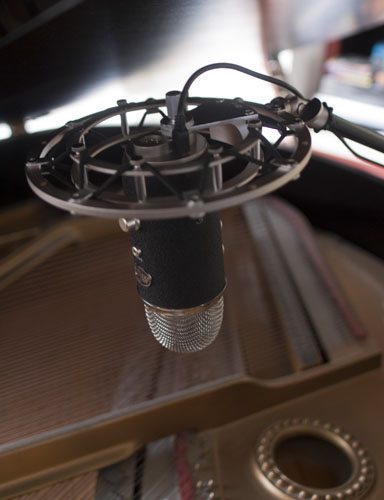 Here is the microphone and Radius on a boom stand. Notice, when the microphone is positioned in the center, both the XLR and USB ports are uncovered. It is very easy to rotate the microphone in the mount to get the ideal microphone placement.
Conclusion
The Radius works very nicely with the Yeti. It is very easy to install, and very flexible as you tweak your microphone placement. If you have a Yeti, or Yeti Pro and need a shockmount, this is a great option. Even if you do not care about vibrations, using the shockmount provides increased flexibility in positioning your microphone.
Product Information
Price:
$69.99
Manufacturer:
Blue Microphones
Requirements:

Microphone with a standard threaded mount including the Yeti and Yeti Pro

Pros:

Designed for the Yeti but works with most microphones with standard mounts
Easy to install
Easy to adjust

Cons: