We use affiliate links. If you buy something through the links on this page, we may earn a commission at no cost to you. Learn more.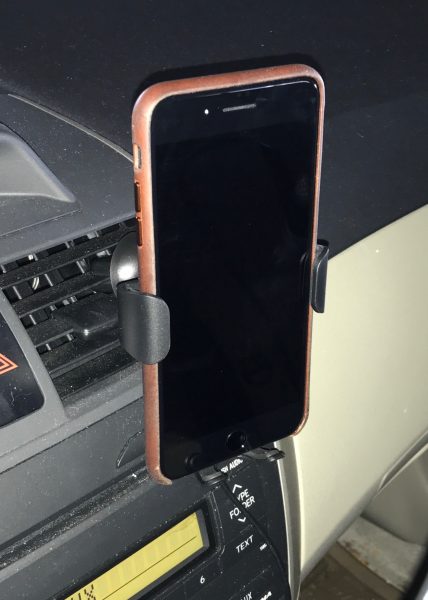 Mounting your phone where you can see it while driving has become the norm. Whether you're using it for a GPS system or entertainment, everyone wants their phone easy to get to, or at least within their visual field. I was recently sent a one-hand air vent clip from Baseus in black to test.
Note: Photos may be tapped or clicked for a larger image.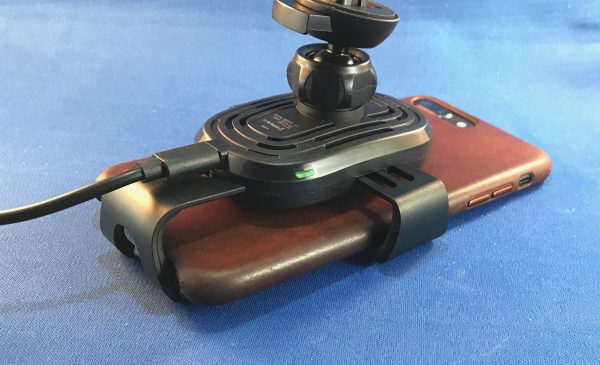 What is it?
The Baseus wireless charger incorporates a clip-on air vent holder with a one-hand operation gravity holder, and then adds the secret sauce of wireless charging to the mix. The charger itself has a cable that runs to a power source, and the arms are activated by the downward pressure from the weight of the phone in the holder.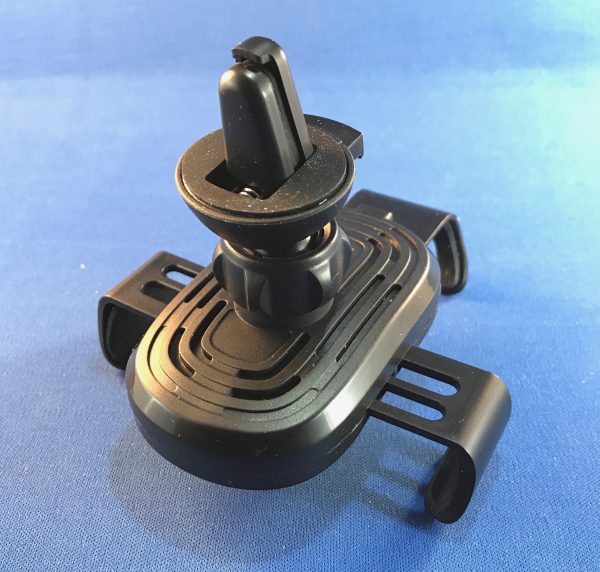 Hardware specs
Wireless charger
Gravity car mount
Safe and quick charging
One-hand operation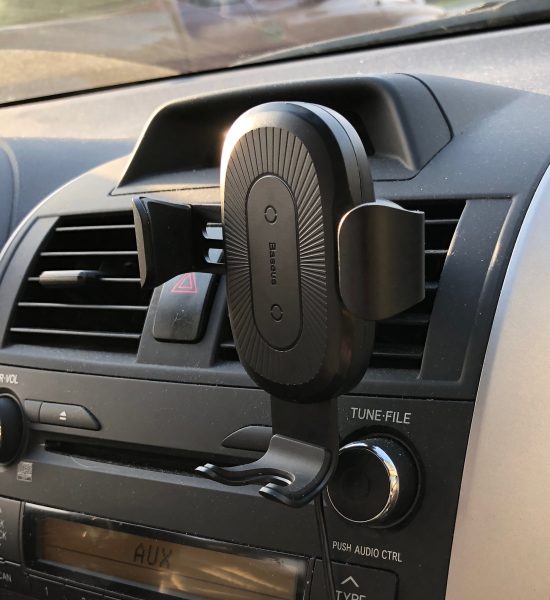 What's in the box?
Clip-on charger
USB-A to microUSB cable
Instruction sheet
Design and features
The Baseus Wireless charger at first glance is a bit confusing. The two side arms and the bottom cradle are geared together inside somehow and don't lock into place. While unboxing it, I moved them around, trying to find the "lock point," but never got it to work. I plugged it into a spare microUSB cable at my desk and then placed my iPhone 8 Plus into the cradle, just to see if maybe having power would make it lock. When the phone got close to the clip, I felt and heard the familiar "ding" indicating charging. I was a bit surprised that it contacted so easily since I had read and heard on podcasts about how finicky many chargers are.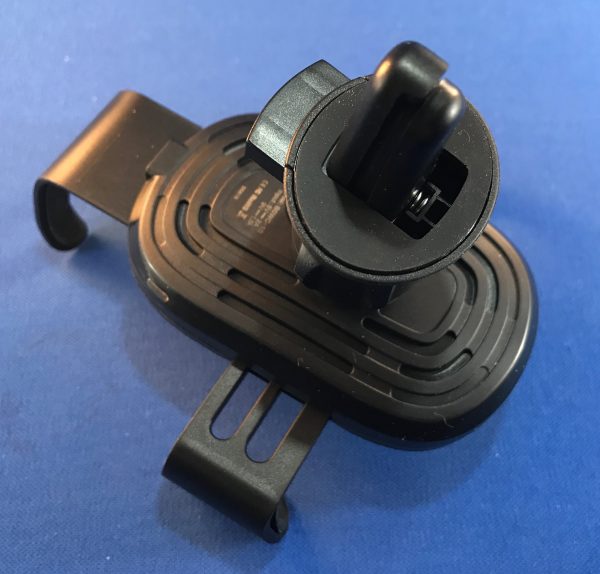 I was still a little confused on how it would lock into place until I put it in the proper orientation. The slight weight of the phone pulled the side arms around the device just enough to hold it firmly. When you grasp the top of the phone and lift it up, the base's spring-loaded action draws it up slightly, and the arms are pushed outward, releasing the phone. I drove over some pretty bad road construction while testing, and never got large enough bumps to where the phone bounced out of the holder.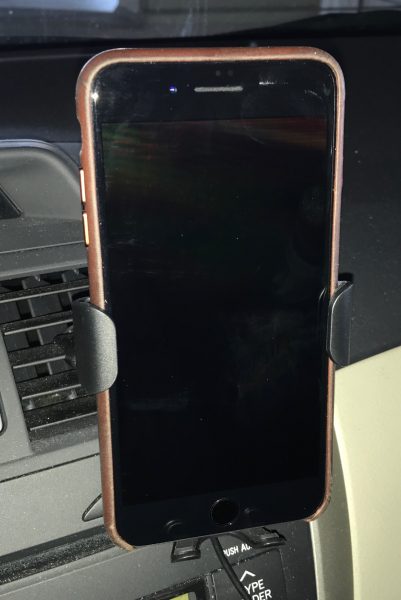 The spring on the air vent clip is quite tight. I could barely get it to open enough to get the prongs onto the vent slat. There is a slight "tooth" sticking up on the lower prong that prevents the clip from vibrating off over time, and foam glued to the inside of the jaws cushions them from scratching your dash. When it's removed, there is no evidence it was ever there.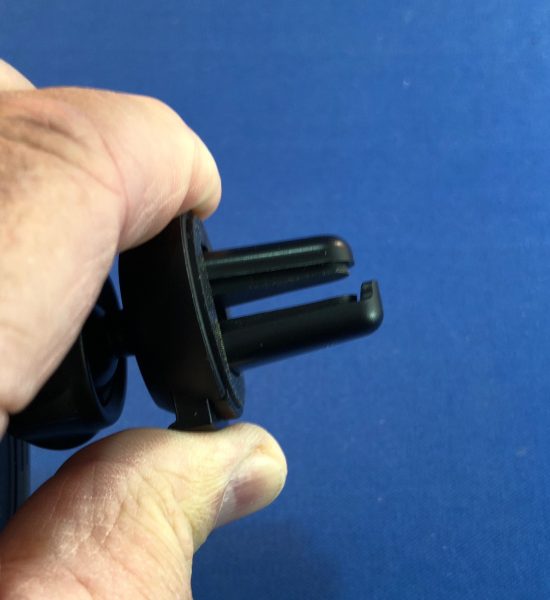 Setup
I recommend deciding where you're going to place the holder first, then deciding on wiring routes. Also, connecting the wire before clipping the holder in place will make your install less stressful. It's quite difficult to get the angle right on the wire once the clip is installed.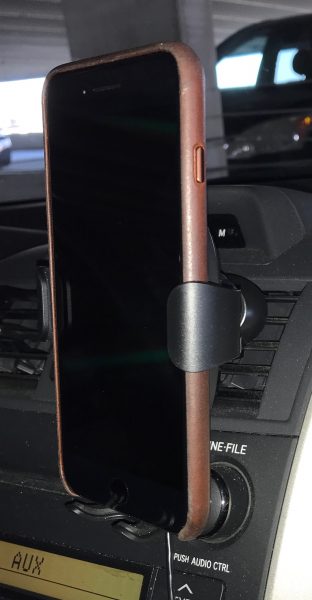 Performance
I cannot overstate how well this unit performed. It started charging every time my phone got within range, and never gave me a moment's trouble when adjusting it. Once set into place, it is rock-solid, and just became part of my instrument panel, which is exactly what I want from a unit like this.
What I Like
One hand operation
Charging starts immediately and never stutters
Very adjustable, yet sturdy, with no vibration
What needs to be improved
Final thoughts
As mentioned, I have several iPhone holders for in-car use. None were active when I was sent this unit. I've not taken it out since getting it, except to get a few photos of the back that I forgot to get before installing it. I use it almost every day and would buy another one if this one got broken or stolen. Much of that is because it's so easy to put the phone into and take out. Even though I have to plug in a cable since I don't have Bluetooth, it's still far less hassle than any other car mount I have ever used, bar none.
Updates 09/11/18
I have reviewed several in-car phone mounts, but I keep coming back to this one. Not only does it give my iPhone 8 Plus a nice charge while the lightning port is busily hooked to my old-fashioned AUX input jack, but it holds it up at eye-level, which is useful for when I'm fighting traffic. Not so fun is the fact that it blocks half the A/C getting out onto my face.
Price: $27.99
Where to buy: lululook
Source: The sample of this product was provided by lululook.