We use affiliate links. If you buy something through the links on this page, we may earn a commission at no cost to you. Learn more.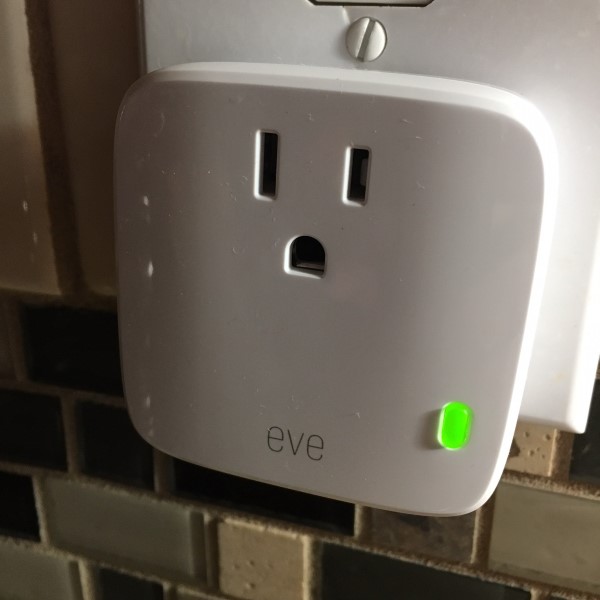 I'm particularly fond of home automation and have enjoyed making things light, whirr and spin with a poke at my phone or voice command. Adding the ability to monitor power is icing on the cake so I was eager to give Elgato's Eve Energy Switch & Power Meter and Eve Button a try.
What is it?
Eva Power Switch & Power Meter devices allow the control of a single socket via a smartphone app or Siri. Equipped with power monitoring functions, the app allows activation/ deactivation and power draw analysis for the connected appliance.
Adding the Eve Button allows remote control of Eve Power Switches without the need of a smartphone…
Hardware Specs
        Eve Wireless Switch & Power Meter
Plastic housing
Dimensions: 2.6 x 1.9 x 2.6 inches
Weight: 3.04oz
Power Rating: 120VAC, 15 Amps/1800 Watts maximum load
AC Frequency: 50/60Hz
Interior use only
Eve Button
Plastic and aluminum housing
Dimensions: 2.1 x 2.1 x 0.5 inches
Weight: 1.28 oz.
Power Rating: 3.0VDC, CR2032 lithium coin cell battery included
What's in the box?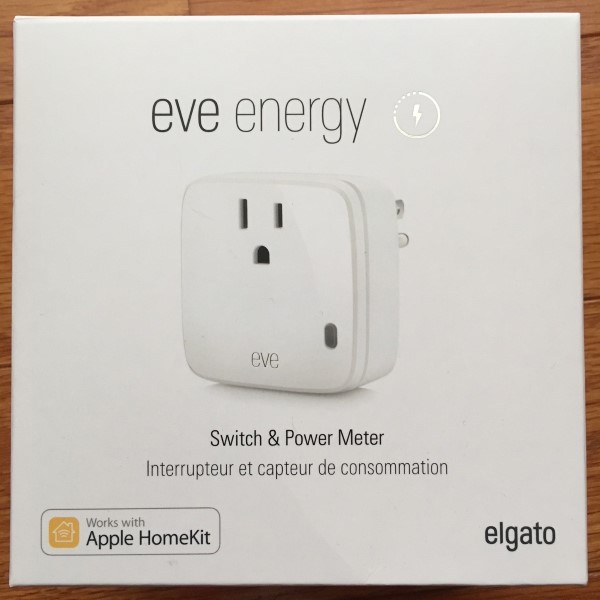 Eve Wireless Switch & Power Meter
Eve Switch
Instruction manual
Quick-start manual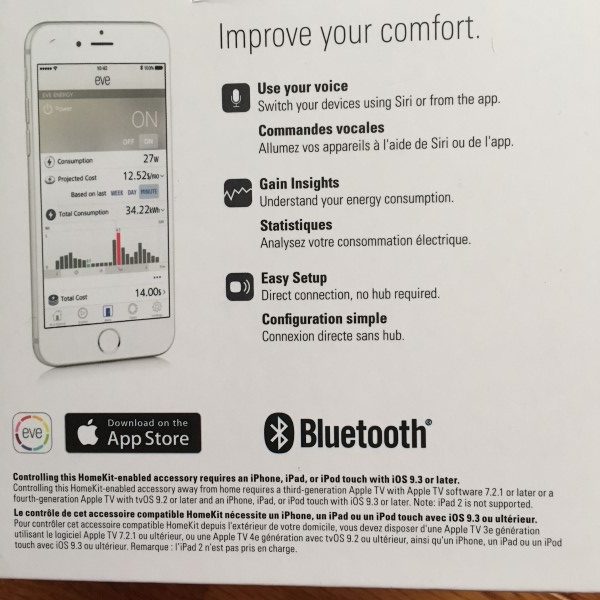 Eve Button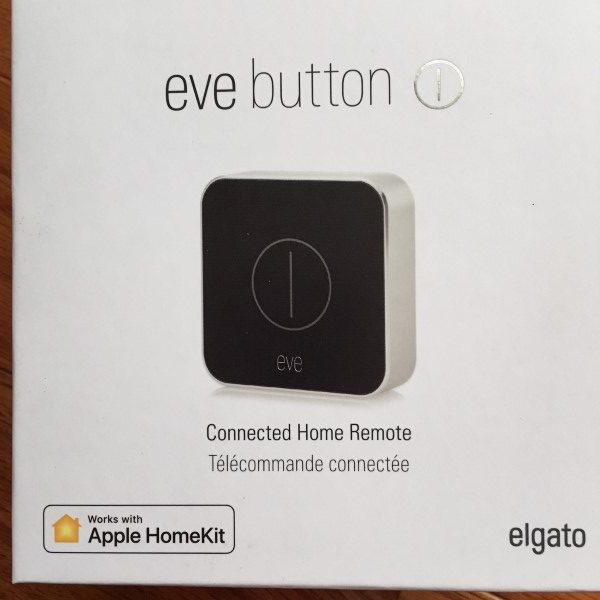 Eve Button
Instruction manual
Quick-start manual
Several sets of device icon stickers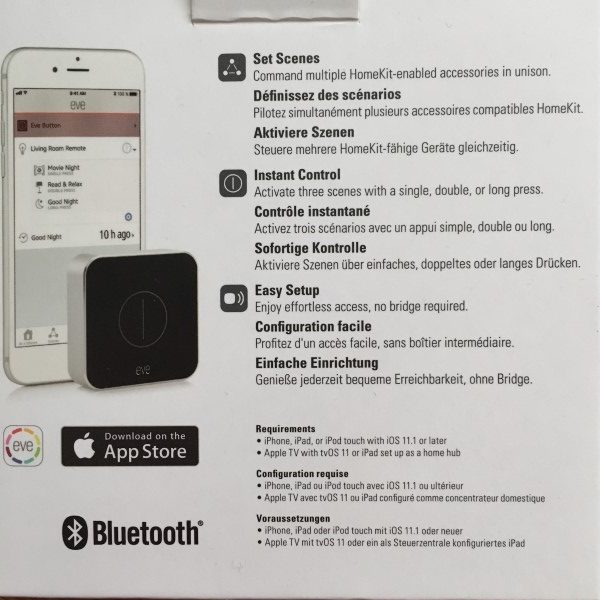 Design and features
The Eve Switch and Eve Button cardboard packaging are full-color and attractive looking. There is ample support to keep the contents from being damaged in transit. The quick-start manuals have easily understood graphics. The instruction manual is very tiny.
Because of the case design, it's not possible to plug in two Eve Switches into a single two-outlet socket. However, it is possible for another 3-prong grounded plug to fit in the second socket with the Eve switch plugged into the first. This has been a shortcoming of other manufacturers that Elgato has addressed nicely, although a case design that allows two Eve Switches in a single duplex outlet would be advantageous.
Connecting the sockets to Apple Home was super simple – just plug in, open Apple Home on your iPhone, click the + to add a new piece of hardware, Select "Add Accessory," Allow the camera to scan the device code, Click the new device "icon," wait for the confirmation and done and works without installing the Eve app. After successfully adding the switch, Apple Home allows the user to specify the room and give the new switch a name that can be used to verbally turn the connected device on or off. It's very cool to be able to issue a voice command like,"Hey Siri, turn on the coffee maker."
Here's where the Elgato Eve is different: Once connected and functional, the Eve app shows the status,  power consumption, projected cost, total consumption, total cost (based in my energy rate taken from my electric bill), Current (Amps) and voltage. For someone looking to reduce energy costs, this is a valuable tool to find out what's sucking the energy out of your home. I connected a small 3-cup rice cooker to the Eve Switch and turned it on. Over the next, I watched the power consumption while cooking and warming modes. The Eve app gave me an overview of my little rice cooker's usage.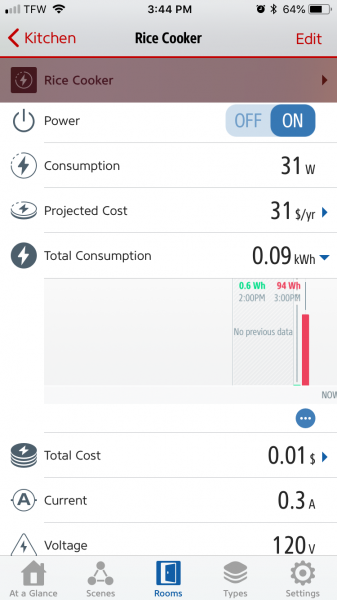 I can see this being a great tool for determining where my home appliances are wasting energy. It will be interesting to use the Eve Switches to monitor parasitic drain devices and reduce electrical costs.
The app also provides a mechanism to create scenes, turning any Apple Home devices on and off dependent on environmental issues. It's not as comprehensive a list of trigger conditions I've seen in other products, but in testing everything works well.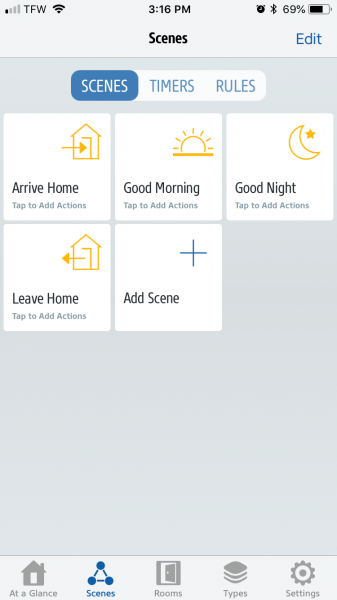 Next, I linked the Eve Button to my Apple Home account. The switch is small and sleek and has three button modes – single press, double-press, and long-press. Each mode can be configured to perform tasks on any Apple Home device but requires an Apple TV hub to configure and use. I don't have one at the time of this writing, but it's on my wish list. I envision using the Eve Button to turn an entire house of lights on or off at the end of a busy day without the need to go from room to room. Elgato includes stick-on rubber feet and several sheets of appliance icons that can be applied to the Eve switch as a reminder of what it's configured to control. A nice touch.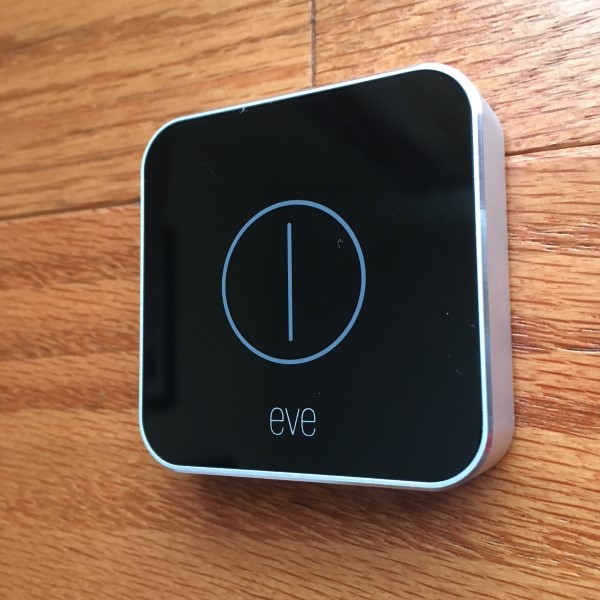 What I like
Snazzy looking
Easy configuration
Only one can be used per duplex socket
Capable app with energy usage feedback
What needs to be improved?
It would be nice if an Apple TV hub were not needed.
Final thoughts
I found the Elgato Eve Switches and buttons cost-effective, well-constructed and reliable. The switches work similarly to other manufacturers, but the energy collection data is top-notch.  I am looking forward to fully implementing the system and getting the Eve Button working.
Price: Eve Energy Switches $49.95. Eve Button $49.93
Where to buy: Amazon
Source: The sample for this review was provided by Elgato.