We use affiliate links. If you buy something through the links on this page, we may earn a commission at no cost to you. Learn more.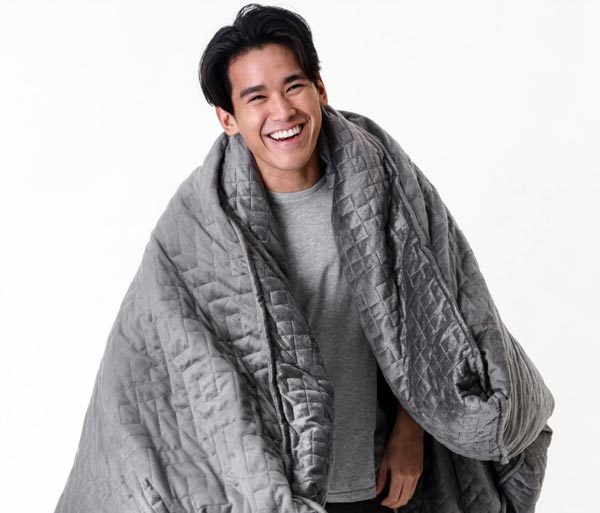 I've suffered with bad sleep patterns for years, but I apparently haven't known much about a lot of the simpler things that have been used for years to promote good sleep habits.  Instead of nighttime rituals, medications, light therapy, and the like, weighted blankets have been used in niche medical communities for many to promote sleep with forcing you to change your routines.  Gravity says "recently some scientific studies have shown the benefits of sleeping under a weighted blanket.  They have been shown to help people fall asleep faster and sleep more deeply. Without a prescription, therapeutic training, or changes in their routine."
The blanket should be weighted to about 7-12% of your body weight to simulate the feeling of being wrapped in a deep hug.  "Gravity uses the power of proprioceptive input (more commonly known as "deep touch pressure stimulation"), a well-regarded therapeutic method that stimulates pressure points on the body linked to improved sleep, mood, and relaxation.  Deep touch pressure stimulation has been shown to increase serotonin and melatonin, the hormones responsible for calming relaxation, while decreasing cortisol, the hormone responsible for stress. This natural, physiological approach decreases heart rate, blood pressure, and more, improving mood and promoting restful sleep and relaxation."
The Gravity Blanket is available in 15, 20, and 25 pound weights and is sized to be used by a single person.  The inner duvet is filled with micro beads for weight, and the gridded quilting pattern keeps the weight evenly distributed.  Both the inner duvet and the removable gray microfiber duvet cover are machine washable.
The normal price for the Gravity Blanket is $279.00, but any weight is now available for $249.  Learn more and purchase your own Gravity sleep blanket at the Gravity website.