We use affiliate links. If you buy something through the links on this page, we may earn a commission at no cost to you. Learn more.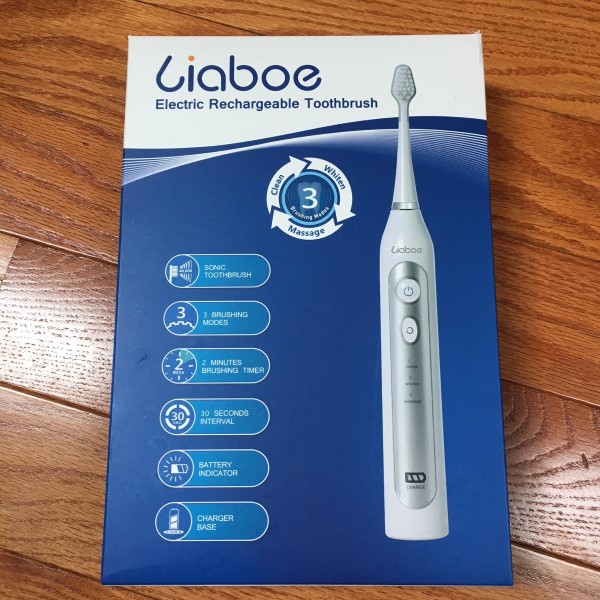 At the recommendation of my dentist, I switched from a manual to an electric toothbrush many years ago. Since then, I've used multiple brands with varying degrees of success, solely judged on the observations of my hygienist.  Liaboe's Electric Toothbrush looked to be a worthy contender to my long-time preferred Sonicare Elite.
What is it?
The Liaboe Electric Rechargeable toothbrush is… a toothbrush. The toothbrush charges using an inductive base and is equipped with three modes, Clean, White, and Massage. Wait… Yes, I checked it – the toothbrush has a massage mode, no kidding. The replaceable heads vibrate at up to 40,000 strokes per minute to help abate plaque deposits, freshen breath and whiten teeth.
Hardware Specs
Plastic housing
Dimensions: Handle – 183 x 32.6 x 30.6mm; 7.2 x 1.3 x 1.2 in.
Dimensions: Base –  88 x 92x 32mm; 3.5 x 3.6 x 1.3 in
Weight : 9.91oz / 0.28kg
Power Rating: 100 ~ 240 VAC , 50/60Hz
Rated Voltage: 3.6 V
Clean mode current: 400mA ± 150mA
Whiten mode current: 330mA ± 100mA
Massage mode current: 200mA ~ 550mA
Clean mode: 31,000 strikes per minute
Whiten mode: 40,000 strikes per minute
Massage mode: clean mode alternates with whiten mode
App Support: Android 4.1 and iOS8.0 or higher
What's in the box?
1 x Charging Base
3 x Brush Heads
1 x User Manual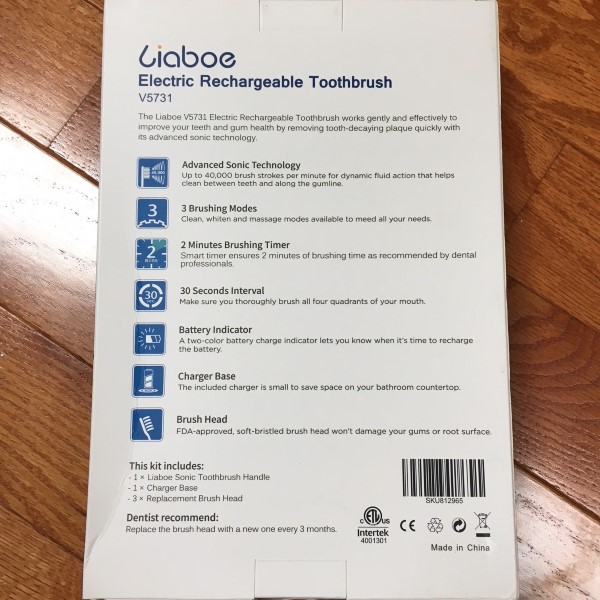 Design and features
According to the manufacturer:
Cost Effectiveness: The same function and quality as Sonicare toothbrush, but only half price. This toothbrush uses an innovative magnetic levitation motor. Super strong vibration makes water and toothpaste transform into tiny bubbles in the oral cavity, and uses the impact force produced by tiny bubbles to scour the dead corners of the mouth, so as to reduce dental plaque. Compared with the ordinary toothbrush, the cleaning force is increased by more than 3 times.
Cleaner: As you know, the more vibrant frequency, the stronger cleaning effect, but over-high frequency makes the brush swing range too narrow that can't clean teeth well. After a lot of experimental analysis, the 40000 times per minute vibration and the 8 millimeters left and right swing range is the perfect combination.
More Careful: The electric toothbrush has 3 different modes to meet different needs. After carefully rounding the tip of every single brush-hair, it can more deeply clean the tooth gap and reduce the bleeding of sensitive gum.
Smarter: Liaboe electric toothbrush cleans your teeth in only 2 minutes with 30 seconds intervals to remind you to brush all 4 quadrants of your teeth. Waken your teeth in the early morning to enjoy a whole day full of happiness and confidence.
60 Days Money Back & 2 Years Replacement Guarantee: We are always here to support you by providing the best customer service to ensure 100% customer satisfaction
My observations:
The Liaboe Electric toothbrush comes in a full-color box, nestled in a plastic tray and sealed in plastic bags. The manual recommends charging for 24 hours before use. The cord is quite long and the base does not have a location to store the excess. If your countertop is as crowded as mine, save the twist-tie to lasso the renegade cord and keep it out of the way.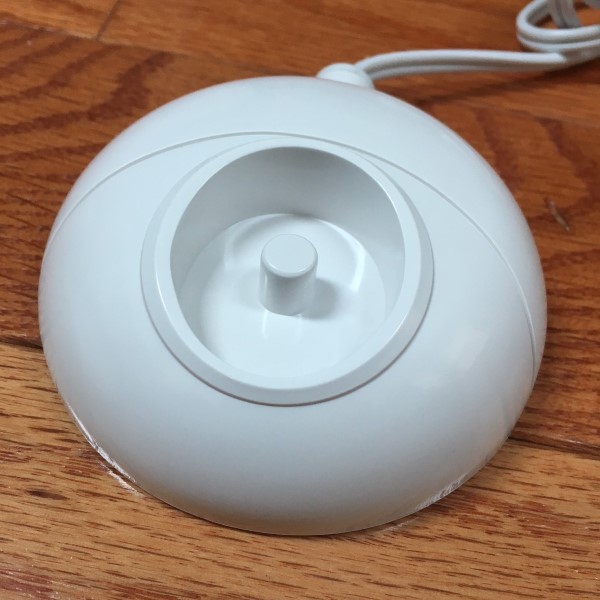 After waiting the prescribed charging time, the Liaboe toothbrush took its maiden voyage in my mouth. Please note: sonic toothbrushes take some time to become accustomed. Initially, the motion of this brush will feel ticklish to sensitive gums.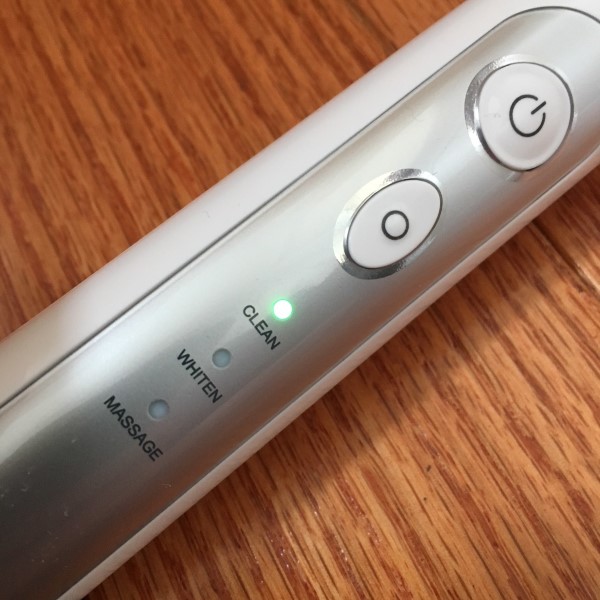 The handle is comfortable and the brush head is small enough to fit easily behind my molars. This sub $30 toothbrush feels similar to my Sonicare Elite, but the amplitude of the vibrations is significantly lower. That being said, to my layman's perspective, the Liaboe left my pearly-whites feeling equally as clean as the Sonicare, but the dentist will need to be the final judge. I admit I prefer the more aggressive oscillations of the Sonicare.
The two-minute timer is great to ensure I'm brushing long enough. There is a "blip" every 30 seconds I used as a reminder to switch to each quadrant of my teeth, (upper inside, upper outside, lower inside, lower outside) ensuring equal care from incisor to molar.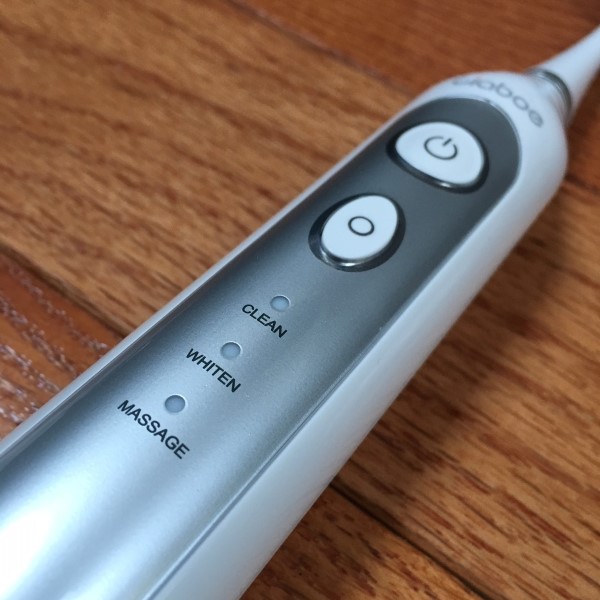 Impressively, the entire Liaboe toothbrush, charger, and heads are less expensive than a five-pack of genuine Sonicare Elite replacement heads. Sure, you can buy after-market heads, but I'm not a big fan of picking brush filaments out of my mouth. Disappointingly, Liaboe replacement brush heads could not be located and, according to an answer provided on Amazon, have to be ordered via email at [email protected]. I suspect after-market heads can be located somewhere.
I tried all three settings and found the "Whiten" setting to be the best for me. The "Clean" mode feels less aggressive. The "Massage" mode's changing frequency is an odd sensation, but may be soothing or add an element of fun to induce the kids to brush longer It's worth mentioning that if modes are changed during brushing, the 30-second and 2-minute timers restart.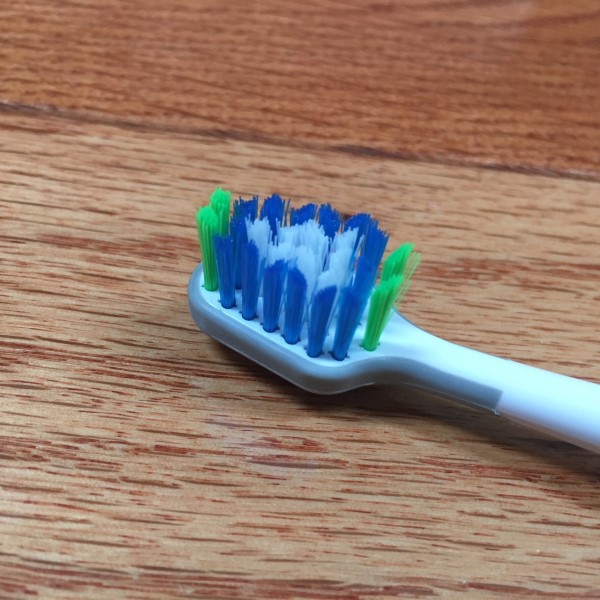 Another note of caution: Try not to pull the toothbrush out of your mouth while turned on. The vibrations will send tiny droplets of toothpaste and saliva everywhere! If you do, be prepared to clean your mirror.
What I like
Easy to use and clean
Inexpensive
Timers prevent under-brushing
What needs to be improved?
Replacement heads should be readily available
Some bathroom counters are crowded. Cord management in the base would help.
Liaboe's Rechargeable Electric toothbrush is inexpensive and has similar results to much more expensive models. The multiple speed modes I found to be somewhat of a gimmick, but others may find them appealing. I'm picky about my oral health and even floss daily. Even so, I would definitely trust my teeth to daily Liaboe scrubbings.
Price:$29.99
Where to buy: Amazon
Source: The sample was provided by Liaboe.