We use affiliate links. If you buy something through the links on this page, we may earn a commission at no cost to you. Learn more.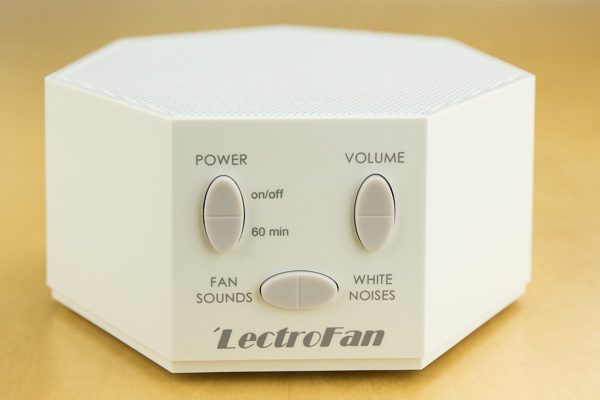 There are many people that need some noise to help fall asleep. They need something for their mind to process to help unwind from the day. The LectroFan Sound and White Noise machine is the perfect solution.
What is it?
The LectroFan is a sound machine that produces ten variations of white, pink and brown noises, plus 10 fan sounds. The sounds are digitally synthesized and non-looping, so there's no abrupt end as the sound starts over. The sounds help mask disruptive noise and give your brain something to think about besides the goings on of the day. It also keeps sudden noises from waking you up as easily.
What's in the box?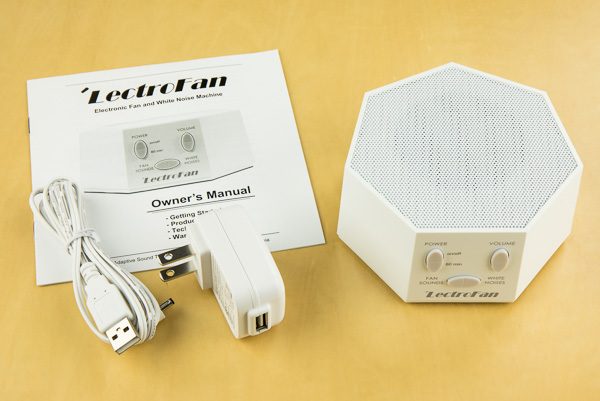 The contents of the box are pretty straightforward. Included is the LectroFan machine, cord, owners manual, and power adapter.
Design and features
The LectroFan machine runs off of 5v 500ma, which means you can either use the supplied power adapter or simply plug the cord into a USB port. The unit is quite weighty for what it does, I'm assuming that it's simply so that it won't slide off of a nightstand as easy. It seems very sturdy and well made, definitely in the "built like a tank" category.
The unit has three rocker buttons for a total of 6 functions. On/Off, 60 minute timer, Volume up and down, fan sounds and white noises.
The volume on this little box is amazing. It can go louder than you'll probably ever want unless you have it all the way across the room.
Changing the sound is as simple as pressing a button to cycle through the available sounds. When you reach the end of the sounds it plays a "whoop" sound and starts back at the beginning. Pressing the "60 min" sleep timer button adds 60 minutes to the sleep timer each time you press it.
What I like
Weighted and sturdy design.
Simple to use.
60+ minute sleep timer.
USB Power option doesn't take up yet another wall plug.
What needs to be improved
Doesn't remember settings when unplugged.
Final thoughts
After a long day of writing code my brain sometimes just wants to keep going, thinking about stuff I was working on during the day. This machine really helped me fall asleep faster.
Price: $49.95
Where to buy: Amazon
Source: The sample of this product was provided by Sound of Sleep