We use affiliate links. If you buy something through the links on this page, we may earn a commission at no cost to you. Learn more.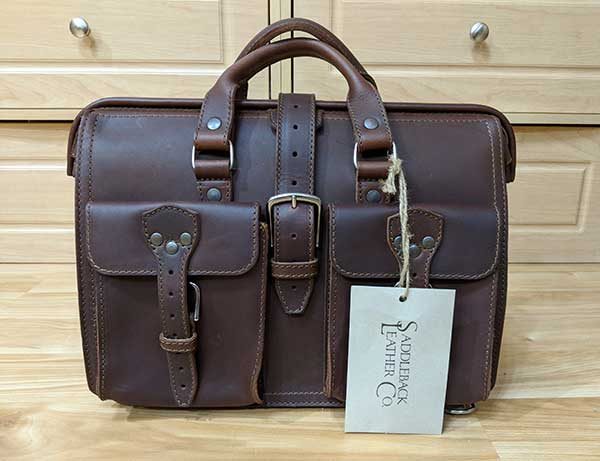 Eleven years ago I reviewed the Saddleback Leather Company Briefcase. It was the first of many Saddleback Leather Co. bag reviews that we've posted here on The Gadgeteer and it was my introduction to their rugged full-grain leather bags. After reviewing that first bag, I believed their motto that "They'll fight over it when you're dead".
Today I'm going to show you SB's newest bag, the Flight Bag, which reminds me of that first SB bag that I reviewed over a decade ago. Let's take a look.
What is it?
The Saddleback Leather Company Flight Bag is a full-grain leather bag that is available in 4 colors that include standard Tobacco, Dark Coffee Brown, Chestnut, and Black. They sent me a Flight Bag in Chestnut, which is a deep warm reddish brown with a matte finish that is smooth but not oily or waxy feeling.
The bag that was sent to me looks 99% perfect as far as the leather goes, but remember that bags from Saddleback are made of full-grain leather and some bags may have some natural marks from previous injuries to the animal. Some people might not like these "defects", so keep that in mind.
The Flight Bag was designed to be carried like a briefcase by the two rolled and stitched handles, or as a shoulder bag by attaching the included adjustable leather shoulder strap.
Design and features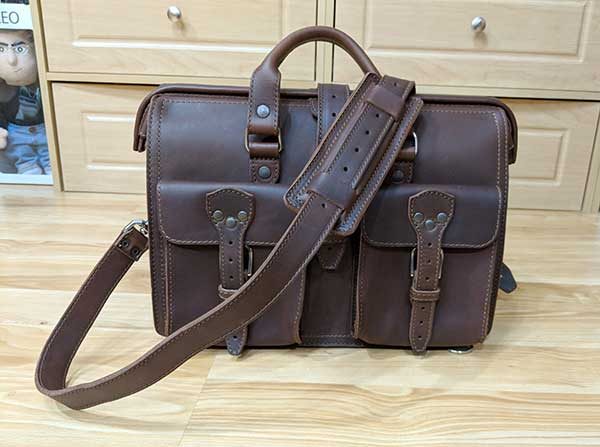 When I unboxed the Flight Bag, the scent of leather smacked me right in the face… in a good way. Unlike some leather bags that smell like they were drenched in a vat of chemicals, this bag smells good enough to eat. I advise against that though.
At first glance, the Flight Bag truly did remind me of that first Saddleback Leather Co. bag that I reviewed long ago. Like that bag, this new bag has two buckled pockets on the front that can be used to hold your smaller EDC gear.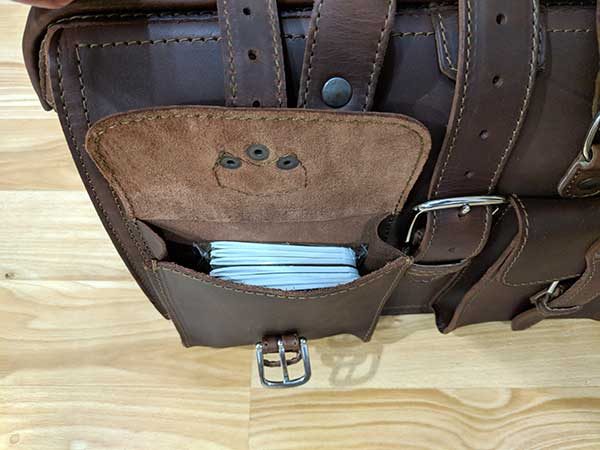 To give you an idea of the size of the front pockets, I've placed two 3-packs of Word 3.5 x 5inch pocket notebooks in one of the spacious pockets. There's still plenty of room left in the pocket which is approximately 7 inches tall, 5.5 inches wide, and 1.5 inches deep. Since the leather isn't completely rigid, the pockets can stretch to hold various types of gear like chargers, notebooks, pens, phones, wallets, etc.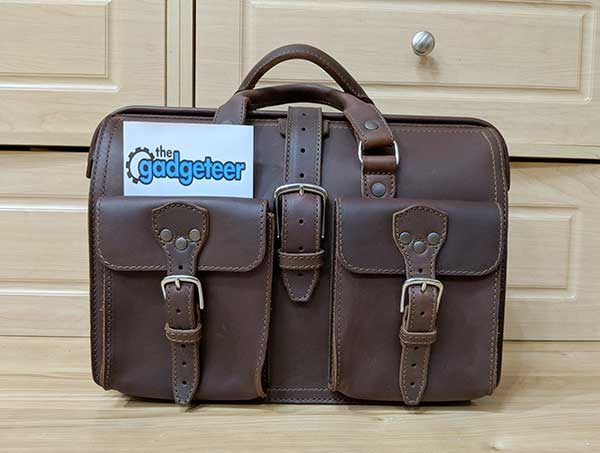 The flaps of the pockets are not sewn into the bag itself, which means that you can store some items behind the pockets.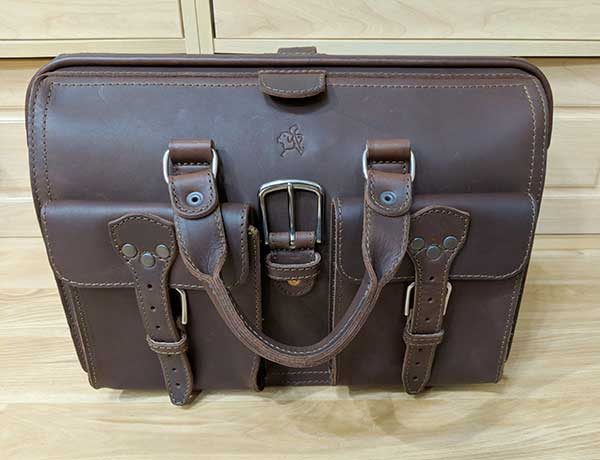 The Flight Bag doesn't have a lot of branding on it. On the front above the main buckle is a stamp of Saddleback Leather Co. founder Dave Munson's dog Blue wearing a sombrero. You can read all about Dave and Blue's adventures south of the border here.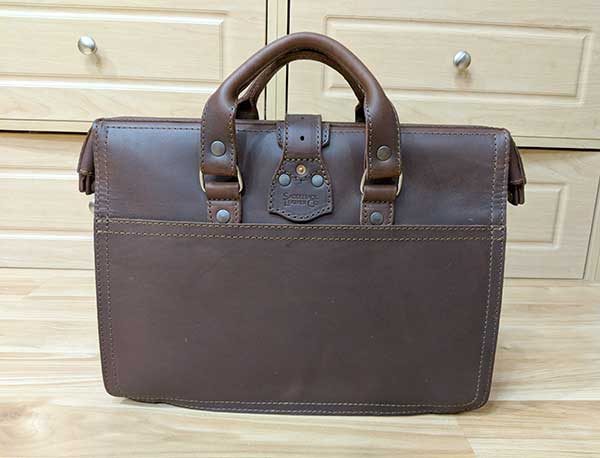 If you flip the bag around to look at the back, you'll see the Saddleback Leather Co. logo and a large open-topped pocket that can hold flat items like magazines, folders, newspapers, books, etc.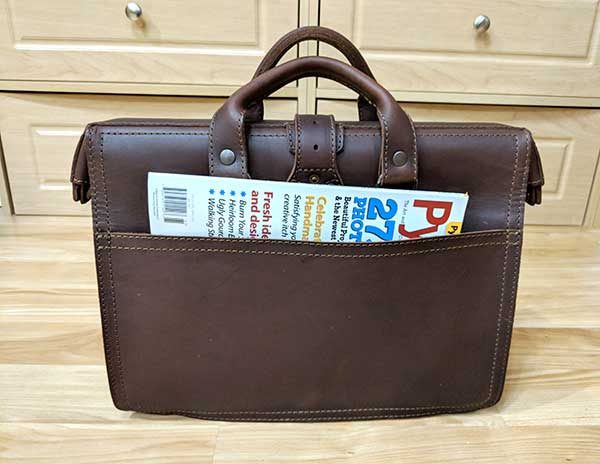 The pocket on the back is about 7 inches tall by 13 inches wide. The image above shows how a magazine looks stored in this pocket. Yes, a standard magazine does stick out a bit.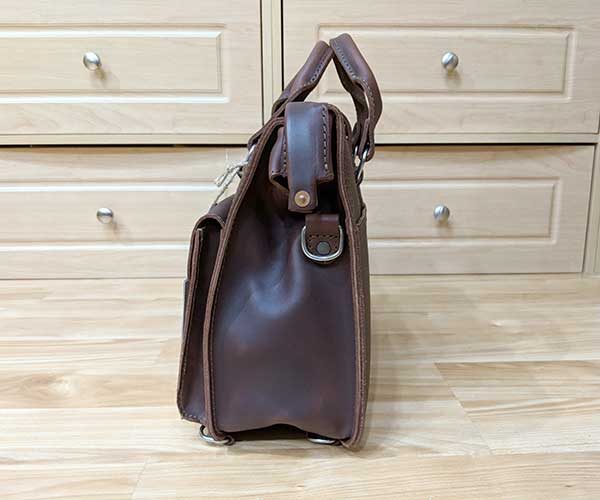 The sides of the Flight Bag do not have any pockets, but there's a heavy-duty D-ring on each side that is used as an attachment point for the included shoulder strap.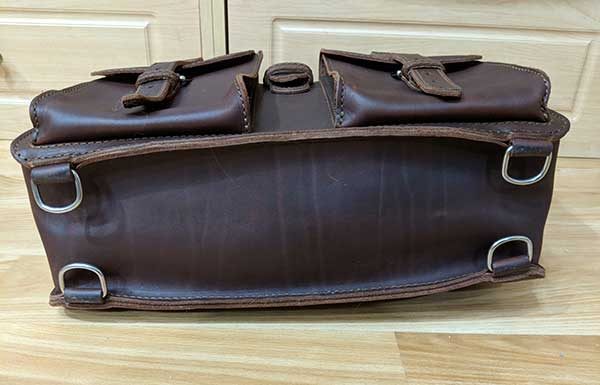 The leather seams on the bottom of the Flight Bag keep the bag's base lifted up off the floor to help keep it clean. There are also 4 steel D-rings on the bottom of the Flight Bag. One on each corner. These rings can be used to attach something to the bottom of the bag. It would be nice if SaddleBack had included some sort of bungee cord or straps for the bottom so you could more easily use the D rings to hold items like an umbrella to the bottom of the bag.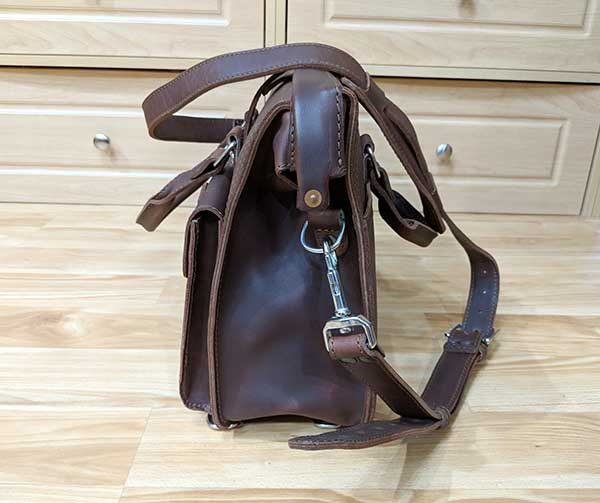 The adjustable shoulder strap has strong spring-loaded swivel clips that clip to the side D-rings. The strap has a shoulder pad and can be adjusted to fit almost any size for height challenged to tall people.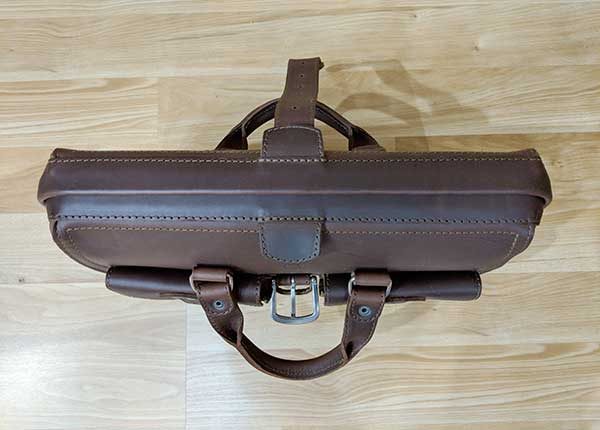 Unlike other Saddleback bags that I've reviewed, the Flight Bag has a really cool way to secure the contents of the bag. Nope, it's not a standard buckled flap, although the Flight Bag does have a buckle.
The top of the bag has two small tabs that you grip and pull open.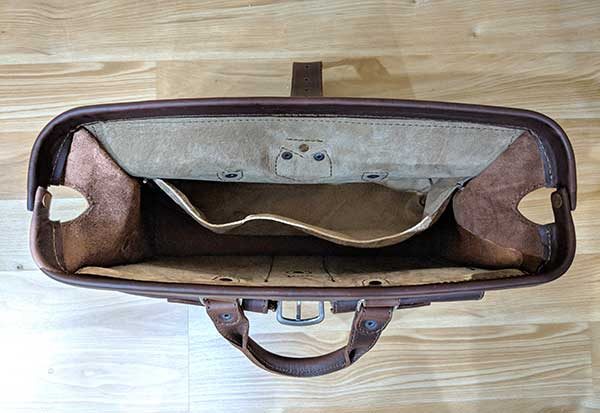 The rigid frame at the top hinges open to reveal the bag's interior. The hinge mechanism keeps the bag open with no worries that it will close on its own while you're inserting or removing items, which is really convenient if you like to have easy access to your gear at all times.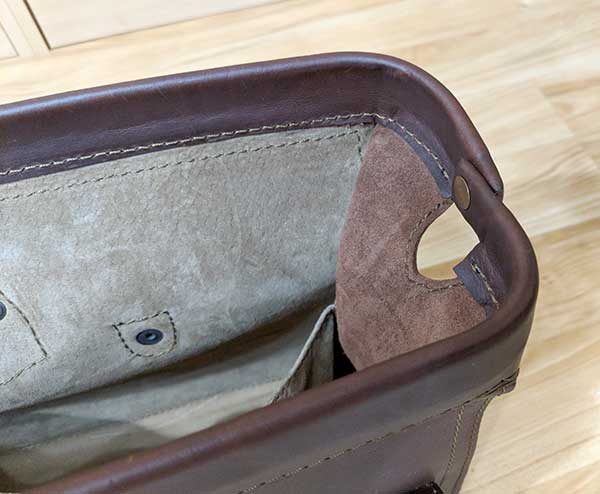 This closure style reminds me of an old-time doctor's bag and is what I believe is considered a Gladstone style hinge. It's unique, but it does have one problem… It takes two hands to open and close the bag, making it a little awkward if you need to open the bag while you're carrying it.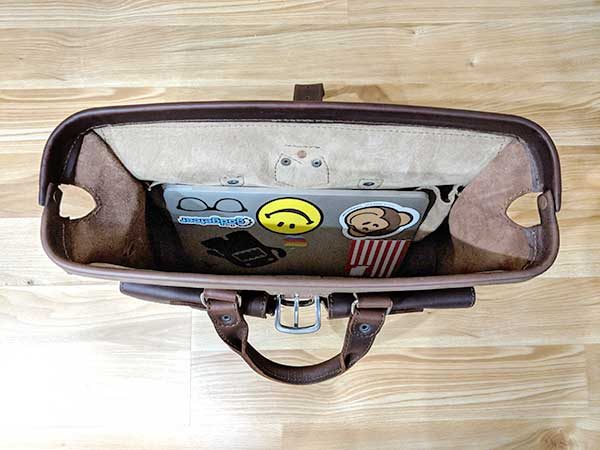 The interior of the Flight Bag is lined on the front and back walls with a soft pigskin. The bag is basically a large open area except for a soft floppy open-topped pocket made of pigskin that you can use to organize items that you carry. The Flight Bag also has a false bottom that you can lift up to hide flat papers.
To give you a better idea of how large the bag is, I've placed my 12″ MacBook in the bag which you can see in the image above. The Flight Bag's 15 x 5.5 x 9-inch interior can hold a lot of gear.
I do wish that the bag offered a way to organize smaller items like pen, pencils, and more inside the main compartment. I suppose that you could put smaller things in a dedicated pouch, but I'd rather have a few pen slots and smaller pockets inside the bag itself in addition to the two pockets on the outside.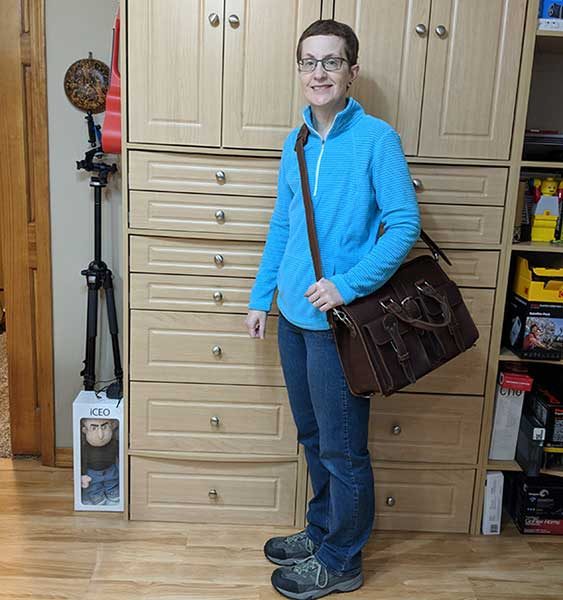 Even though the Saddleback Leather Company Flight Bag holds a lot of gear it's not unwieldy as far as its size. To give you an idea of how large it is, I am 5'6″ tall and weigh 130 lbs.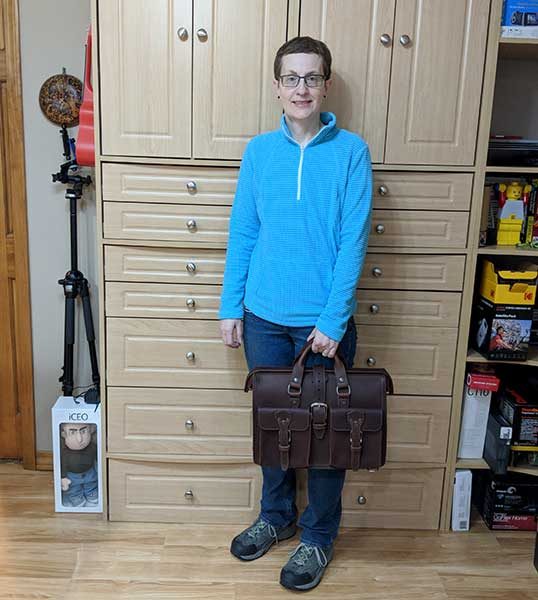 Although the Flight Bag is a manageable size, it's definitely not a lightweight bag. With nothing in it, it weighs in at 5 lb 10 oz. with the shoulder strap attached. Load it up and this bag will give you a nice workout carrying it around from place to place during your busy day.
What I like
100-year warranty
Rugged good looks
Roomy
That yummy leather smell
What needs to be improved
Expensive
Lack of organization in the main compartment
Takes two hands to open and close the bag
Final thoughts
Even though I knew I wouldn't find any problems, I checked this bag many times looking for defects, questionable workmanship, and less than stellar materials. I wasn't wrong and didn't find any. That's because this bag is made by Saddleback Leather Company and I've yet to review one of their bags or products that disappointed me as far as the construction and craftsmanship. Everything about the Flight Bag from the tough full grain leather, to the marine-grade thread and reinforced copper rivets, make this bag the type of bag that you will use and carry for decades.  I have to say that this is the nicest Saddleback Leather Company bag that I've ever reviewed.
Now, there's no denying that Saddleback Leather Company makes gorgeous leather bags. But they aren't for everyone due to their weight and more importantly, their price tag. Most people don't have a budget for a high-end bag like this one. But if you do, and this is the style of bag that you enjoy using and carrying, you will not be disappointed with the Saddleback Leather Company Flight Bag.
This is the type of leather bag that only gets better the more miles it has on it. Saddleback Leather warranty it for 100 years, so they are confident that it can stand the test of time and I can't disagree with that.
Price: $529
Where to buy: Saddleback Leather Company
Source: The sample of this product was provided by Saddleback Leather Company.