We use affiliate links. If you buy something through the links on this page, we may earn a commission at no cost to you. Learn more.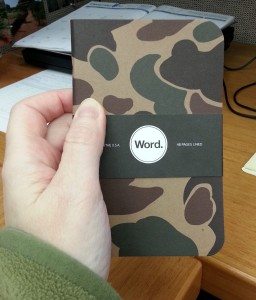 Are you a notebook addict? Then join the club my friends. Whether you use them for keeping lists, to-dos, a journal or whatever, there's still something wonderful about a physical paper notebook that a smartphone or computer can't capture. My favorite pocket sized notebooks are Moleskine Cahiers and Field Notes notebooks. But now I have another brand to introduce to you: the Word. Notebook. Are they better, worse or the same as Moleskines and Field Notes? Let's see…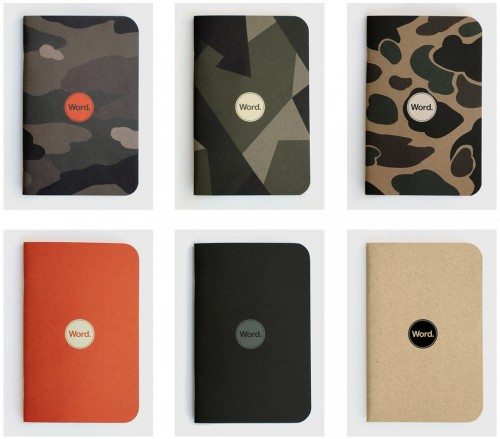 Product Specs:
48 pages, lined
3.5″ x 5″
Made in the USA
Cover: Environment Desert Storm 120# smooth paper (100% post consumer recycled)
Interior: Lynx Opaque Ultra smooth white 60# text
Printed with Hostmann-Steinberg inks
Stitching wire comes from the Spiral Binding Company
Word. Notebooks are sold in packs of 3 and are  currently available in six different cover color options: Black, Orange, Natural, Traditional Camo, Tan Camo and Swedish Camo.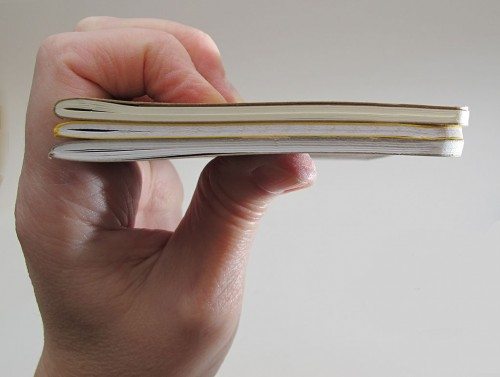 In the image above I'm holding (top to bottom) a Moleskine Cahier, Field Notes and a Word. Notebook. The Word. Notebooks most closely resemble Field Notes notebooks in their size and number of pages. Both are almost identical in size and have 48 pages. I did notice that the cover of the Word. Notebook feels slightly thicker than a Field Notes cover and the Word. Notebook uses 2 staples instead of 3. The Moleskine Cahier has a little bit different corner shape, 64 pages instead of 48 and is sewn instead of stapled. It also has a pocket in the back cover and several perforated pages at the back…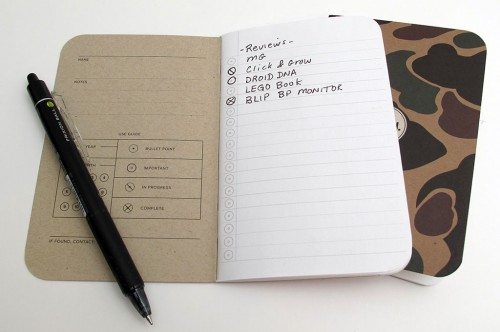 Inside the front cover of the Word. Notebook is a place to record your name, notes, date and contact info.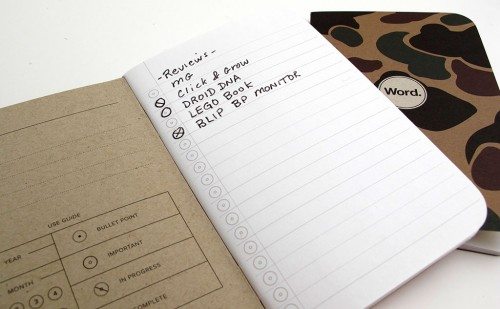 The pages themselves are white with lines printed in what looks like either pale beige or grey lines. In the left margin are circles with a dot in the center. This is the Word. Notebook's main feature – its special task system. The inside front cover shows you how to use the system. When you make your lists you can use the center dot to denote a bullet point, a circle around the dot means the item is important, a line through the circle means the task is in process and an X through the circle means the task has been completed. This is a very simple system that is both easy to use and easy to understand as it doesn't require a lot of thinking or deciphering.
The inside of the back cover has 10 quirky facts. I was a bit disappointed that all three of my Word. Notebooks had the same 10 facts. It would be cool if each notebook had different ones. Of course this isn't a deal breaker.
The price of Word. Notebooks are about the same as Field Notes and Moleskine Cahiers, so choosing this notebook over the others comes down to personal preference. Do you like the camo and colored covers better than the others? Will you use the special task system? A yes to either question should be enough to give Word. Notebooks a try.

Product Information
Price:
$9.99
Manufacturer:
Word. Notebooks
Pros:

Thicker covers than Field Notes notebooks
Easy to use task system
Cool camo cover designs

Cons:

Only available with lines