We use affiliate links. If you buy something through the links on this page, we may earn a commission at no cost to you. Learn more.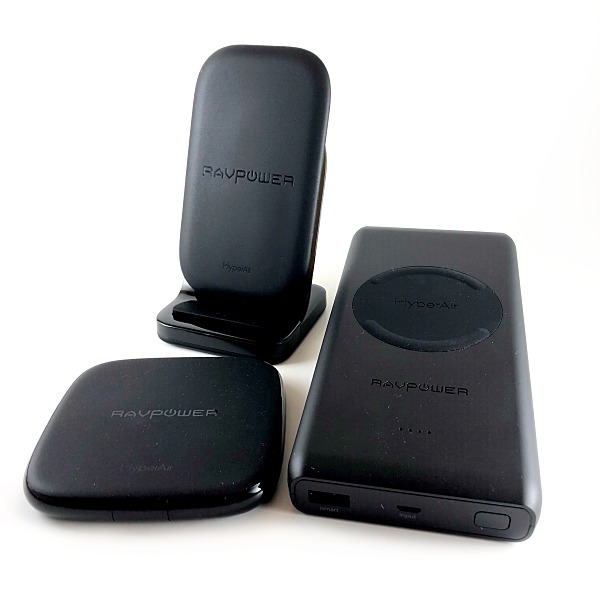 Ever since purchasing my iPhone X I've been searching for a good 7.5-Watt wireless charger. RAVPower threw their hat into the ring recently introducing a new line of wireless Fast Chargers – HyperAir. The lineup includes flat charging bases, a charging stand, and even a power bank that can wirelessly charge your iPhone. RAVPower sent me all three HyperAir models to review. Since this was my first time using a wireless charger of any kind I was eager to test them out.
What is it?
Most fast wireless chargers on the market today are made to charge either IOS or Android phones. RAVPower's HyperAir technology delivers the fastest charging speeds on contact for both iOS and Android devices – all with the same charger. HyperAir utilizes both 7.5W fast charging for iPhone X/8 plus/ 8 and 10W fast charging for Samsung devices like the Galaxy S9 and Note 8.
Hardware specs
PC069
Input: DC 12V / 2A Max
Output: 10W Max
Dimensions: 5.04 x 2.76 x 2.83 inches
Weight: 5.9 oz
Form factor: Angled Stand: 60°
PC066
Input: 9V/12V 2A
Output: 10W Max
Dimensions: 3.5 x 3.5 x 0.5 inches
Weight: 2.9 oz
Form factor: Horizontal pad
PB080 – 10400mAh Wireless Portable Charger
Capacity: 10400mAh / 37.4Wh
Input: DC 5V / 2A Max
iSmart output: 5V / 2A Max
Wireless output: 10W Max
Dimensions: 6.4 x 3.1 x 0.9 inches
Weight: 2.5 lbs
Whats in the box?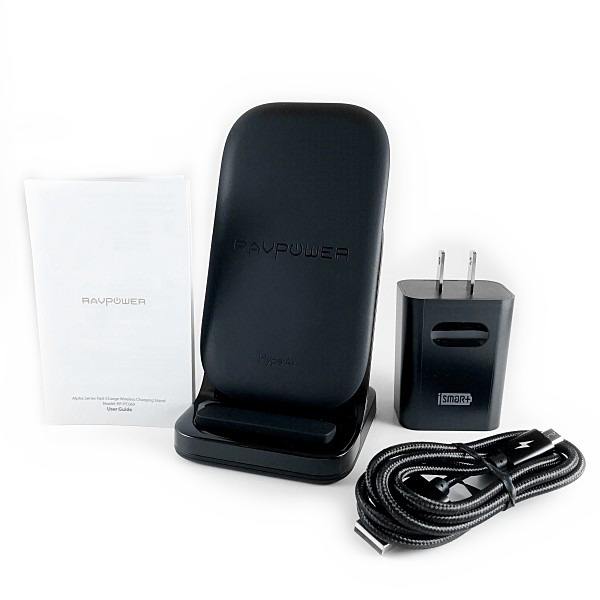 RAVPower wireless charger stand
Micro-USB cable
QC 3.0 power adaptor
User guide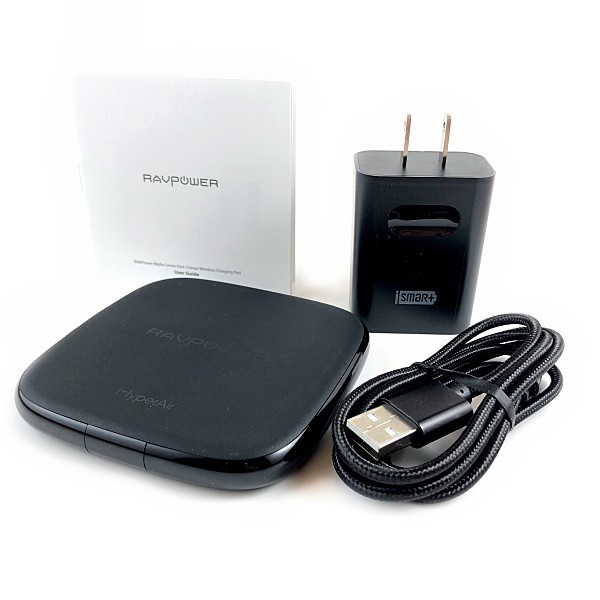 RAVPower wireless charger pad
Micro-USB cable
QC 3.0 power adaptor
User guide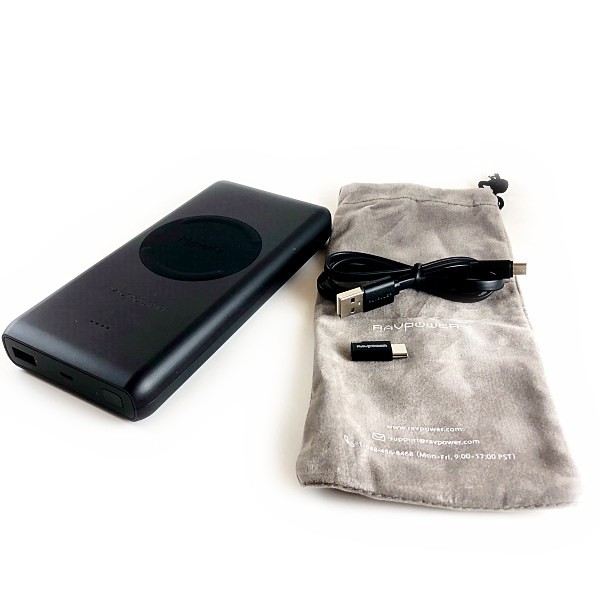 RAVPower wireless portable charger
USB to Micro USB cable
Micro USB to type C connector
User guide
Design and features
I really like the understated design of both the HyperAir charging stand and pad. Their small size makes them perfect to use on nightstands, end tables, or desktops. They also eliminate the need for having a bunch of charging cords laying around the house.
Both chargers work with most phone cases as long as they're no thicker than 3mm and don't contain metal.
Each model comes with both an 18-watt power adapter that supports the Quick Charge 3.0 standard and a nice braided USB-micro cable.
PC069 HyperAir charging stand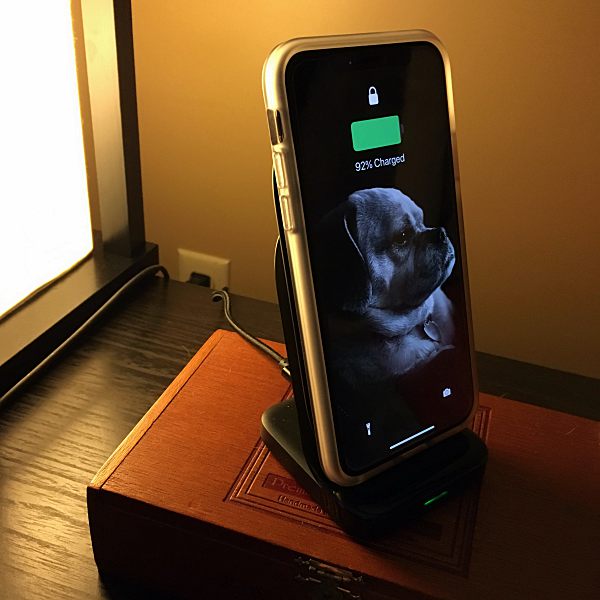 The HyperAir charging stand has a matte black finish and unique body design. A little more stylish than similar charging stands I've seen.
It has dual-coil charging which allows you to charge your smartphone in either portrait or landscape positions.
The charging pad and base both use a non-slip silicone that helps to keep the phone and charger in place. It does a really nice job of cradling the phone.
The backside of the charging stand has small perforations that help to disperse heat. Unlike traditional wireless chargers that overheat affecting charging speed and battery health, HyperAir features triple temperature controls. An intelligent chip monitors and adjusts charging temperature and the advanced internal structure allows for 15% higher heat dissipation. This allows the charger to maintain charging speeds for a longer period of time. In my testing, none of the chargers got overly warm while charging.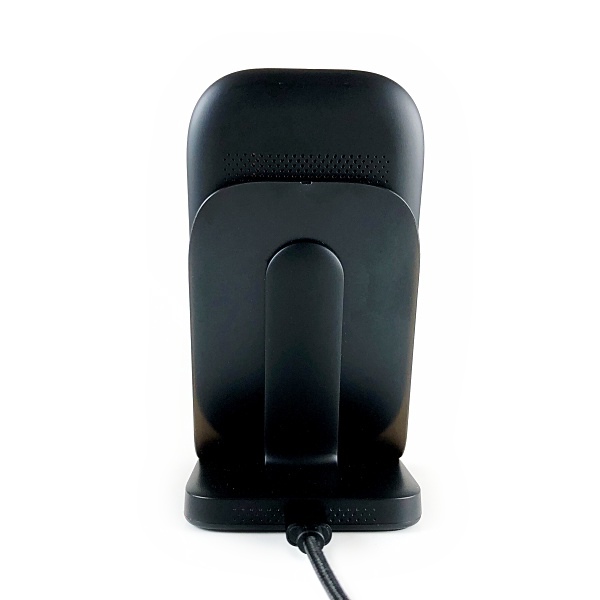 The front of the charger has a LED charging status light. While your phone is charging the LED slowly pulses green. The light will turn solid green for 15 seconds when charging is complete. If the charger senses a foreign object (like metal) the LED will blink red and the charger will stop working.
HyperAir shares that same fixed frequency program as iPhones, allowing the charger to both accurately detect it and start charging immediately. When you place your phone on the charger it quickly detects what type of device it is and adjusts the charging profile.
PC066 HyperAir charging pad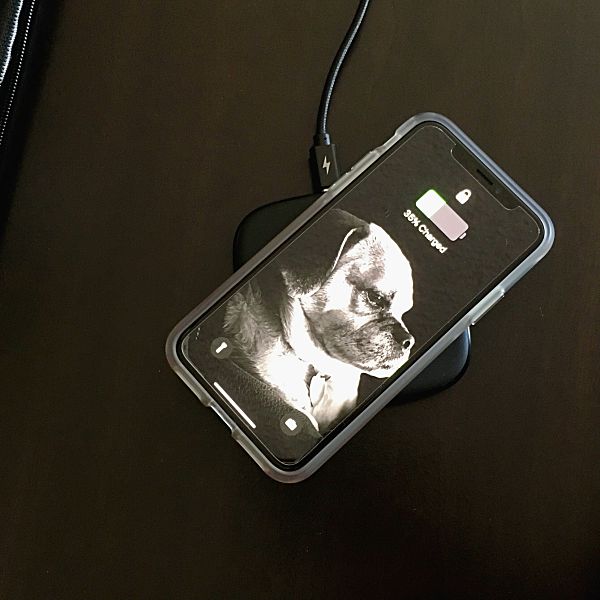 The HyperAir charging pad has a sleek square design with smooth rounded edges. It's small, light, and very thin, a perfect fit for my iPhone X.
It shares the same LED indicator on the front as the HyperAir stand, however, I noticed that it's kind of hard to see in a well-lit room.
It has the same non-slip silicone surface and base as the HyperAir stand.
A vented aluminum alloy panel on the bottom of the pad helps to better disperse heat while charging.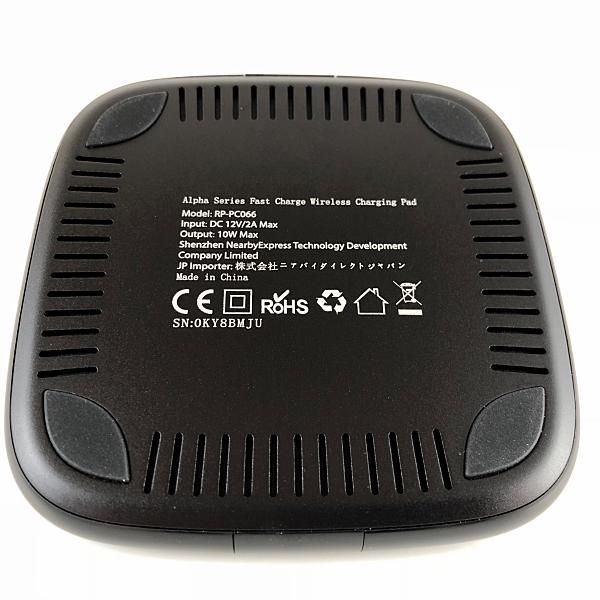 10400mAh Wireless Portable Charger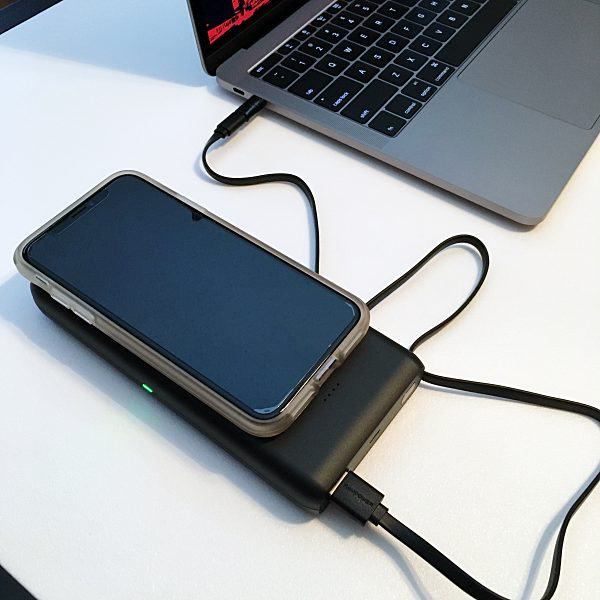 Along with the HyperAir charging stand and pad, RAVPower sent me a 10,000mAh portable power bank. With the power bank, you can charge two devices simultaneously, one using the built-in wireless 7.5W charging pad and the second through a 2.4A USB port.
With 10,400 mAh there's enough power to charge multiple devices multiple times.
The smooth matte black design of the power-bank is nothing special. But its size does make it perfect for carrying in both an EDC bag or backpack.
The working status LED located on the side of the charger works the same as it does on the other HyperAir chargers.
The battery power of the charger can be determined by four small blue LED lights located on the top surface.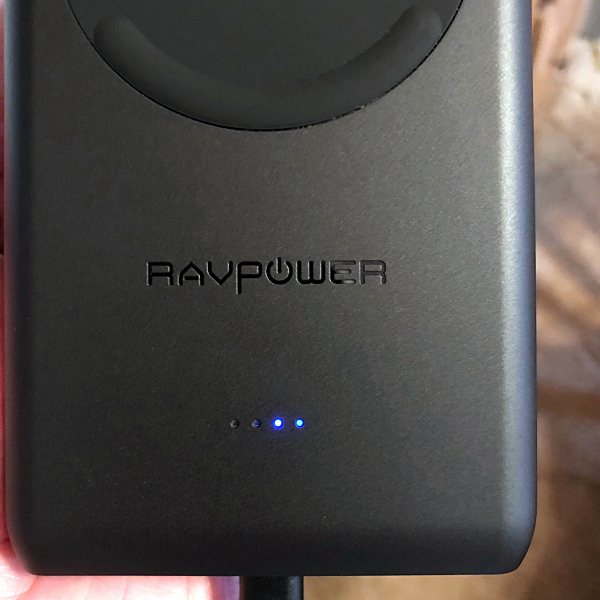 RAVPower does include both a flat 24-inch Micro-USB cable, a USB-C to micro-USB adaptor, and a handy microfiber carrying pouch in the box. Unfortunately, they do not include the recommended 2A adaptor, and I think that's a pretty big omission, considering its price of $67.99.
Charging speed
I tested the speed of all three HyperAir wireless chargers. I charged my iPhone X for an hour on each. Here are the results.
Charging stand- 40% – 80% = 40% charge
Charging pad – 53% – 86% = 33% charge
Portable power-bank – 60% – 92% = 32% charge
My not so scientific tests showed that the HyperAir stand yielded the best results. I was surprised that the HyperAir pad didn't do as well. The power bank didn't do quite as good as either of the wired HyperAir chargers, but not bad considering this is for charging on the go.
What I like
Small and considerate design
Less clutter
Work with most phone cases
Easy to use
Both the HyperAir stand and pad come with recommended QC 3.0 power adaptors and braided charging cable
The power-bank allows you to charge 2 devices at the same time
Portability of the power-bank
What needs improvement
HyperAir power bank is a little pricey and does not come with a power adaptor
Final thoughts
I really like what the RAVPower HyperAir chargers bring to the table. Both the charging stand and pad now have permanent spots in my house, and if I ever need to unplug the power bank provides a great alternative.
As an iPhone user, I waited a long time to be able to take advantage of fast wireless charging. This line of RAVPower HyperAir chargers made it worth the wait.
Price: PC069 charging stand – $49.99, PC066 charging pad – $39.99, PB080 power bank – $67.99
Where to buy: Amazon
Source: The sample for this review was provided by RAVPower.