We use affiliate links. If you buy something through the links on this page, we may earn a commission at no cost to you. Learn more.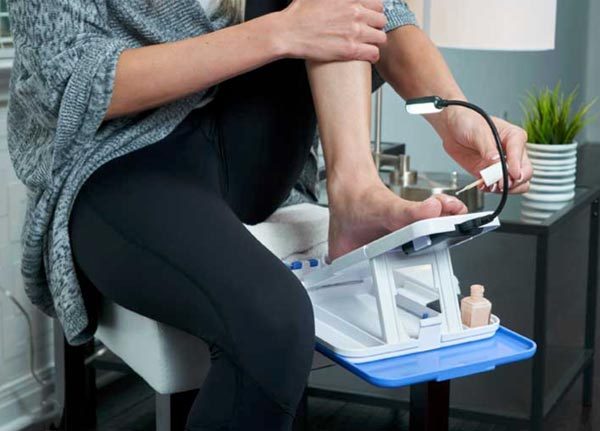 Giving yourself a manicure or pedicure at home doesn't have a lot of tech associated with it, but it certainly does have some gadgets.  In addition to scissors, clippers, files, and other little tools to keep our nails trimmed, some of us like to add polishes to our arsenal.  Going to the salon can be a nice way to pamper yourself and keep your nails looking nice, but it is more expensive than doing it yourself.  Manicures are usually easily done at home, but doing a pedicure can be difficult because it can be hard to find a place and a position to sit where you can see and easily reach your toes as you work.  Enter the Stedi Pedi at-home pedicure assistant!
The Stedi Pedi is a platform that fits under a chair cushion or the edge of a mattress and has an adjustable footrest that puts your foot at the perfect position for you to do your own pedicure at home.  Your bodyweight holds the Stedi Pedi in place, and the platform is designed to support the weight of your leg as you work.  The kit comes with a bright LED task light to help you see what you're doing.  The base of the Stedi Pedi has space to hold your scissors and clippers or even some nail polish as you work, and a pull-out tray in the front catches any dips or clippings.
If you need a little extra help seeing, there's a lighted magnifier (3X and 5X)  you can add to the pedicure assistant.  Or you could add a drying fan to help polish dry quicker.  There's even a battery pack so you can use all three accessories at once.
The Stedi Pedi at-home pedicure assistant is $39.95.  Accessories start at $9.95 each, or you can get an extra task light, lighted magnifier, cooling fan, and the extra battery pack for $34.95.  Stedi Pedi will pay for itself in no time when you save by doing pedicures at home.  Purchase your own pedicure assistant at the Stedi Pedi website.