We use affiliate links. If you buy something through the links on this page, we may earn a commission at no cost to you. Learn more.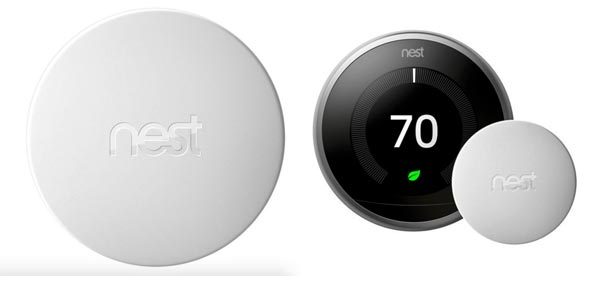 My house is probably like most houses out there.  There are some rooms that are hotter than I'd like and some that are colder than I'd like, no matter the season.  Because of the location of the thermostat and the long shape of the condo, our bedrooms tend to be chilly in the winter and hot in the summer while our living and dining rooms are uncomfortably hot in the winter and cold in the summer.  Because of the age of the building, the cement walls and ceilings, and the neighbors above and below us, there isn't much we can do to remedy this situation by rerouting ductwork or moving the thermostat.  The Nest Temperature Sensor will work with my Nest thermostat to help remedy that situation without having to install a new heating system.
The battery-powered sensors can be mounted in various locations in your house to send back information to the Nest thermostat about conditions in those locations.  You can then use the app to tell the thermostats which locations need to be prioritized and when to make those rooms more comfortable.  For example, we could prioritize the living and dining rooms in the early evening, so they'll be comfortable while we have dinner and then watch some TV.  Before bedtime, we could have the bedroom area prioritized for comfortable sleeping conditions.
The Temperature Sensors will work with the 3rd-generation Nest Learning Thermostat or the Nest Thermostat E.  The thermostat and sensors communicate via Bluetooth LE; the sensors can be placed up to 50 feet away, though construction and interference can impact the range.  You can pair up to six sensors with a thermostat, and you can have up to 3 thermostats with six sensors each in one house.
A single sensor is $39; a three-pack is $99.  Pre-order now at the Nest website.