We use affiliate links. If you buy something through the links on this page, we may earn a commission at no cost to you. Learn more.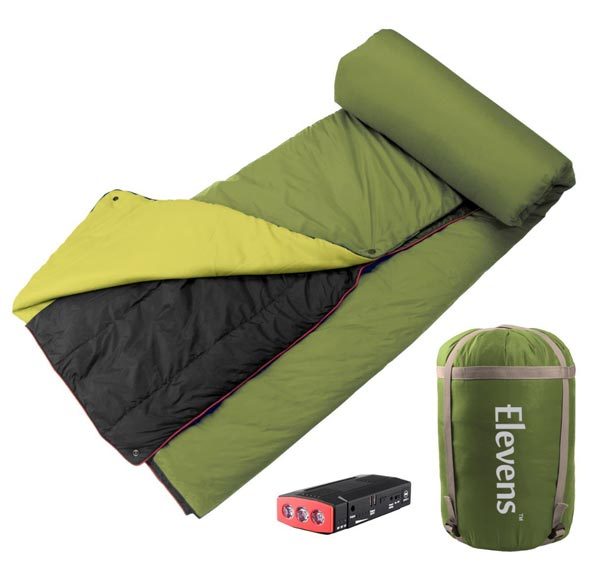 Winter in the southern United States is an unpredictable season.  For example, temperatures were in the upper 70s a couple weeks ago, and this week we had snow and ice and temperatures in the low 30s.  You never know what to expect weather-wise, which can make it difficult for those outdoorsy-types who camp year round.  With the Alice Battery-operated Heated Down Camping Blanket, you'll be set for unexpectedly cold temps.
Instead of a zippered sleeping bag, this is a blanket, which is said to allow more air flow and be more comfortable.  The blanket's shell is made of DWR Ripstop 20D Nylon, which blocks moisture.  The 650-fill white duck down insulation keeps you warm.  There's even a second moisture-proof blanket that can be buttoned to the main blanket when you need a little extra heat.
But when it's really cold and you need even more heat, the main blanket has an embedded Revean Carbon Heating System that can raise the temperature from 15 degrees to 45 degrees in a matter of minutes.  The heating level has low-medium-high settings for your comfort.
The heating system is powered by an included 12000mAh battery that can power the blanket for 4 hours at low, 3 hours at medium, and 2 hours at high.  The battery has other purposes, too:  LED flashlight, SOS signal, mobile device charger, and you can even jump start your car with it.
The blanket measures 80″ x 54″ and weighs 6 pounds.  It stows away in a compression bag for easy packing with your gear.
The Alice Battery-operated Heated Down Camping Blanket is $172.00 at Amazon.