We use affiliate links. If you buy something through the links on this page, we may earn a commission at no cost to you. Learn more.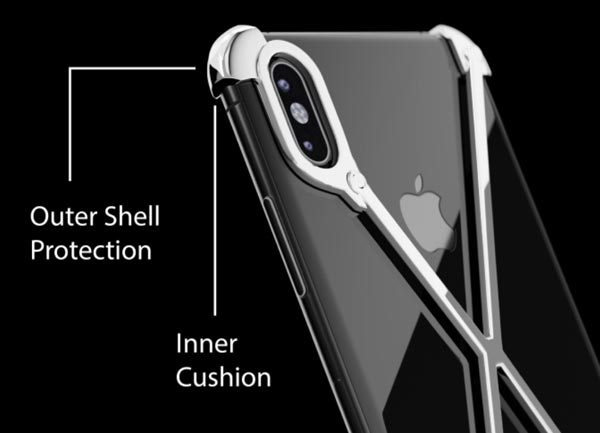 A couple of years ago, The Gadgeteer reviewed the Mod-3 Radius case for iPhone 5, and Andy Chen found it was a "super-sleek, minimal way to protect your iPhone 5 while preserving the sleek modern lines and feel of a 'naked' iPhone."  Well, Mod-3 is back again with a Radius case for the iPhone X.  They are currently seeking funding for the Radius X case.
Just like the one Andy reviewed, the Radius X will mostly protect the corners of the phone with precision-crafted corner modules that don't touch the touchscreen.  The corner modules are held in place by an aircraft-grade aluminum X structure that covers the back of the iPhone X.  The corner pieces are filled with a proprietary impact-resistant material for extra drop protection, and the pieces keep your screen off the surface if you lay the phone face-down on a table.  And no worries about charging, because the Radius X doesn't interfere with wireless charging of the iPhone X.
There's another month of fundraising for the Radius X case.  Pledge $69.00 to receive one Radius X case.  There's also a gold-plated version for a pledge of $193.00, and there are discounts for multiple cases.  The campaign has already reached 149% of its funding goal, but you still have time to get in on a discounted case.  Shipment is expected for May 2018.  Make a pledge and secure a Mod-3 Radius X case at Indiegogo.