We use affiliate links. If you buy something through the links on this page, we may earn a commission at no cost to you. Learn more.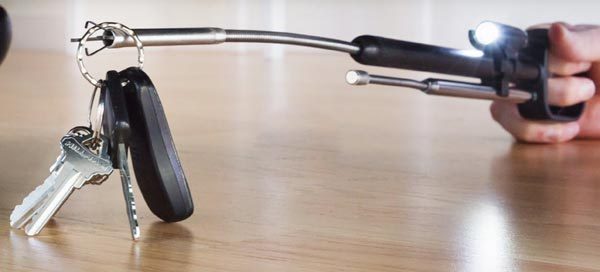 When I had double total-knee replacements a couple of years ago, one of my favorite tools was a grabber that let me reach things without stressing my knees too much.  To tell the truth, I still use it because I'm vertically challenged.  It's great for grabbing that Yeti mug on the upper shelf in my kitchen or getting that shoe that got knocked a bit too far under the bed, but it doesn't always work as well for small things.  And of course, I leave it at home because it's too big and clunky to take with me.  Luckily, there's the ODii grabbing tool that's designed to fit in your car, your bag, a desk drawer, or wherever you might drop something and need some help reaching it.  In fact, the designer got the idea when he dropped his money in his car while he and his daughter were going through a fast-food drive-thru.
The ODii is made of plastic and steel, and it's flexible enough that you can bend it to fit in cramped places.  It has a telescopic grabber claw, detachable LED flashlight to help you see your dropped object, and extendable magnet arm that can hold on to up to 2 pounds.  The gripper trigger lets you control grip strength;  it's capable of picking up 5-10 pounds. The gripping arm can be swapped out for the magnetic arm when needed.
There are two versions of the ODii grabbing tool.  The 19″ smaller size is on sale for $19.96 (a 20% discount) right now, while the 36″ longer one is $29.95 at The Grommet.