We use affiliate links. If you buy something through the links on this page, we may earn a commission at no cost to you. Learn more.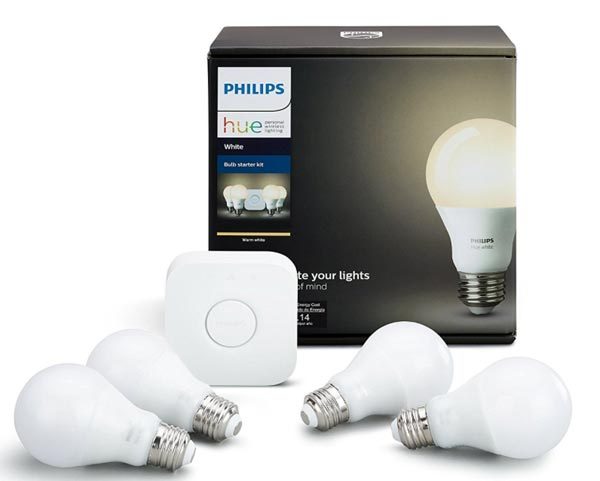 For Christmas 2013, I received a Philips Hue starter kit with three color-changing LED bulbs and a bridge to connect them to my home's WiFi network.  I was thrilled by the thought of having lots of light "recipes" to change the color and mood of my living room.  But I found that I really didn't use the color changing ability of the Hue bulbs.  I always set them to white and used the Hue app to turn my lights on and off.  Over the years, I've replaced almost every bulb in my house with Hue bulbs, and every one that I've added has been the less expensive white-only bulbs once they became available.  That starter kit with 3 bulbs I got was about $200 at the time.  The new Philips Hue White Smart Bulb Starter Kit has four bulbs and a bridge for under $90.
The White Smart Bulb Starter Kit has four A19 bulbs (fit standard sockets) and the second-gen bridge that's compatible with Amazon Alexa, Apple Homekit, and Google Assistant.  You can create lighting scenes and schedules with the Hue app or with IFTTT, and you can use the app to control your lights real-time from anywhere with an internet connection.
Once you have the Hue bridge, you can expand your system with up to fifty bulbs (I'm up to 40 bulbs) and 12 accessories like the Hue Tap on/off controllers and motion sensors (I'm up to 7 of the Taps).  Soon your entire house can have automated lighting.
The Philips Hue White Smart Bulb Starter Kit with four bulbs and a bridge is $87.99 at Amazon.