We use affiliate links. If you buy something through the links on this page, we may earn a commission at no cost to you. Learn more.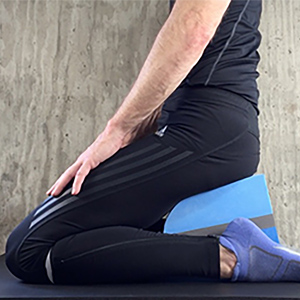 Crowded places, waiting in long lines, a messy home, an excessive workload, sitting in traffic, long days and sleepless nights… for some, these words alone might stress you out.
But don't exaggerate; everything will be fine! Have you tried to meditate?
The Now Kit comes with the Now Bench, the Now Mat, and complete instructions on how to use the Now Kit, and finally relieve some of that build up anxiety and pressure.
The Now Bench is an ergonomic meditation block that allows you to reach blissful comfort in seconds. The light blue side is softer and the dark blue side is more firm, and you can reverse to decide which option feels the best on your bum. The curved bottom allows the Now Bench to roll, so you can find the perfect angle to focus and breathe. You won't wear it out, or stink it up, because made from a durable and washable material.
The Now Mat is the thickest rubberized exercise mat on the market. It is a 3/4″ thick of spongey, rubberized material, measuring 22″ wide by 31″ long. The Now Mat is also made from a washable material, and it's so soft that you'll forget you're on the ground.
Meditation isn't for everyone, we know that. But the Now Kit has a multi-purpose…and I know you've been thinking it… so I'm going to say it… Yes! You can use the Now Bench as a yoga block and the Now Mat as a yoga mat!
So whether you are using the Now Kit for meditation or yoga, feel the tensions and stressors evaporate from your sou and your life.
Close the door, dim the lights, spark up some candles, get out your Now Kit, and for the first time in a long time, just relax. You deserve that.
The Now Kit is available on Amazon for $58.54 with free shipping through Amazon Prime.