We use affiliate links. If you buy something through the links on this page, we may earn a commission at no cost to you. Learn more.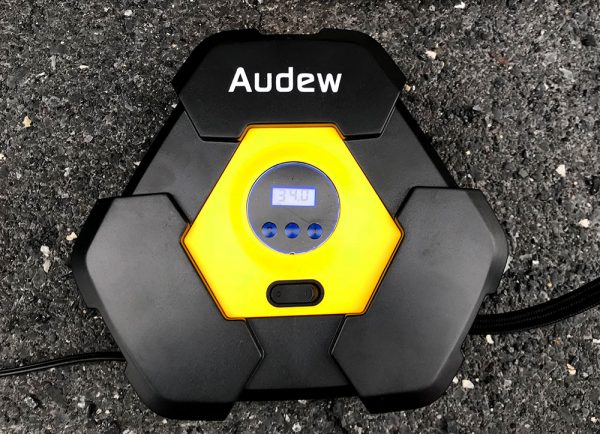 Think about the trunk of your car. What have you got in there to help you out in case of an emergency? Spare tire? Sure. Jumper cables? Nice. Maybe you've even got a road flare or some water bottles. But what if that spare of yours is flat, too? You may be missing an often overlooked but equally important element of roadside preparedness – a portable air compressor. Audew is here to fill that void with their small-yet-mighty Digital Tire Inflator.
What is it?
The Audew Digital Tire Inflator is a small air compressor that is powered by the automobile's 12V DC outlet (cigarette lighter). It's ideal for cars, bikes, motorcycles, RVs, SUVs, ATVs and trucks… basically anything with a tire. Also, sports equipment and inflatables adaptors are included, further extending its usefulness.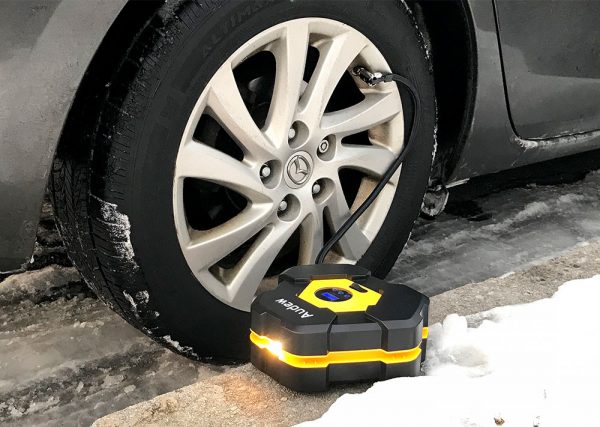 Hardware specs
Product power: 120W
Operating voltage: DC12V
Maximum operating current: 10A
Maximum pressure: 150 PSI
Flow: 35 PSI / min
Power cord length: 3M
Continuous working time: 8 min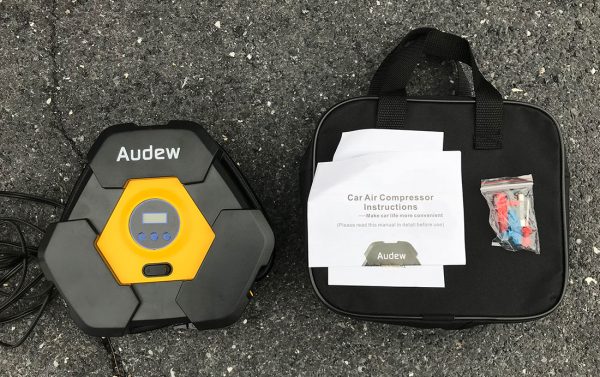 What's in the box?
tire inflator with built-in 3-meter power cord
multiple nozzles for air mattresses and sports balls
instruction booklet
extra fuse
carrying bag
Design and Features
What I liked best about the Audew air compressor was the fact that it had everything necessary to complete a regular tire fill on board. No hunting for the adapter cable, tire pressure gauge, or the nozzle. It's all right there. It even includes a backlit display and a bright LED light on the side of the case, which is super-handy for finding those tire stems in a dark parking lot or roadside.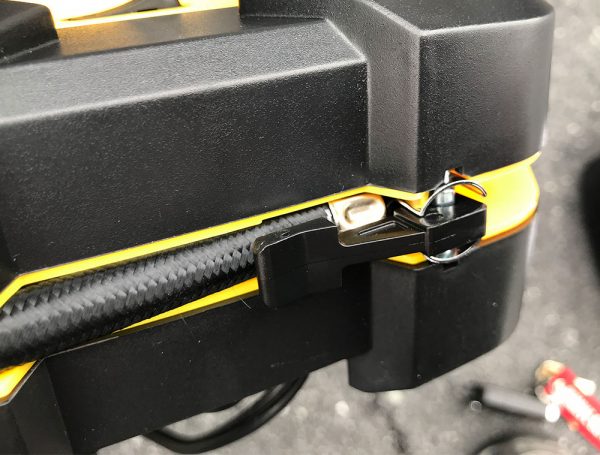 The built-in DC cable is 3 meters long, which should be long enough to easily reach every tire on an average vehicle. I didn't get a chance to test if it would be long enough to reach, say the back tire of an extended cab truck, but I imagine it would do the trick.
It comes with extra nozzles for filling up air mattresses or sports balls, which is a nice inclusion, but you're going to have to be right next to your car in order to do so, which is a very minor problem.
Living in an area of the country that sees wide shifts in temperature from day to day, it's not surprising how often my car gives me those "low pressure" alerts. And since free air dispensers seem to be getting increasingly hard to find – most are like $1.50 for a few minutes of runtime – it's super handy to simply pop this thing out of my trunk and pump up those tires to a proper air pressure.
Setup
Since all of the required cables, hoses, and nozzles are built into the compressor unit, setup is a snap. Simply plug the adapter into the outlet and LED lights on the compressor come on. Anyone who's ever used a bike pump would be familiar with the clamp-type nozzle… just push the nozzle over the stem, fold down the clamp and you've got yourself a secure connection.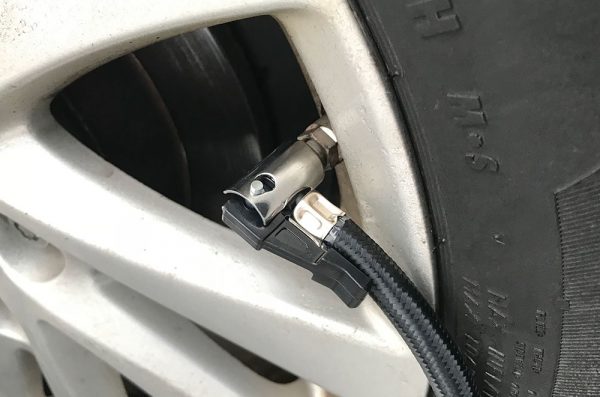 The LED on the unit should display the current pressure. In the instance of my tire, it was at 27 PSI.
All that needs to be done from there is to use the + or – buttons on the compressor unit to set the target PSI, and then flip the switch. The compressor roars to life and fills the tire to the set pressure and shuts off. That's literally all there is to it.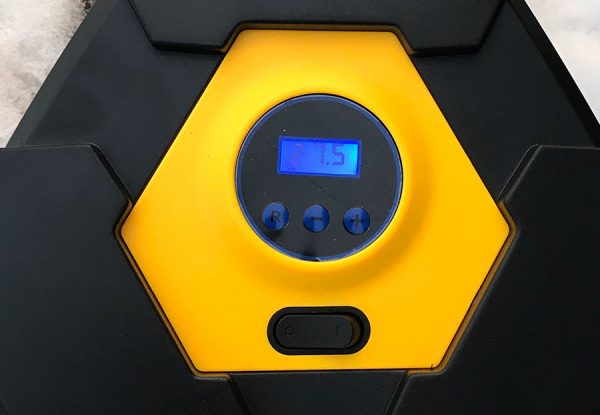 If you don't happen to have your tire's optimum PSI, that information is usually printed on the inside of the car door, or in your car's manual.
Performance
The compressor seemed to be comparable to one you would find at a gas station, in terms of how quickly it inflated my tire. I saw the pressure increase half a PSI unit every 8-10 seconds. Total time to get the tire inflated to the desired pressure was a little over a minute. It works just like you'd imagine.
What I like
all-in-one, compact format
easy to use
lit display and built-in LED flashlight
What needs to be improved
must be within 3 meters of the DC outlet
Final thoughts
Audew's diminutive air compressor is the perfect size to keep in the trunk right next to your jumper cables and extra windshield wiper fluid for those "just-in-case" scenarios. It's inexpensive, simple to use, feature-rich, and all the necessary parts are built right in. You really can't go wrong.
Price: $36.99
Where to buy: Amazon
Source: The sample of this product was provided by Audew.