We use affiliate links. If you buy something through the links on this page, we may earn a commission at no cost to you. Learn more.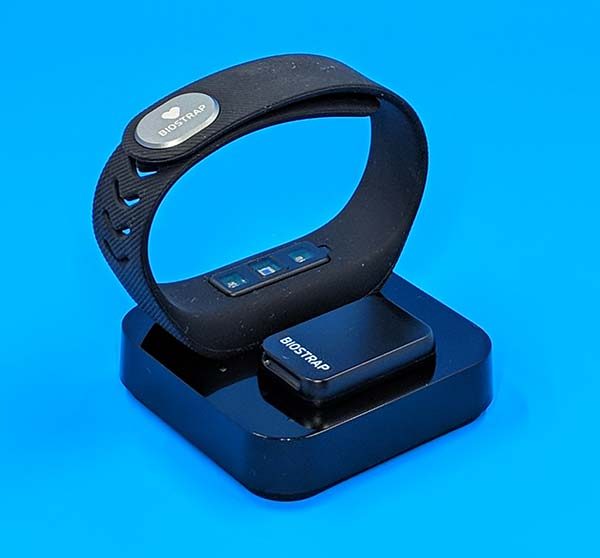 Did you start the new year off with a resolution to become more active and healthy? How's that working for you so far? Resolutions and goals are wonderful things but sometimes we need some extra help with motivation. One way to "see" your progress is to track stats like daily activity, calorie burn, etc. Wearable fitness trackers are good tools to help you monitor your progress. Today I'm going to tell you about the Biostrap fitness tracker which uses a clinical-quality PPG sensor to gather and analyze extremely precise heartbeat data.
What is it?
The Biostrap is a full body fitness tracker that pairs a wrist-worn tracker with a shoe pod sensor. The wristband counts your steps, monitors your sleep, tracks your resting heart rate, heart rate variability, respiratory rate, and oxygen saturation. The shoe pod is used for recording workouts with their activity classification feature.
What's in the box?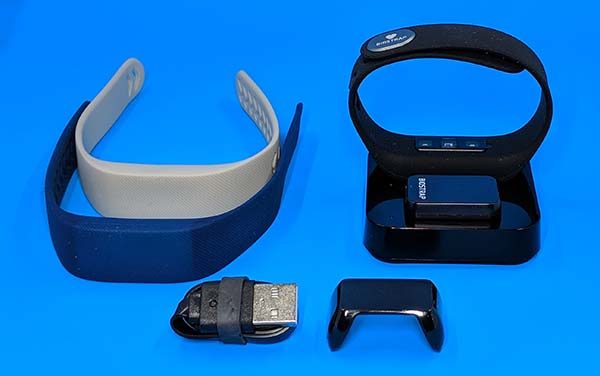 The Biostrap total health set includes:
Wristband Sensor (Pulse Oximeter, Gyro, Accelerometer)
3 Wristband straps
Shoepod Sensor (Gyro, Accelerometer). Required for workouts.
Shoe clip
Dual-coil Induction charger base
USB Cable
Design and features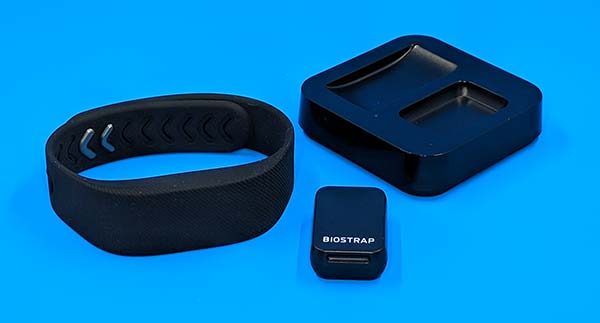 The Biostrap includes a traditional tracker that you wear your wrist and a separate sensor that you attach to the laces on your shoe.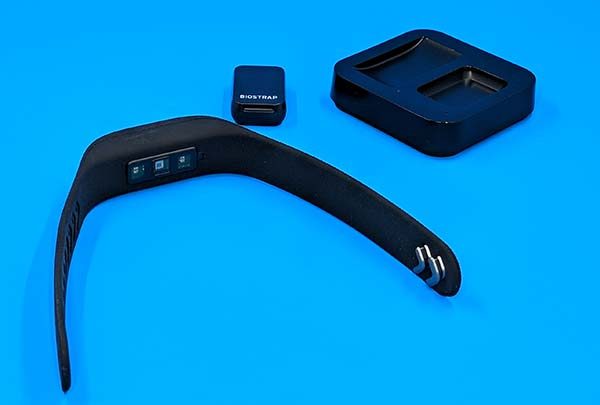 The wrist tracker is the main tracker that you'll wear all day. The waterproof tracker is housed in a silicone wristband.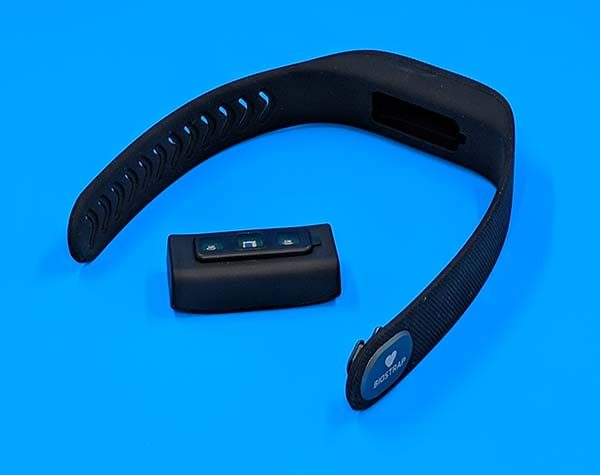 The tracker can be removed from the strap to clean it or to clean the strap itself. The Biostrap Total Health set comes with 3 wristbands of different colors so you can choose the color you like best. The strap has a metal button with two sets of "teeth" that snap into slots in the strap. I found it awkward and difficult to put the Biostrap on my own wrist. I'm not a fan of these types of wrist straps because they aren't easy to put on and I just don't find them to be very comfortable.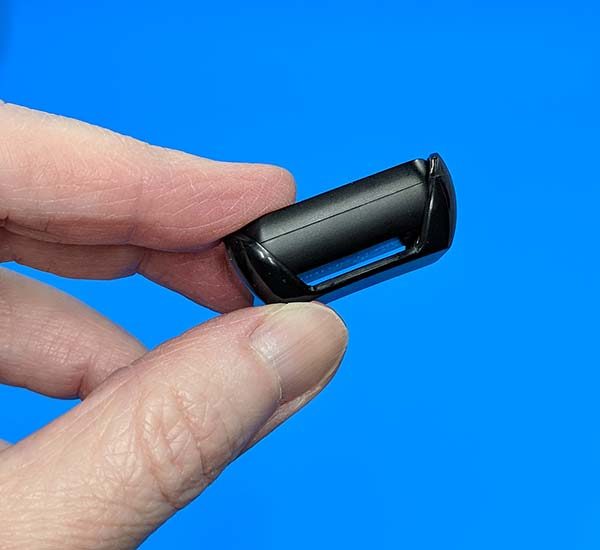 The shoe pod sensor is a small module that snaps into a plastic clip that you slide under one or more shoe laces on your shoe.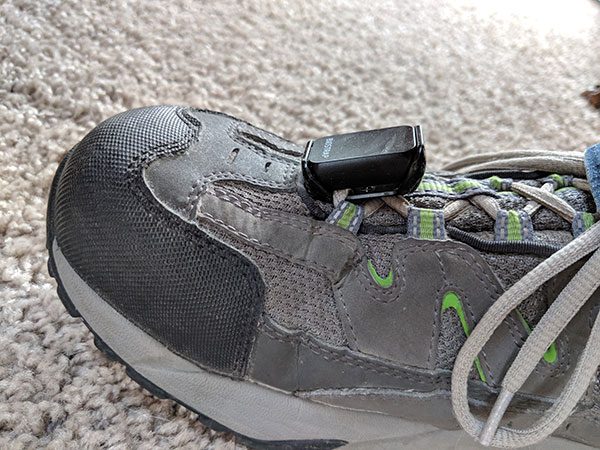 Here it is clipped to one of the laces of my steel toed work shoe. Although you might think that the shoe pod is a pedometer that will count your steps, it's not. The shoe pod is only used to collect activity data when you work out. It can help collect better activity data when you're running, playing golf, hiking, playing tennis, and many more activities.
Note that the shoe pod is splashproof but not waterproof.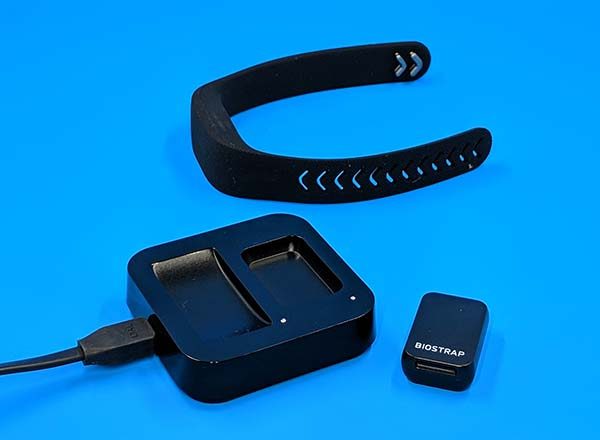 The Biostrap and the shoe pod are charged through a wireless charging dock that you plug into a free USB port on your computer or into a USB power adapter. The charger has two slots, one for each sensor, and two status LEDs that glow white when the sensors are fully charged or the charger is empty.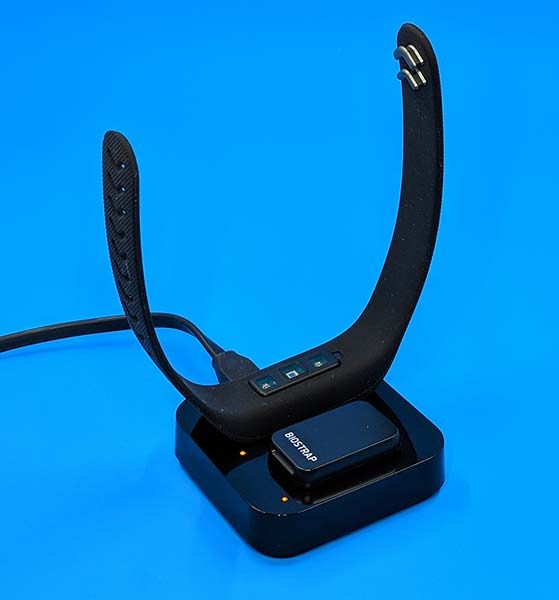 When the Biostrap and shoe pod are placed on the charger, the LEDs glow yellow until the sensors are fully charged. Then the LEDs turn white.
The Biostrap will only last about 2 days per charge and the shoe pod will last about 3-4 days per charge – if you're lucky. This one of the biggest issues I found with this fitness tracking system. Battery life is just too short and it felt like I was always needing to charge the tracker on my wrist or the shoe pod.
The Biostrap app
To start using the Biostrap, you have to install the Biostrap app on your iOS or Android device and set up an account which will ask for your gender, weight, and height. You can customize your daily goals for steps, active calorie burn, hours of sleep and workout length.
The app provides a view of each day's stats that include how many steps you walked, sleep, workout length, calorie burn, heart rate, and breathing data.
Clicking each item lets you see a more detailed view of the data. For example, for steps, it will show you an hourly graph of the time you were walking and more details about the calories burned while walking along with distance and duration.
Here's what the sleep data looks like.
The app shows you a lot of data about your heart rate, heart rate variability, respiratory rate, and oxygen saturation levels. Why would you want to know these things? These stats show your overall heart health. According to the Biostrap site:
Our clinical-quality PPG sensor allows us to gather extremely precise heartbeat data. Biostrap captures over 2,000 heartbeats every 24 hours. Every single pulsewave is analyzed for 29 different parameters, then analyzed against all of your other heartbeats from the last 24 hours.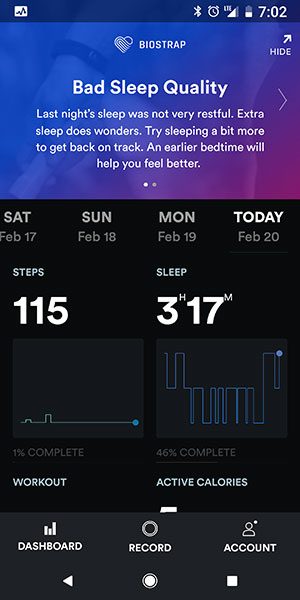 Each day you can check to see if your stats were low, high, or normal. The app will also show alerts at the top when it detects problems like not enough sleep the night before.
I wore the Biostrap wristband and shoe pod for a full week to track my steps, sleep, etc. Other than some difficulty putting the wristband on my wrist and having to charge the sensors frequently, I didn't have problems with the hardware itself. But I did notice some issues with the Biostrap app (Android) that were a little annoying. Mainly the app / band would think I was sleeping when I was lounging on the couch for a few hours. I can understand how that can happen and at least the app allows you to delete faulty sleep sessions.
The main problem with the app is that it's really slow syncing data after you've completed an activity like taking a walk or working out. I would check the app to see how many steps I'd walked after a walking session and it would show a very low number which would confuse me. But if I would flip back and forth between days and come back to the current day, the step count would increase each time.
Sometimes it would show weird totals like the image above on the right. This problem with syncing speed led me not to trust the data because I never knew of the stats were up to date or still syncing.
What I like
Heart rate data
Automatic exercise tracking
Wireless charging dock
What needs to be improved
Battery life
Wristband comfort
App is slow to sync data
Expensive
Final thoughts
Having more data about your health and fitness is obviously not a bad thing, so this tracker does have that going for it. The heart rate variability and respiration tracking data is a feature missing with most other trackers that are currently on the market. But, what are you going to do with that data? Is it really useful for most people? I'll admit that after the first day testing this fitness tracker, I didn't really pay much attention to those stats. Because I didn't really care how many breaths that I take per minute.
Since this fitness tracker is pricier than a lot of other trackers that you can buy right now, you'll need to ask yourself if the extra health data are important to you. If they are, and you don't mind that the app is sluggish when it comes to updating stats, and the sensors need to be charged frequently, the Biostrap might be the fitness tracker that can help motivate you to reach your fitness goals.
Price: $250.00
Where to buy: Biostrap
Source: The sample for this review was provided by Biostrap.