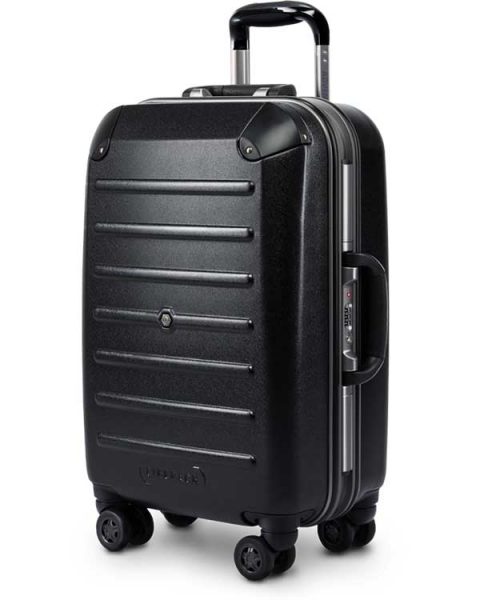 I travel a lot for my job and I am always in search of a more user friendly, convenient and rugged suitcase or bag to help me move quickly through the airport.  I have closets full of suitcases, duffels, backpacks, etc., each with their pros and cons but none of them were exactly what I was looking for.  When I received the Lifepack from SOLGAARD I was extremely excited, one because it was a new suitcase and that alone gets me excited (hey, I'm a regular traveler so I kind of geek out on suitcases) and two, it offered a unique storage solution for my clothes, shoes, and toiletries that I have never seen before but we will get into that in a little bit.
What is it?
The SOLGAARD Lifepack is a carry-on sized hard sided roller suitcase that is extremely rugged and durable and comes with a collapsible closet that stows away inside the suitcase for easy packing and unpacking for your trip.
Hardware specs
The dimensions of the Lifepack are 21.6″ tall (including the wheels), 14″ wide and 9″ deep, complying with all airline carry-on size requirements (please double check with your airline on size requirements before taking this or any bag as a carryon) and has a 38 liter volume.  The hard shell is made from jet black polycarbonate, which is reinforced with a gunmetal grey aluminum frame for the perfect balance of strength and weight.  A TSA approved lock is integrated into the bag so you will never again worry about leaving your lock in a hotel room or having it bent or smashed as it dangles from zippers (this has happened to me on numerous occasions).  The Lifepack also comes with a lifetime warranty.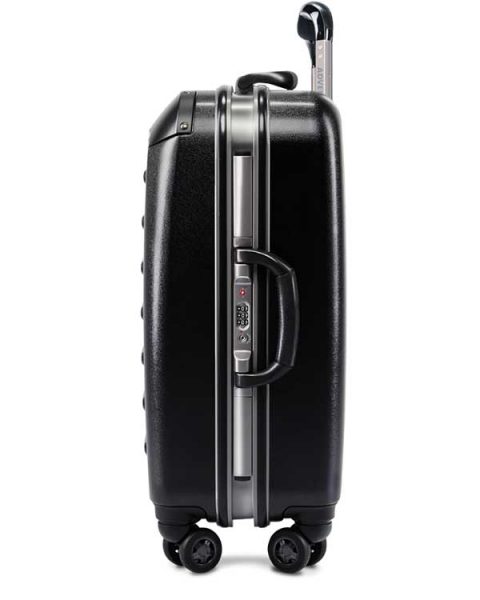 What's in the box?
The SOLGAARD Lifepack comes with the suitcase and a collapsible closet system for easy packing and unpacking or when you just need to quickly get into your suitcase to find that one thing that would normally have you digging through your neatly packed bag.
Design and features
The Lifepack has been very well thought out and constructed.  Starting with the suitcase itself, the shell is as sturdy and durable as I have ever experienced in a piece of luggage.  The video on their website demonstrates being able to sit and stand on the suitcase with little give.  The four wheels on the bottom are high quality and glide with ease, something that is a feature you look for if you have ever owned a bag that has cut costs by using low-quality wheels.  The telescoping handle is very solid and doesn't rattle around like with other bags I have owned.  It responds to your movements instantly and glides with ease over hard floors, carpet, and concrete.  On the underside of the handle is a very soft, plush grip that makes pulling this bag through an airport very comfortable in your hand.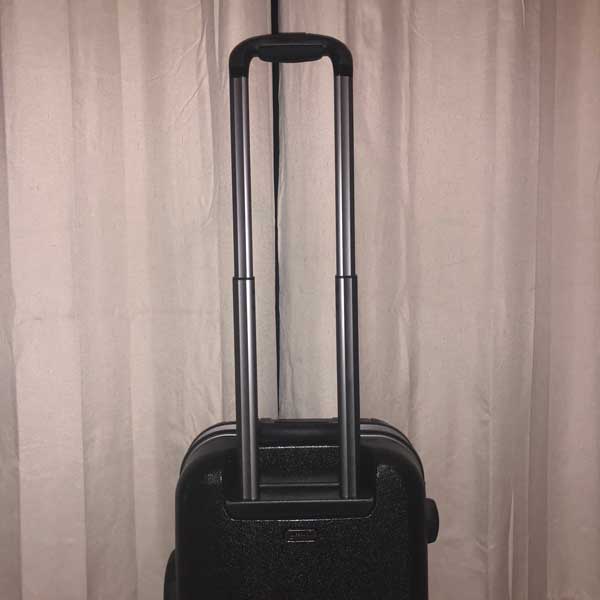 My favorite feature of the shell is the closing mechanism and the integrated TSA approved lock.  SOLGAARD has eliminated the zipper and instead has used an attaché style closure so never again will you have to deal with a zipper coming off the track, getting a piece of clothing or the liner stuck in it or worry that your bag can be easily cut into even when locked.  The lock is built into the frame on the shell directly under the side handle and used a 3 digit wheel locking system so you don't need to remember where you put your key to your suitcase.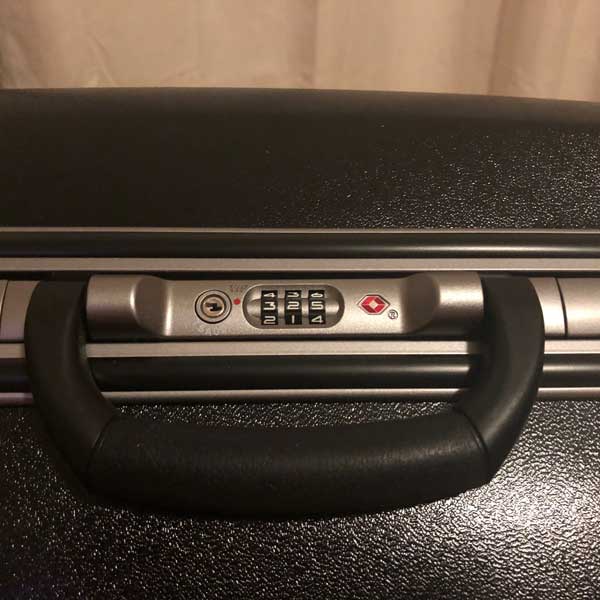 All of the features mentioned above already make this my favorite hard-sided carry-on suitcase that I own but what really separates the Lifepack from the competition is the patented internal collapsible closet system that makes for extremely fast and easy packing and unpacking.  As you can see in the pictures, this internal closet is made from extremely lightweight and rugged fabric and hangs easily from the trolley handle, allowing you to see all of your clothing easily and remove just what you need without rummaging through your bag to find a shirt or pair of socks.  once packed, the closet collapses and fits easily into the suitcase where you can snap it securely into place so it doesn't fall out should you open the suitcase while it is standing upright.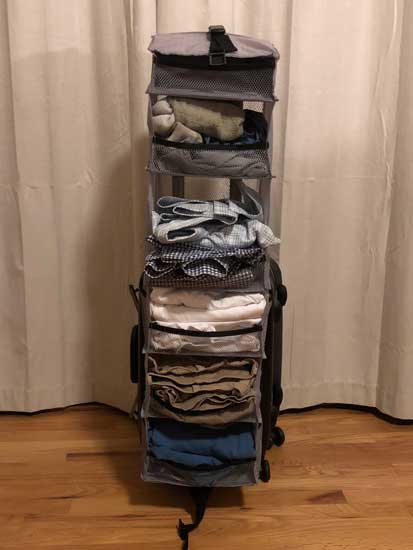 I have always hated living out of a suitcase when I travel so before receiving this bag, I would get to my hotel and immediately unpack my entire bag and put the suitcase in the closet or on the side of the bed.  Now that I am using this suitcase for my shorter trips, I simply open it, take out my collapsible closet, hang it from the handle and voila, I am unpacked.  No more accidentally leaving a shirt or pair of pants in a hotel drawer that I forgot to look in, it's all right there just as I packet it.  No more storage cubes to separate my pants from my t-shirts and no more jamming all of my stuff into the suitcase as I race out the door to catch my flight, wondering if I left anything behind.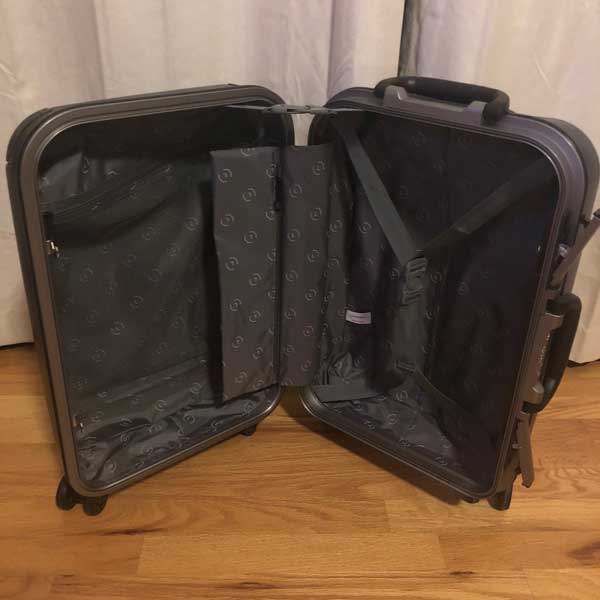 What I like
The rugged design and durability of the shell is sure to impress even the most seasoned traveler and suitcase abuser.  The collapsible closet has completely changed the way I pack and unpack and makes finding what you are looking for effortless.  I am in love with the closure and locking system.  I can't count the number of times I have broken a zipper or got it caught on something, which always seems to be when I'm in a hurry.  At $249 right now on their website, I think this is a great value for the quality and ingenuity you get with this suitcase.
What needs to be improved
From a design and value standpoint, I honestly have nothing bad to say about this suitcase and portable closet system.  At this time it is only offered in the one color that is shown in this review so for those of you who don't like black luggage, this will be a negative, but for me, I prefer black luggage and the combination of the black shell and gunmetal grey frame is extremely sharp and professional looking.
Final thoughts
If you are looking for a high quality and durable carry-on sized roller bag I cannot recommend this product enough.  If you are like me and are tired of having to sift through all of your neatly packed clothing to look for a specific item or are tired of spending time unpacking and repacking your suitcase when you get to your destination, this is a great solution for your travel needs.  I have used this on three work trips and will NEVER go back to my other carry-on sized roller bags after using the Lifepack.  Every feature of this suitcase is well thought out and engineered to make your life as a traveler easier and it is extremely successful in that effort.  I could not be happier with this product and am very comfortable recommending it to our readers, which is why I am giving this the highest rating of 5 stars.  Job well done, SOLGAARD!
Price: $249.00
Where to buy: SOLGAARD or Amazon.
Source: The samples for this review were provided by SOLGAARD.