We use affiliate links. If you buy something through the links on this page, we may earn a commission at no cost to you. Learn more.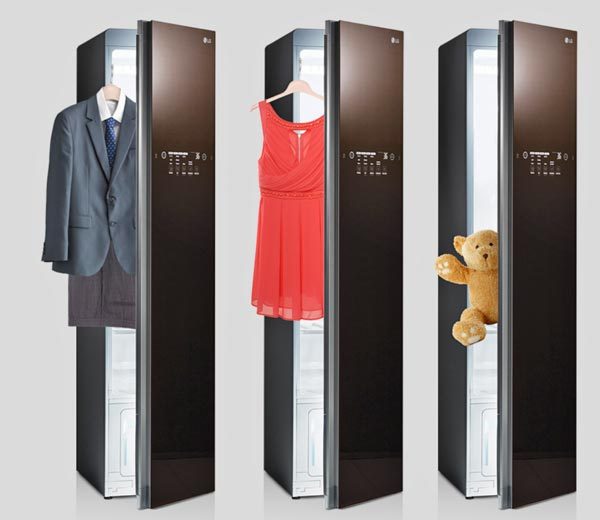 I try to avoid buying dry clean-only clothes because it's a pain – and expensive – to have to run things over to the dry cleaners.  And I tend to avoid wearing the dry clean-only clothes I do have for the same reasons.  With the LG Styler, you can wear your clothes and extend the time between trips to the dry cleaners, because the Styler can remove odors, reduce wrinkles, and keep clothes cleaner by sanitizing at home.  You can even use the Styler to quickly and gently dry clothes that can't go in the clothes dryer.
The Styler looks like a tall, thin cabinet (about 72″ tall X 17.5″ wide), so it can fit in your laundry room, your closet, or even your bedroom.   It uses pure water to produce steam to clear away odors, wrinkles, bacteria, and even allergens.  LG says that 80-90 minutes in the sanitizer cycle reduces allergens and bacteria by 99.9%, which is more effective than 3 hours in sunlight.
Inside, the Styler has a moving hanging bar to vibrate clothes 180 times/minute to help reduce wrinkles and odors.  There's also a rack for sweaters and things that don't need a hanger, a pants press for sharp pleats, and an accessory hanger for ties, scarves, and the like.
There's no plumbing required; you just load up the portable water container and empty the collection container as needed.  No chemicals are required for cleaning, but you can add an aroma kit to add refreshing scents onto your clothes.
The LG Styler is available in espresso or white;  MSRP is about $1800.  Learn more about the Styler and find a retailer on the LG Styler website.