We use affiliate links. If you buy something through the links on this page, we may earn a commission at no cost to you. Learn more.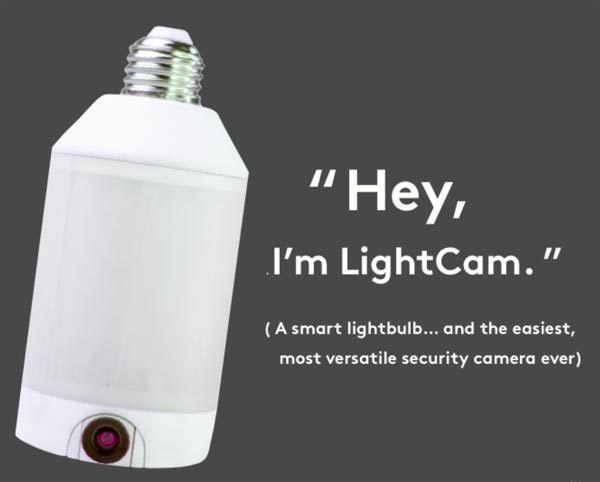 The LightCam is a smart lightbulb with a security camera built in that's currently seeking funding on Indiegogo.  The project is very popular and has been funded at more than 425% with 20 days still left in the campaign, so you have plenty of time to reserve one for yourself.
The lightbulb works in any standard socket.  To install, you simply screw it into the socket – no drilling or additional wiring is needed, which makes it the ideal security camera for renters.  It connects to your WiFi and communicates with you through a smartphone app.  There is no service contract required; the LightCam has enough built-in storage to save about a week's worth of video, and you can access the video through the LightCam app and even download clips for more permanent storage.
The weatherproof bulb fits in a variety of fixtures, interior or exterior.  The 1080p HD camera with wide-angle lens can adjust to change the viewing angle to work with the fixtures, even with recessed fixtures.  It can "see" even in the dark, producing gray-scale images of objects up to 25 feet away.  A motion sensor can alert you when someone approaches the LightCam, and a microphone and speaker allows you to communicate with the visitor.  Using the app, you can control when the LED light comes on and when you get alerts,   It even comes with a cover for your light switch, so you can be sure the camera isn't accidentally turned off.
The LightCam funding period ends in 20 days.  You can pledge $99 for a single LightCam, with discounts available for purchase of multiple bulbs.  Learn more and get your own LightCam at Indiegogo.