We use affiliate links. If you buy something through the links on this page, we may earn a commission at no cost to you. Learn more.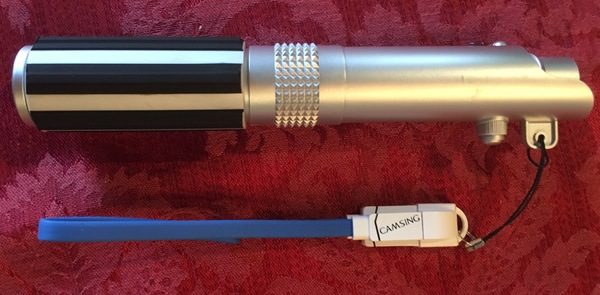 So you're a discerning Star Wars fan. You thought you had all the toys and gear… until now. How about a lightsaber that's also a charger for your portable devices and a laser pointer?
What, you don't have one of those? This is your lucky day. We're going to find out more. We'd be honored if you would join us!
What is it?
It's an officially licensed reproduction of Rey's lightsaber from Star Wars – The Last Jedi, scaled down for portability. It's a mobile device charger. It's also a laser pointer, so you can show off your Jedi skills while pointing out the highlights in that PowerPoint presentation. You'll just need to provide your own sound effects.
Hardware specs
Battery Type: Lithium-ion Battery
Battery Capacity: 6,000 mAh
Input (Micro USB): [email protected]
Output (USB Type A): [email protected]
Dimensions: 26 x 26 x 179mm
Compatible: iPhone, Android & Window Mobile Phones
What's in the box?
The package comes with the lightsaber/charger/laser pointer, and a micro-USB charging cable.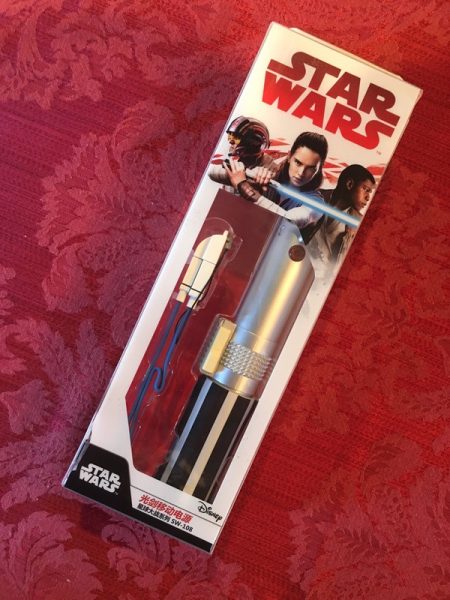 Design and features
The device is modeled after the most famous lightsaber in the Star Wars saga, owned by the Skywalker clan and ultimately passed to Rey in the Force Awakens. If you're a stickler for replica details, it's a good one: all the knobs, buttons, and finishing details are on point despite being nonfunctional (it's all molded plastic). It's also a surprisingly substantial build, measuring 7" long and weighing in at 5 ounces. With a rubber grip for easy handling, it looks & feels durable enough to take some rough use.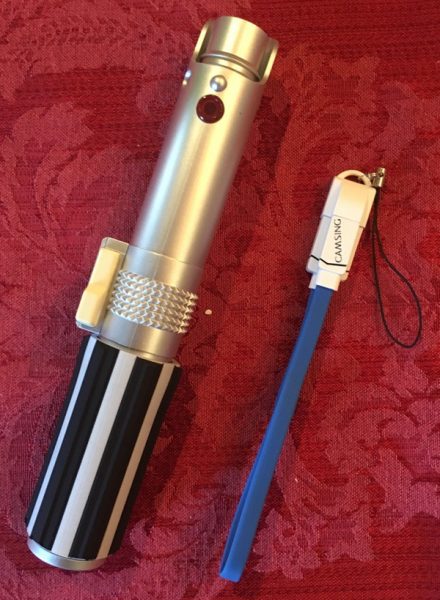 The base of the handle is where your charging happens. There's a full-sized USB port for charging your mobile devices and a micro-USB port for charging the unit. A nice USB-to-micro-USB cable is included that doubles as a lanyard that can be attached to the lightsaber.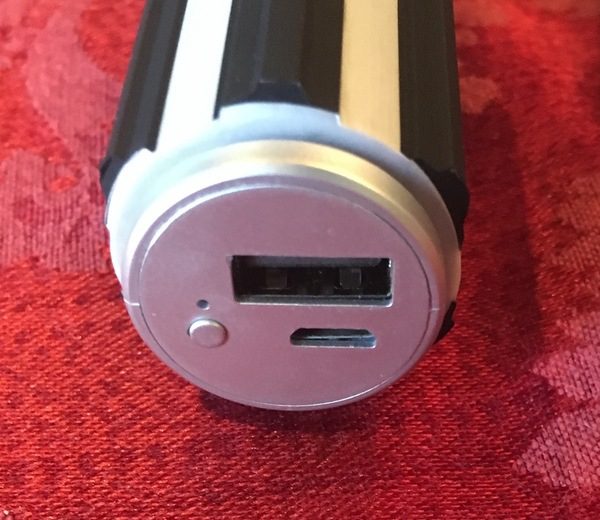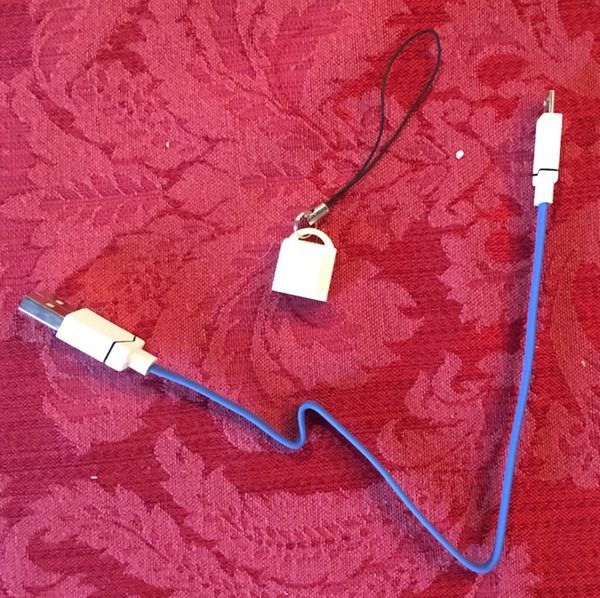 The laser pointer projects from the business end of the lightsaber, and is activated by a tiny button next to the USB port on the base. The lase is blue, of course, keeping with the authenticity of the replica (no red Sith lighting here!).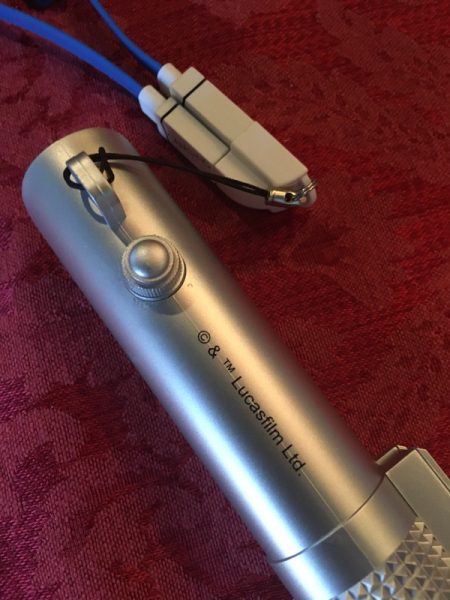 Setup
Setup is a straightforward affair. Find yourself a USB port, and plug in via the micro-USB cable to charge it up. You can also plug your device into the USB port to charge both items simultaneously.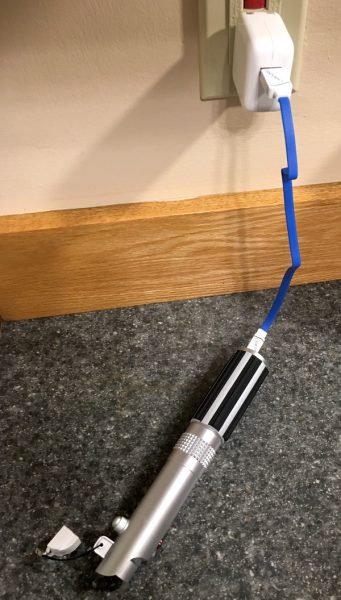 Performance
With my iPhone 6S and moderate use, I was able to go about 4 days before I needed to go find an outlet. There are a lot of variables that go into the power consumption equation, however: device capacity, amount and type of usage, and age of the devices all impact charging potential. My iPhone has an 1800 mAh, for example. While the iPhone 7 and 8 have similar battery sizes to the 6S, the iPhone 7/8 plus models (or the Galaxy s8) ring in at around 3000 mAh capacity (give or take). They also consume power faster for those big screens. You'll want to consider your device and usage requirements to see if 6000 mAh is enough to get you between recharges.
I should also note that the [email protected] USB port is not sufficient for charging most tablets. With only 6000 mAh, it won't get you far anyway… but you can't use it as an emergency power source in a pinch.
The laser pointer itself is surprisingly legit. It's not good power and a range that's strong enough to use across a large conference room. And it feels good to use as a pointing device, being a bit more beefy than a tiny clicker. It's not exactly subtle, however… you'll own your geek cred when you pull this out of your bag (I have a Yoda tattoo. I won't judge.).
Unfortunately, the Brando Star Wars Lightsaber Portable Battery Charger and laser Pointer is a bulky and expensive piece of gear for what it does. Ultra-compact, pocket-sized 6000 mAh mobile chargers are pretty easy to come by for under $20. Chargers this size typically sport 20000 mAh or more (enough to charge some tablets), and can be had in the $30 to $50 range. While the laser pointer is a nice touch, it doesn't justify a retail price of $100 for this unit if you're just looking for a mobile charging device. It's also too big to fit in your pocket, so be prepared to stash it in your bag or backpack on the go.
What I like
It's a quality replica piece.
Well built, durable, and substantial.
It's got a good laser pointer for calling out those flaws in the Death Star design.
Hardcore Star Wars fanboy/fangirl credentials. Respect.
What needs to be improved
It's big and bulky for a mobile charger.
6000 mAh charge capacity is on the low end these days.
Not able to charge tablets and similar higher-powered devices.
Expensive for a charging device with limited capacity.
Final thoughts
Here's the thing: the Brando Star Wars Lightsaber Portable Battery Charger and laser Pointer is intended as a collectible movie replica product. If you're a big Star Wars fan, this is a pretty cool gadget to add to your collection. It's a neat conversation piece, and it's actually got some useful functionality. It's not cheap at $100, however, and there are plenty of more portable (and more powerful) charging options out there at significantly lower price points. The choice is yours, my Jedi friend. Let the Force guide your actions.
Updates 05/18/18
Yeah, it's a bit nerdy… but it sure is useful! I packed this fella on a recent trip to California, where it served to charge my iPhone and iPad during an extended layover from Philadelphia to Los Angeles to San Jose. 10 hours of travel time with charge to spare. It was especially useful on my redeye flight back to Philadelphia, where there were no charging ports on the plane seats (thanks, American Airlines!). I also get approving head nods from fellow Star Wars fanboys and fangirls when I pull it out. The Force is strong with this one.
Price: $100
Where to buy: Brando
Source: The sample of the product was provided by Brando.