We use affiliate links. If you buy something through the links on this page, we may earn a commission at no cost to you. Learn more.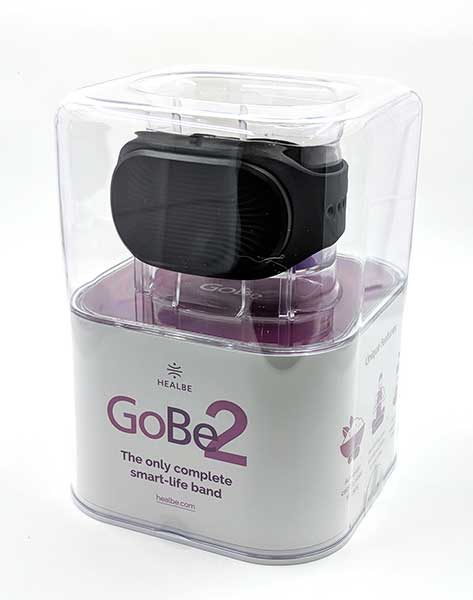 Did you start the new year off with a resolution to exercise more and improve your fitness level? If you answered yes, how are you measuring your progress towards your goals? If you have been shopping for a wearable fitness tracker but don't know which one to choose from the crowded market of trackers, you'll be thrilled to find out that I'm going to make your choice even harder by telling you about the Healbe GoBe 2 Smart Life Band fitness tracker.
What is it?
The Healbe GoBe 2 is a fitness tracker that measures all the normal things that most fitness trackers measure, like your steps, sleep, and even your heart rate. But the GoBe 2 goes quite a bit further by also tracking calorie intake, calories burned, energy balance, hydration levels, and emotional state.
What's in the box?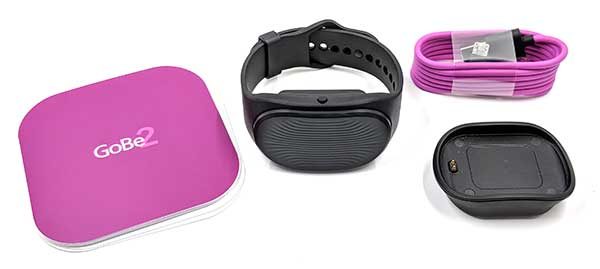 Healbe GoBe 2 fitness band
Charging dock
Charging cable
Instructions
Design and features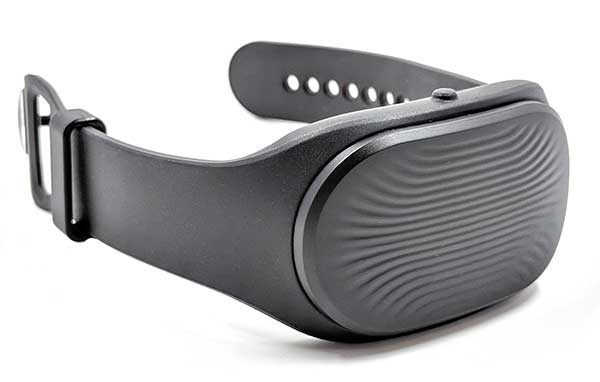 The GoBe 2 is a made of black plastic with a flexible and adjustable wristband. The top of the GoBe is actually a display. I'll show you more about that in a bit.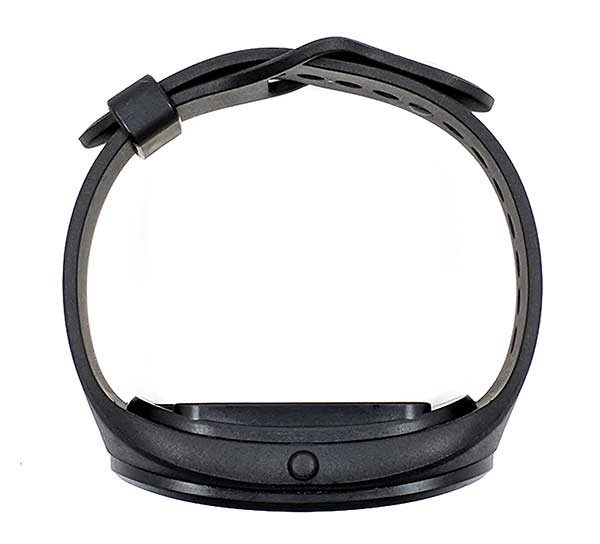 The wristband can be replaced and various color straps are available for purchase from the Healbe website.
There's only one button on the GoBe, which toggles power to the tracker and shows the time and other status indicators when pressed multiple times.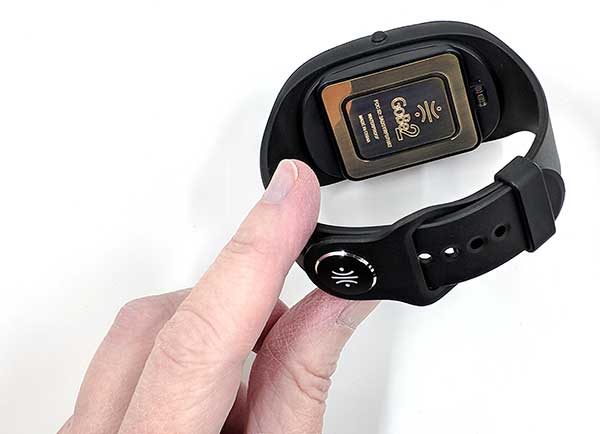 A large gold sensor is built into the underside of the tracker. This sensor is designed to make contact with the top of your wrist so that it can measure your calorie intake, stress levels, hydration levels, and heart rate.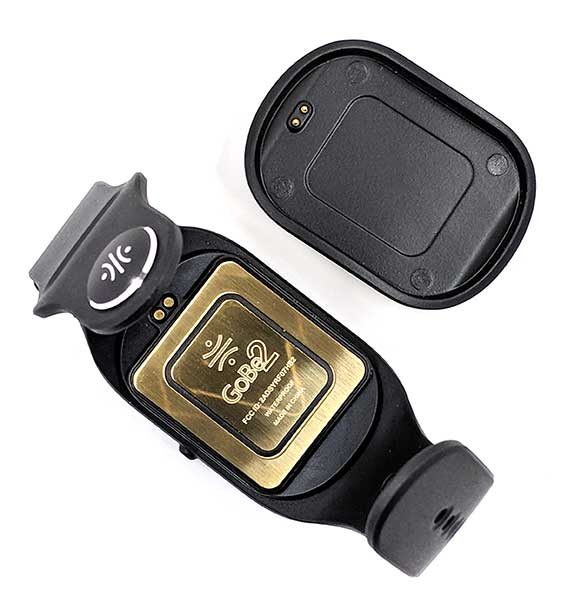 There are also two small electrical contacts on the underside of the tracker that connects to the charging dock to charge the tracker.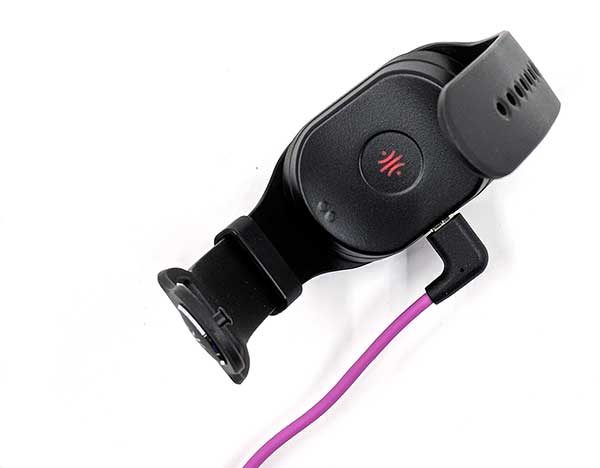 The included dock snaps to the bottom of the GoBe 2 fitness tracker by magnets. The included micro USB cable plugs into the dock and the other end can plug into a free USB port on your computer or into a USB adapter (not included) to charge the tracker.
You'll become very familiar with the charging dock because you'll be charging the Healbe GoBe 2 every day. You might be able to squeeze two days of use out of the GoBe if you turn it off while you're sleeping, but then you'll be losing sleep tracking data. They recommend that you charge the GoBe each day when you're sitting at your desk or showering.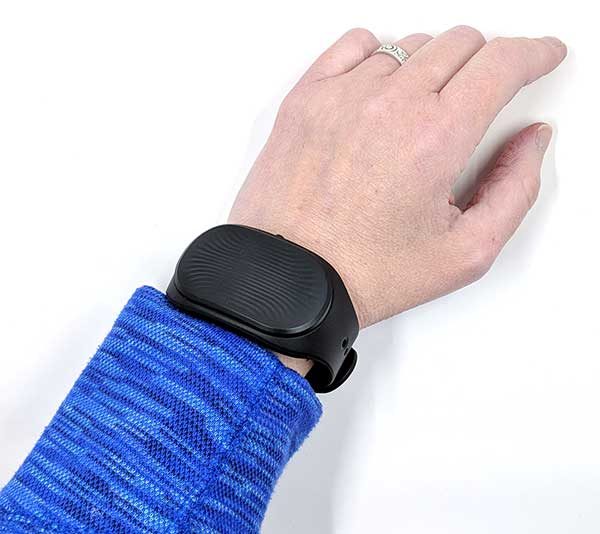 Compared to other fitness trackers on the market, I found the Healbe GoBe 2 to be huge. Here it is on my wrist. For reference, I'm 5'6″ and 129lbs. The GoBe looked and felt like I was wearing some sort of house arrest monitor.
Remember, I mentioned above that the gold plate on the bottom of the tracker has to make full contact with the skin on your wrist? Well, that means that you have to keep the strap snug. If the tracker isn't making full contact, it will vibrate and show NO CONTACT on the display to let you know that you need to tighten the strap. I found the GoBe to be uncomfortable to wear all day and it even irritated my skin slightly.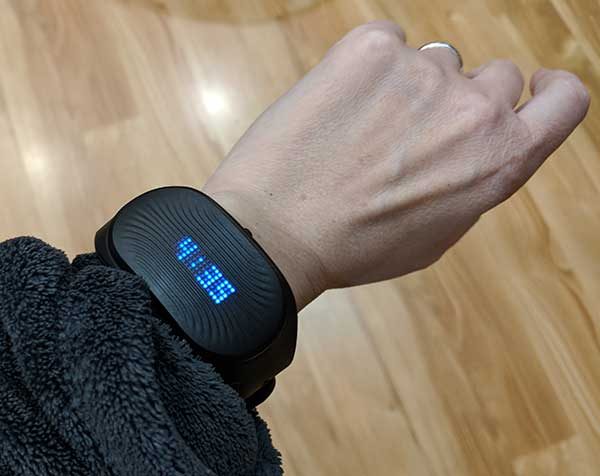 For the most part, you won't look at the tracker while you're wearing it although you can press the button on the side to show the time which lights up in a bright blue old school dot matrix style display. Tip: Don't check the time in the middle of the night when you're half awake because it will blind you.
Subsequent presses of the button on the GoBe will cycle through readings for battery status, heart rate, steps, hydration level, and more. It's easier to consult the Healbe app when you want to check the fitness data.
Healbe app
The Healbe mobile app has an easy to use interface that has a dashboard that displays calorie info, hydration info, heart rate, sleep data, and stress info.
I was really interested in the calorie and hydration features of this fitness tracker. If you've ever used apps that count your calories vs. presumed calorie burn, you will probably agree that they are tedious and a pain to use. The allure of not having to manually enter food and exercise sounded great to me.
First of all, how does this wearable fitness tracker even measure calorie intake and burn rate?
When you eat, food travels to your stomach to be broken down and digested.
10-15 minutes after you eat, your body starts converting the carbohydrates in your food into glucose. This process continues for up to 4-6 hours, depending on what you eat and your body's unique physiology.
As glucose concentrations rise, your cells absorb glucose and release water. Fat and protein in your food influences the rate of glucose absorption—leading to different shapes and durations of the "glucose curve," which GoBe measures.
GoBe uses an impedance sensor to measure the fluid moving in and out of your cells—continuously, around the clock.
Healbe FLOW™ Technology uses an advanced algorithm to analyze impedance readings and calculate calorie intake based on your glucose curves, giving you a complete picture of your calorie and nutritional intake over time.
If you expect the GoBe 2 to accurately show you exactly how many calories you consumed and the exact number of calories you burned, or how much water you drink on a given day, you'll be disappointed.
The app will show you percentages of fat, carbs, and protein consumed, and will also show if you had a calorie surplus or calorie deficit for the day. This can be useful if your goal is to lose weight. However, the readings change throughout the day, so you won't be able to check the app 5 minutes after you swallowed the last bite of your cheeseburger and see that you just consumed 500 calories. It can take between 5 minutes and 6 hours for the calories to be tracked.
The app shows spikes after a meal or after you've drunk something, but it also shows changes when you've not eaten anything at all and doesn't show exact calorie amounts.
I also found it odd that the app would show that my hydration was low in the middle of the night, but then show that it got better before I took even one sip of water the next day.
So while the calorie tracking feature is interesting and I'm excited about the possibilities going forward, I wasn't wowed.
I did like the GoBe's heart rate tracking feature and experimental blood pressure reading feature.
The sleep tracking feature was only mildly interesting. The sleep tracking reports in the mobile app don't let you see details like the amount of time you were in REM sleep versions light sleep or the exact times you were in each level of sleep.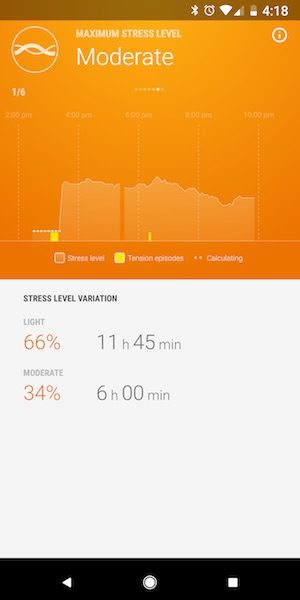 The Healbe GoBe 2 can even track your emotion/stress levels. I was skeptical about this feature but changed my mind when the tracker vibrated to tell me that I was having a tension episode right as I was getting ready to record my voice for a video that I was working on.
Healbe web app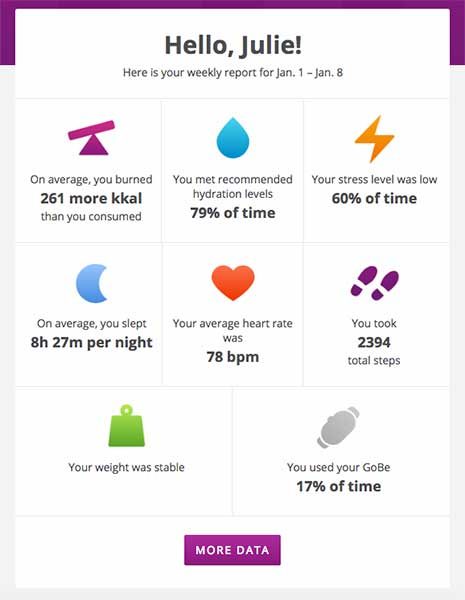 If you prefer viewing your fitness data or a larger screen, there's a Healbe web app that you can sign into. You'll be reminded of this each week when you receive an email from Healbe with a weekly report. Clicking the More Data button will prompt you to login to their web app.
The web app is excruciatingly slow, but it does allow a deeper dive into the data where you can see timestamps for calorie, heart rate, stress levels, sleep data, etc.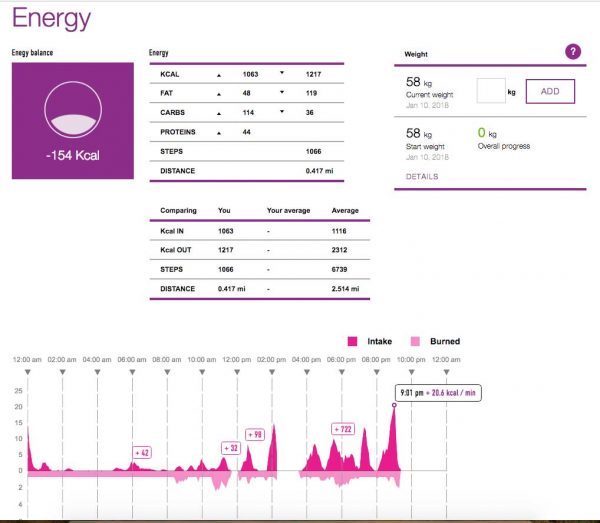 As I mentioned earlier, I'm not convinced that the GoBe 2 reports calorie intake or calorie burn accurately. I wore the GoBe 2 for a full day (minus a short time where I had to charge it which you will see above) and the web app reported that I only had 1063 calories that day. I know that number is significantly lower than it should be because we had a big bowl of oatmeal with walnuts and berries for breakfast, a whole turkey sandwich with chips for lunch, a couple of pieces of chocolate after lunch, soup and crackers for dinner, and a piece of homemade banana bread with chocolate chips later after dinner.
What I like
Calorie intake and calorie burn features show promise
Hydration level features
Continuous heart rate measurement
Can export data to Google Fit
What needs to be improved
Price is high
Short battery life
Bulky and not comfortable to wear
Calorie intake number doesn't seem accurate
Web app is painfully slow
Final thoughts
Although I found the GoBe 2 to be bulky and uncomfortable to wear, I'm hoping that these calorie tracking features continue to evolve. Being able to see accurate trends that show how the fuel (food) I put in compares with the fuel I burn can be a powerful tool for staying healthy and at an optimal weight. As it stands, I can't quite give my full recommendation for the Healbe GoBe 2 based on my own experience. But I will definitely keep an eye on future versions of this product.
Price: $199.00
Where to buy: Amazon. If you order direct from Healbe you can use the code GADGETEER at checkout to save 10%
Source: The sample for this review was provided by Healbe.