We use affiliate links. If you buy something through the links on this page, we may earn a commission at no cost to you. Learn more.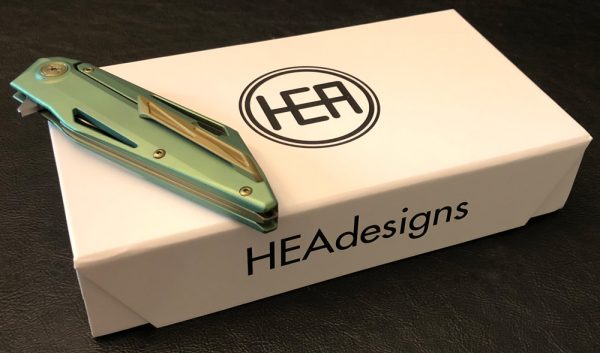 I have reviewed my fair share of finely crafted pocketknives made from some of the best materials available. But all of them were more or less of classic folder design. The HEAdesigns Wingman aspires to be different, specifically created with a "futuristic, next level design." Let's see how well it does achieving its objective.
What is it?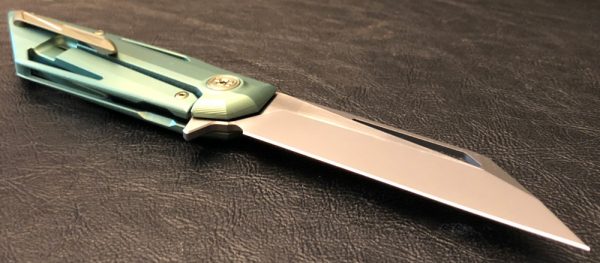 The Wingman is a Wharncliffe flip folder made from 6Al4V aircraft grade titanium and S35vn stainless steel. HEAdesigns took two years with fifty refinements in that time and over a dozen prototypes to perfect their vision. In addition to looking like it's meant as a prop for the latest SciFi movie, the Wingman is engineered for serious speed and performance as well.
Design and features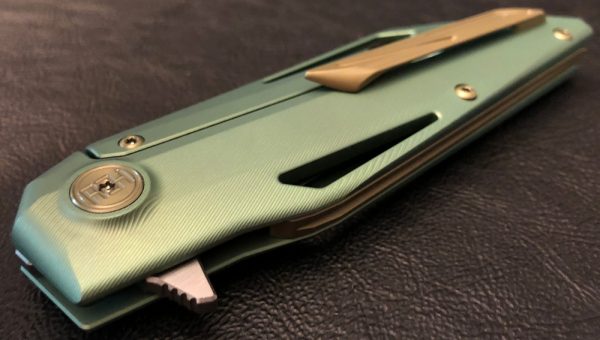 The titanium handle is 4.8 inches in length. I received the green version highlighted with yellow/gold titanium hardware. This picture captures the 3D contouring and wrapped edges of the handle pretty well. The handle is nicely sized with an excellent textured, quality feel and overall weight to it.
Specifications:
Blade:
S35vn steel, 3.5in blade length flat ground from 1/8in stock w. 3 grinds per side
Two-tone sandblast and hand sand flat finish with full depth speed groove
This blade flies out faster than Dominic Toretto at a drag race
Handle:
6Al4V Aircraft Grade Titanium starting at a .19in custom designed to angle taper down to .09in
4.8in long by 1.12in wide with heavy interior scalloping for weight reduction
Machined lock relief, steel lock insert, over travel stop, ceramic bearings, and detent
Full cutouts through both handles with 3D contoured and wrapped edges unlike any other design
Hardware & Clip
6Al4V Ti hardware and clip
Custom HEA pivot with mirrored AEH on back with torx accommodations
Blind screwed clip with design cues that make it feel right at home on the frames
Full-Length Ti backspacer with hidden hardware, secure screw tech, hidden lanyard hole, and speed milling down the entire piece

The Wingman is just over 8 inches long when extended and weighs in at a 4.2oz. The blade itself is 3.5 inches in length. The custom HEA pivot is very responsive and lightning fast deploying the blade. The pivot has a polished surface and HEA machined into it.

On the flip side, the pivot has a mirrored AEH on back with torx adjustment point. The right side of the handle has a titanium blind-screwed pocket-/beltclip with matching space-age design. The belt clip is stiff and does a solid job of keeping the knife securely on your belt or in your pocket. There are two cutouts through the entire width of the handle, with the lower one going thru the blade as well.

The top of the Wingman has a full-length titanium back spacer. There is a channel machined into the spine of the backspacer for feel and design.

There are ridges machined into the thumb ramp and blade flipper for added friction/grip when force is applied (aka flipping the blade open).

The precision frame-lock secures the blade into the open position with zero blade movement and little chance of the blade accidentally closing. To close the blade, simply press the frame lock aside and the blade smoothly rotates back into the closed position. The Wingman does not have a closed lock that keeps the blade from accidentally opening. Though this is unlikely under normal circumstance, the blade seats firmly within the handle and doesn't deploy without a good amount of force.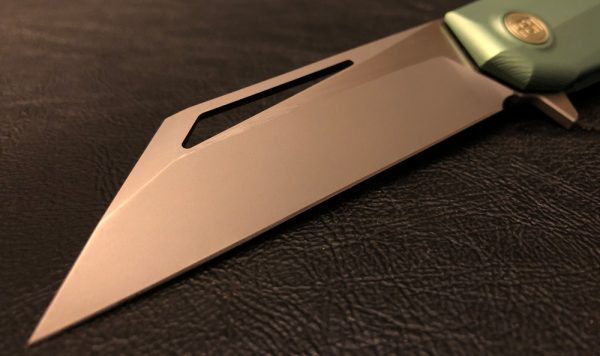 The two-tone blade is razor sharp as you would expect, created with six grinds to achieve its unique style and shape.

The spacer has a hidden lanyard hole built into the rear of the handle…a nice touch.

The Wingman is available in gray, green, gold, blue, and bronze.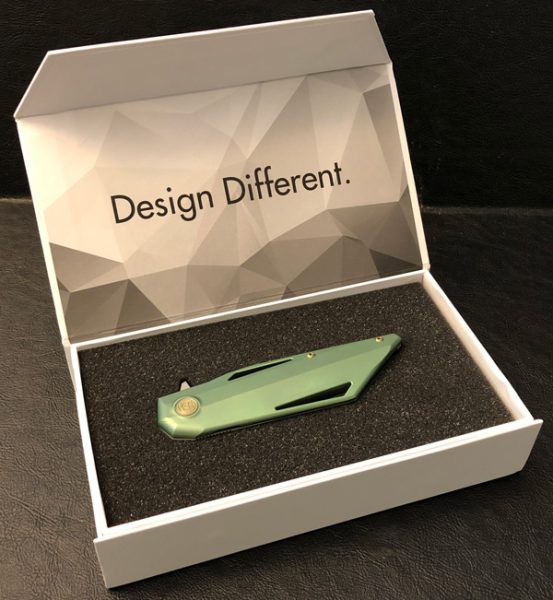 Sam Abdelrahman is the founder, president, and lead designer of HEAdesigns, creating bold, futuristic knives. He brings a decade of engineering experience, the highest quality materials, and excellent craftsmanship to all HEAdesigns products. His goal for the Wingman specifically was to create the perfect midsize flipper "that looked like it could move at the speed of light".
Positives
Unique, futuristic design
Made from high-quality materials
Excellent engineering
Lightening fast blade deployment
Rock solid, wiggle-free frame-lock
Nice contoured feel to the handle
Negatives
The space age design might be too much for some
Final thoughts
The blade is razor sharp and sliced through a sheet of paper vertically as if it wasn't even there. It cut rope, a pencil/soft wood, and food with ease. Truth be told, I do not abuse the nicer knives I review (aka try to cut anything that will damage the blade itself or use it to pry things apart or out). But if you did attempt to pry something with the tip, it could break off like a razor blade might. The knife worked right of the box without any adjustment. The Wingman has a good weight, balance, and size but that is subjective.
HEAdesigns had a vision of designing a pocketknife that pushed the limits on style and design while striving for the highest quality of materials and craftsmanship. The Wingman hits the mark on all those counts. Functionally this midsize flipper/folder is fast, well sized/weighted and ideal as a high-end EDC.
Price: $329.00
Where to buy: HEAdesigns.
Source: The sample of this product was provided by HEAdesigns.