We use affiliate links. If you buy something through the links on this page, we may earn a commission at no cost to you. Learn more.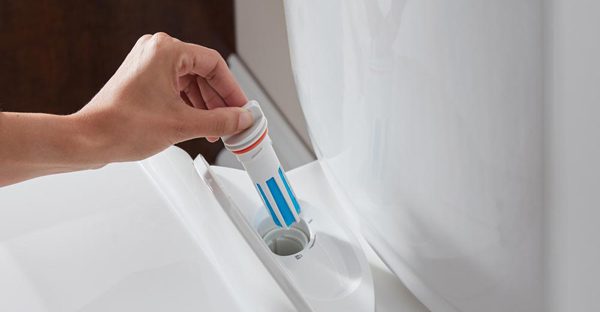 I don't normally think of bathroom fixtures as gadgets, but this American Standard VorMax Plus toilet does seem a bit gadget-worthy.  This 2-piece, elongated-bowl, single-flush toilet uses 1.28 gallons per flush.  The "uniquely powerful VorMax flush hydraulics" alone cleans 2X better than conventional toilet flushes, but American Standard then added in a Lysol FreshInfuser cartridge to assist the cleaning power of each flush, resulting in a cleaner bowl with no extra work.
The toilet's design aids in the ease of cleaning, too:
CleanCurve rim design eliminates hidden, hard-to-reach surfaces where dirt and buildup hide
EverClean surface is super smooth and easier to keep clean, even after years of use; plus, the permanent EverClean antimicrobial surface inhibits the growth of stain and odor causing bacteria on the surface
Maximizes the power of water with each flush with 1.75 in. dual-injection flush valves and 2-1/16 in. Trapway
The VorMax Plus toilet meets ADA standards for height, and it fits into a 12″ rough-in space.  It comes with a slow-close, quick-release seat and 2 of the Lysol FreshInfuser cartridges.  The American Standard VorMax Plus 2-piece 1.28GPF single-flush toilet is $299.00 at Home Depot.