We use affiliate links. If you buy something through the links on this page, we may earn a commission at no cost to you. Learn more.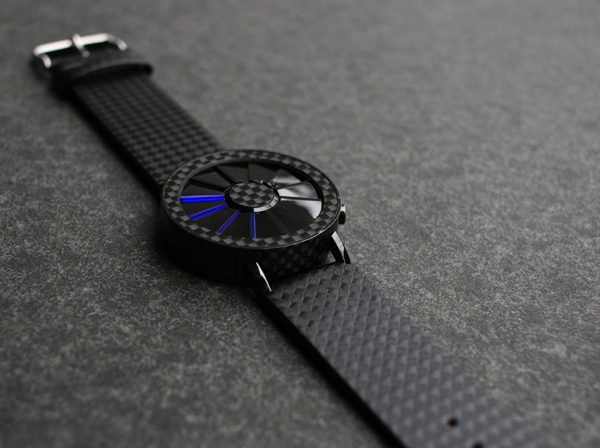 Tokyoflash Japan's newest entry in their line of cool, futuristic-looking time pieces is the Blade Carbon Fiber LED Watch.  The design is inspired by the blades of a turbine engine.  Blue, green, or red LEDs rotate behind the lens to mimic the movement of the blade.  The case is made of carbon fiber, and the band has a "carbon fiber effect".  Time is displayed in either turning or flashing mode.  Turning mode shows the blades "turning" with three stops to highlight the hour position and the minutes positions.  Flashing mode looks more like an analog watch face, with the hour indicated by a lit position and the minutes displayed by a flashing position plus lighted dots.  Blade also has date and alarm functions.
The Blade Carbon Fiber LED watch is recharged via USB.  It is available at Tokyoflash Japan for $169 (€152, £137), including free 5-day worldwide shipping.