We use affiliate links. If you buy something through the links on this page, we may earn a commission at no cost to you. Learn more.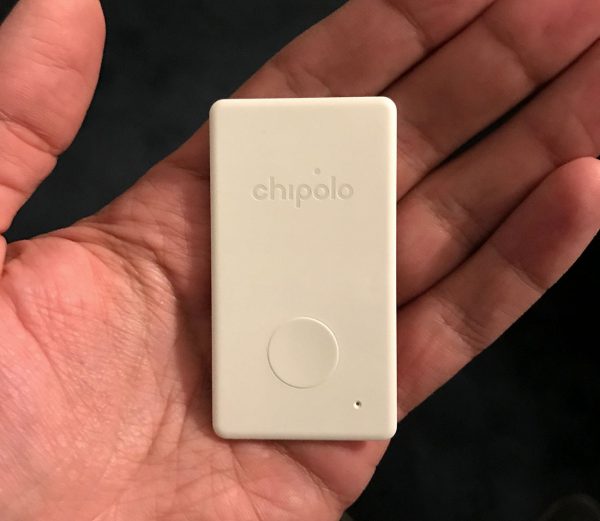 Coming in from a brisk walk around the park near your office, you sit down at your desk and notice something is… off. The familiar lump in your front pocket where you always keep your wallet is conspicuously absent. You try the other pocket, nothing. Your stomach feels cold.
Then your mind begins to race, trying to remember everywhere you could have been in the past couple hours. Just then, you remember the small device you have pushed between the other cards in your wallet, a tiny device from Chipolo, the CARD Bluetooth wallet finder.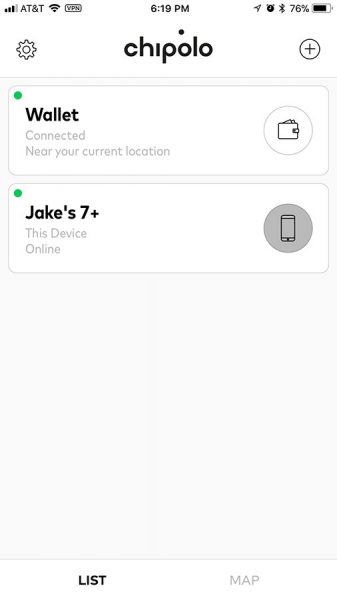 You dig out your iPhone and launch the app. Sure enough, it can't find the device within range, so you know it's somewhere out there. The park perhaps. That bench you like to sit on every once in a while when the sun is out. You can see on the map screen that your hunch is correct, there's a circle toward the middle of the park where you're pretty sure you were sitting.
With your phone in hand, you start back toward the bench. A quick glance at the app's "connected devices" screen reveals that your wallet is nearby. You tap the icon and press the "sound alarm" button and hear a faint electronic melody. As you approach your favorite bench, the melody grows louder, and at last you spot it. Your wallet, right where it fell out of your pocket.
You feel a rush of relief as you rifle through your cash and cards, everything's still there.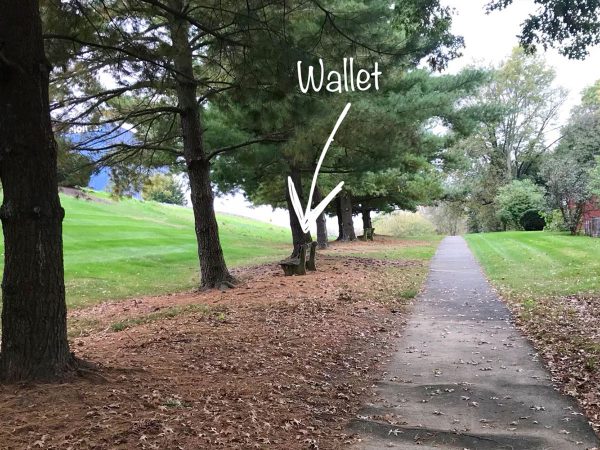 This little story is a rather common occurrence… however the difference between a happy ending and finding your lost wallet, or having to cancel all of your credit cards and get a new license could be due to a simple little device from Chipolo called the CARD.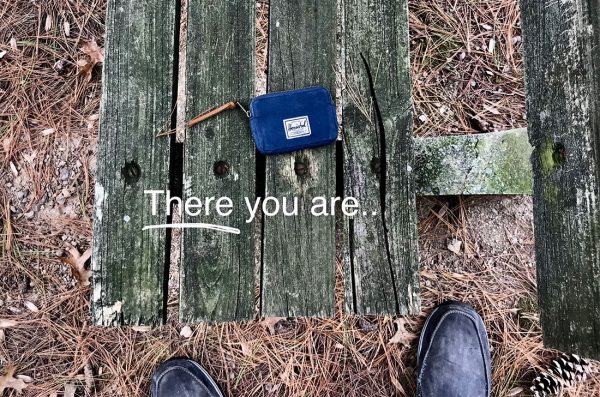 Specs and Function
The CARD is a small, thin device that looks like it could be a simple remote control.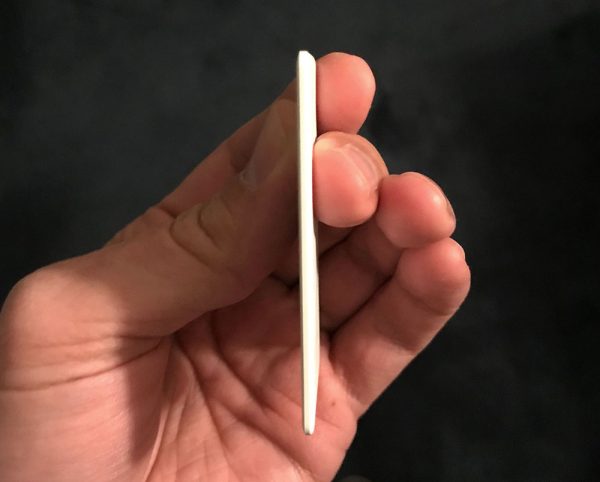 The exact size is 1.45 inch x 2.67 inch x 0.08 inch and it weighs next to nothing. The CARD primarily designed to be placed in a wallet, but you can put it in almost anything you want to keep tabs on, like a purse or perhaps even a bike bag. It's waterproof and the battery lasts for approximately 12 months, according to the website, which is also the length of time it's guaranteed for. Naturally, the device is useless once the battery is dead, but Chipolo has a renewal program that offers you a discount on replacement devices.
The CARD itself is very simple. Basically, it's a simple Bluetooth finder that, when paired with an app, will show you its last location when the connection was lost. You can easily see in Chipolo's app if the device is within range. If it's connected, you can tap a button on your phone to sound a musical alarm on the device. Or, conversely, if you have the device and can't find your phone, you can press the large button on the CARD to make your phone ring.
That's a pretty nice feature and especially handy if you're prone to losing your phone at the bottom of a bag or in couch cushions.
In an effort to give the CARD a fair test, I left the device itself at my house and drove several miles away. When I looked up the last known location, it identified that the device was at a location I labeled "home," and displayed where it was when the Bluetooth connection was last present, and where I was, on a map.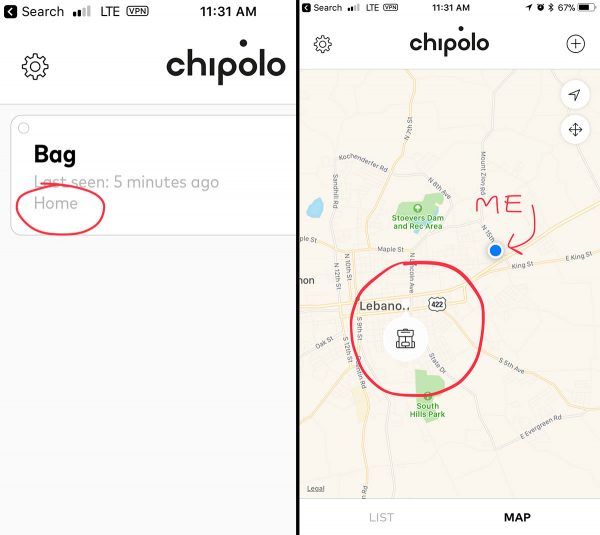 I immediately knew where it was and how much time had passed since I was out of range. It also gave me a fairly specific area of where it was when zoomed in on the map. More than likely, when going back to find the lost CARD, you might have to keep the Connected screen up until you see it come within range. Of course, if someone made off with your item, there would be nothing there to find, and it wouldn't show back up on the map.
In case of such an event, the CARD has a "Lost" mode. If a device is labeled as lost, then it sends out a signal to any Chipolo app in range and tells the stranger that there is a lost item nearby, and sounds the alarm. If another user is within range of your device, it will notify you through the app, email you the new location, and guide you to the lost item. Of course, this mode only works with users who have the app itself. Likely, perhaps, in a large city or heavily trafficked area.
You can also use Chipolo's web app to find your phone. Just log in to the community page to send a message to your phone's screen and sound an alert. Like the lost CARD, if another Chipolo user is within range of your lost phone, as message will be sent to you with your phone's last known location. It's like a "Find my Phone" function on top of the one already embedded in your OS.
Another nice feature is the ability to share CARD locations with friends and family members, so they can see where other devices are on a map at any time, sort of like Find my Friends. You can even see where their phones are as well, if they have them enabled to display on the map.
Conclusion
In my experiments with the CARD just to see how it worked, I think it would be moderately useful in finding a lost item. It would take some guessing out of where exactly you dropped something, as long as it was a stationary place. If your wallet fell out in a bus or taxi, man, good luck. The tinny chime that emits from the CARD when in search mode is fairly quiet. I think that if it was inside a wallet inside another purse or bag, in a noisy environment, it would be difficult to hear unless you were right on top of it.
That said, the app interface is really slick and I love that they included a community feature just in case another user would happen to come across a lost item. Hopefully, the only thing you'll forget is the fact that you're even carrying the device in your wallet. That extra piece of mind is a very nice thing.
The CARD is available now from Chipolo for $35 (or two for $70), along with other Bluetooth finder devices.
Source: The sample for this review as provided by Chipolo. Please visit their site for more information and to order.