We use affiliate links. If you buy something through the links on this page, we may earn a commission at no cost to you. Learn more.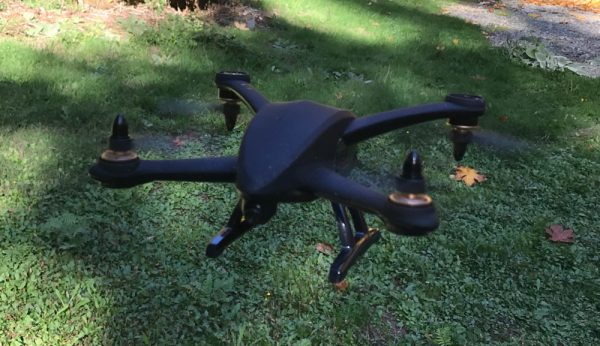 It is amazing how capable and feature-rich personal drones are these days. They have become much easier to control, more fun to fly, and a better bang for the buck. For years, drones have been tempting me but I have never really been interested in the cheap ones and the high end ones were just too expensive for me to justify. But as with most/all technologies, as time progresses devices get better, cheaper, and more capable. In this case, Aerix has recently released a new all-in-one, brushless, GPS and FPV live streaming enabled UAV, the DaVinci racing drone.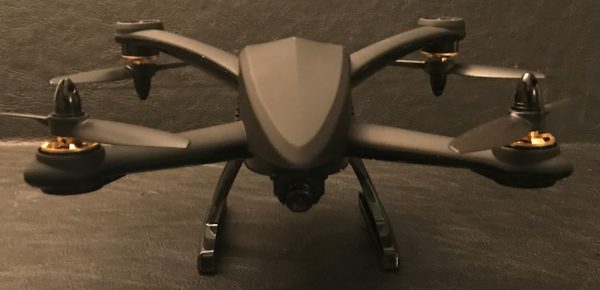 The Aerix DaVinci features four brushless motors, dual GPS, 5.8ghz FPV, 15 minute flight time, in addition to easy flight operation and built-in safety functions. Considering it's relatively small size, the DaVinci is very capable with a solid list of helpful tricks under its belt. It has a matte black rubber exterior over hardened plastic giving it a very stealthy, futuristic look.
Package Contents: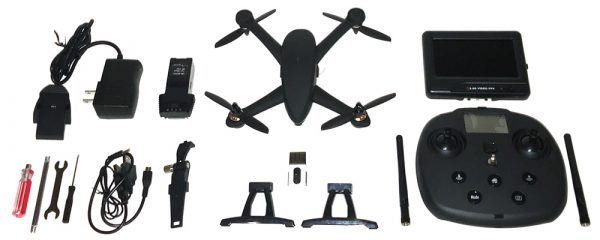 Drone
Controller
4.3-inch FPV Monitor
Drone Battery
Controller Battery
Blades
Landing skids
Charger
Charging cables
Tools
Getting the DaVinci setup and in the air: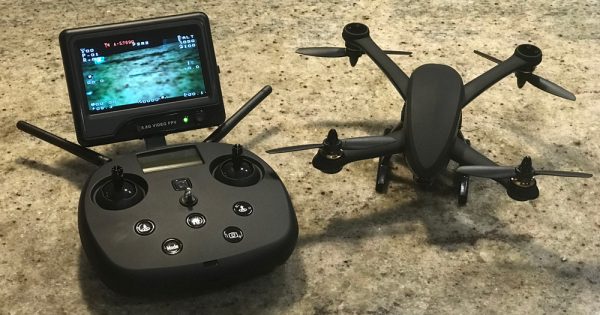 Setup of the DaVinci wasn't the most intuitive thing I have ever done… Being a first-time drone flier, making the DaVinci operational and flight worthy did involve a fair amount of consultation with the manual. Though the manual did a decent job helping me thru the process. The total time before getting up in the air was approximately 10-15 minutes.
In retrospect, I wish I had checked out this video Aerix put together before getting started. But overall, setting up the DaVinci wasn't that complicated or difficult.
Tech Specs:
DRONE SIZE (mm): 245 x 245 x 90
WEIGHT: 230 grams with battery
BLADE SIZE: 120mm Diameter
DRONE BATTERY: 7.4V 1200mAh
DRONE CHARGING TIME: 90 min
FLIGHT TIME: Up to 15 min
TRANSMITTER BATTERY: 3.7V 2000mAh
TRANSMITTER CHARGING TIME: 150 min
TRANSMITTER USAGE TIME: 80 min
CAMERA RESOLUTION: 1920*1080
FPV RESOLUTION: 1280*720
RC RANGE: Up to 250 meters
FPV RANGE: Up to 250 meters
FPV COMPATITBILITY: ALL 5.8ghz Goggles & Monitors (FatShark, FXT, SkyZone, Spektrum etc.)
MAX ALTITUDE: Safety set to 300 feet
The Aerix DaVinci drone is well constructed with quality parts and a durable design.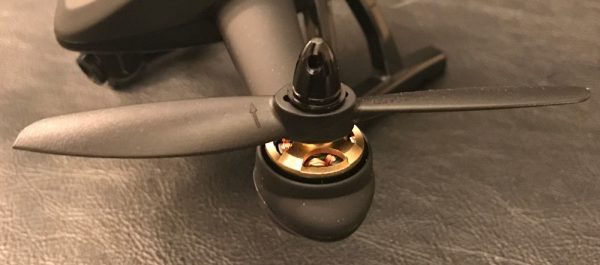 As mentioned above, the DaVinci features four small but powerful brushless motors that can propel the drone up to 30 miles per hour with a safety altitude set to 300 feet.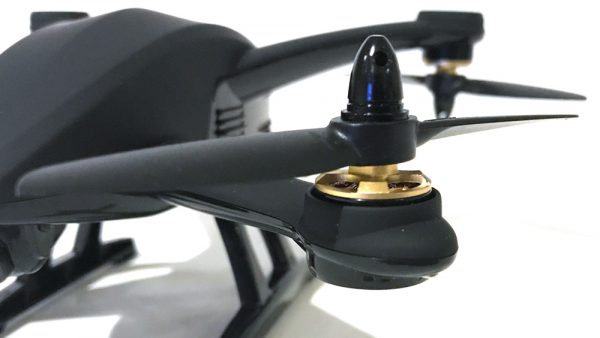 The two front motors are standard/upright and the two rear ones are inverted a very interesting design. According to Aerix this engineering allows "for the perfect blend of torque, thrust and lift."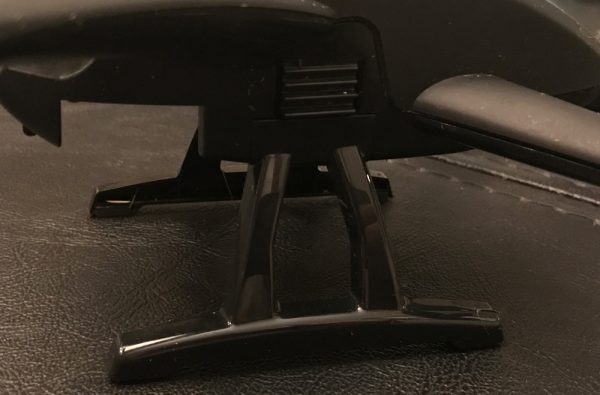 The landing gear is removable and made of similar tough plastic as the rest of the drone. But unlike the matte finish of the main body and wings, the skids have a high gloss finish. They're pretty resilient and put up with a few pretty rough (think Navy pilot landing on a carrier) landings.
Functions:
One Touch Take-off
One Touch Landing
GPS Altitude Hold
GPS Position Hold
One Touch Return to GPS Home Point
On Screen Display: Height, Number of Satellites, Flying Direction, Horizontal Speed, Vertical Speed and Power in Real-Time
Low Voltage Warning with Return to Home and Auto Landing
5.8ghz FPV for Low Latency Live Streaming Video
Flight: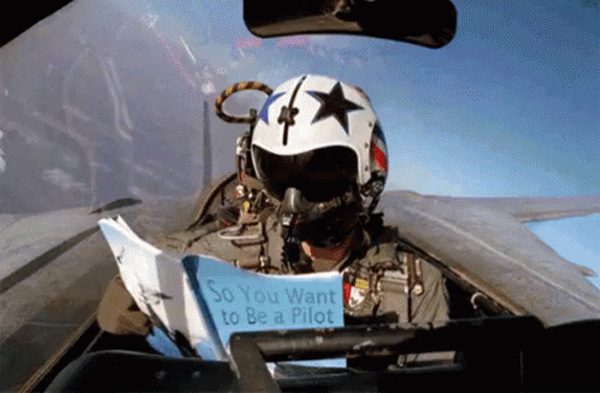 When I described my first few flights with the DaVinci to my niece, she sent me this pic. I thought it very funny cause she was spot-on about my experience of learning how to fly the very zippy drone. I was cautious and AR during my first few flights but was still out of control more often than I'd like to admit.
I got better at flying the little drone relatively quickly. This is my fourth or fifth flight and I have things pretty well under control. The real key is learning how to use the DaVinci's built-in flight assist (auto takeoffs and landings, hold position/altitude, return home, etc) and safety functions allowing for better controlled flight.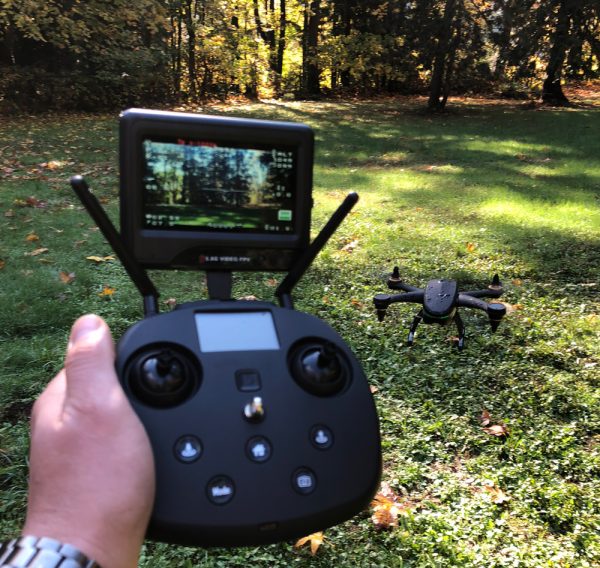 Though I found visual flight much easier to control than using the feed from the attached color FPV screen. In addition to video, the screen also displays: height, number of GPS satellites, flying direction, horizontal speed, vertical speed, and battery power level. I hope to get better at controlling the DaVinci via nose-camera and video link cause that will enable me to fly the drone higher and further than with just visual flight. I'm also considering acquiring an FPV enabled headset to get a cockpit vantage point.
Camera, pics, and video:

The front-facing camera records both still pictures and color video. The camera itself is manually adjustable (vertically). Activating either is done via a dedicated button on the remote control.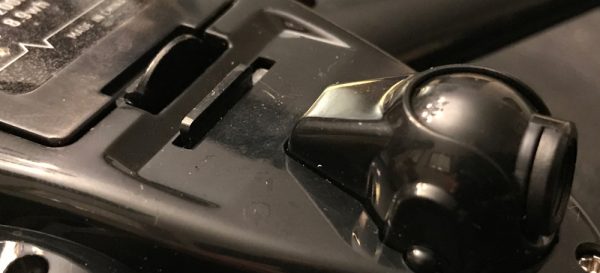 The camera records to a microSD card that is inserted into the underside of the DaVinci. Seems like it should be more protected and secured…one bad crash and that card could potentially be lost forever.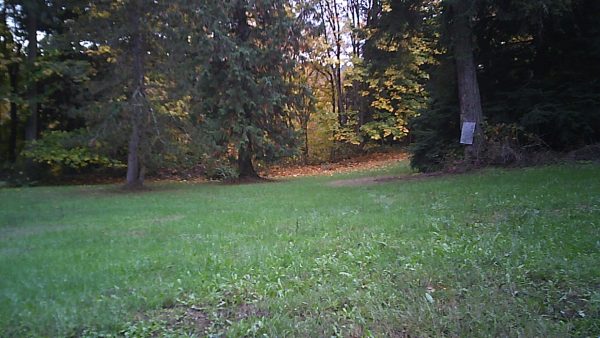 Here is a still picture captured while moving forward.
This nose-camera video was taken after a few days of practice…more or less in control the whole flight.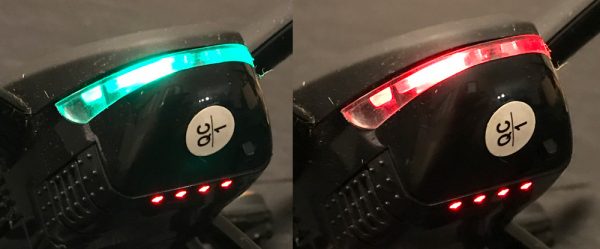 The tail of the DaVinci has an embedded array of LEDs that do a pretty good job of communicating connection and power status of the drone. Basically when its green everything is good and when its red something needs to be addressed (aka no connection or batteries need charging).
Man down…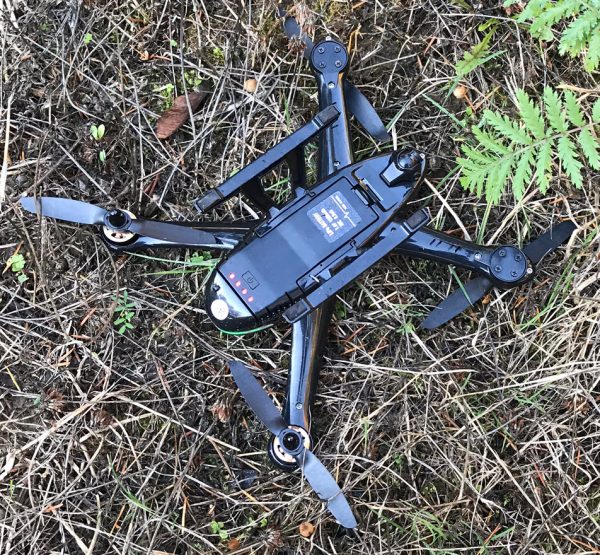 If you can't tell from the pic above, the DaVinci is on its back after a pretty rough landing where it bounced, flipped, and came to a stop. This traumatic incident happened during its maiden voyage (aka initial battery charge worth of flight). One of many actually, including hitting a tree AND several 30 foot falls. As I have mentioned, it has taken me a while to get the hang of flying the DaVinci. That said, I can testify how not only zippy and agile this tiny drone is but how tough it is as well. I was doing my best to be careful but stuff happens. Nice to know the DaVinci survived me being a drone noob.
Overall I have truly enjoyed my time with the Aerix DaVinci drone. Probably the most fun I have had reviewing a product in years…and that says a lot. The DaVinci has been available for pre-order for a while with initial shipments happening in mid-November and new orders arriving in December. Considering its build quality, features, and price point, I highly recommend the Aerix DaVinci to (or a holiday gift for) anyone who has been considering buying a drone.
Source:  The samples for this review were provided by AERIX Drones. Please visit their site for more information and to order.

Product Information
Price:
$295.00
Manufacturer:
Aerix Drones
Pros:

Fun/easy to fly
Well made/solid construction
15 Minute Flight Time
Brushless Motors
Dual GPS
On-Board FPV Camera Streams Live Video
Records to Micro SD Card in 720p at 25fps
Built-in Safety Functions

Cons: