We use affiliate links. If you buy something through the links on this page, we may earn a commission at no cost to you. Learn more.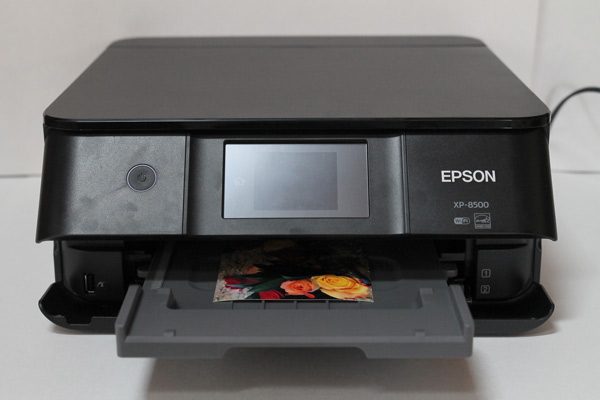 For this review of the EPSON Expression Photo XP-8500 Printer, I am turning it over to my lovely wife who is obsessed with photography and documenting our family's life.  Her experience with at home photo printing far exceeds mine so I will turn it over to her. 
I am scrapbook obsessed. Seriously. I am a firm believer that pictures shouldn't stay on your phone forever and that all the little bits of your life have a story and deserve to be told.  So, every year, week by week, I document what is going on in our lives.  While I appreciate the prints from professional labs, I just don't like waiting for my pictures.  So several years ago I started printing at home.  I print a minimum of 10 pictures per week, but sometimes many many more, so I need a printer that can keep up.
What's in the box?
The Epson Expression XP-8500 all-in-one, manual/start here guide, CD ROM for product setup (everything can also be downloaded from the Epson website, power cord, 6 Claria Photo HD ink cartridges (cyan, yellow, magenta, black, light cyan and light magenta)
System Requirements
Windows – 10,  7, 8.x and Vista, Macintosh – OS 10.12.x, 10.11.x, 10.10.x, 10.8.x, 10.7.x and 10.6.8
Let's take a look
Out of the box, set up was simple.  Just plug it in, lift the scanner glass to insert the ink cartridges and the printer walks you through the setup.  The calibration process is rather lengthy compared to other printers and requires you to print a few items and answer multiple questions about the print quality.  Overall, the set up took about 15 minutes.  I was then able to connect it to our wireless network and install the driver on my computer.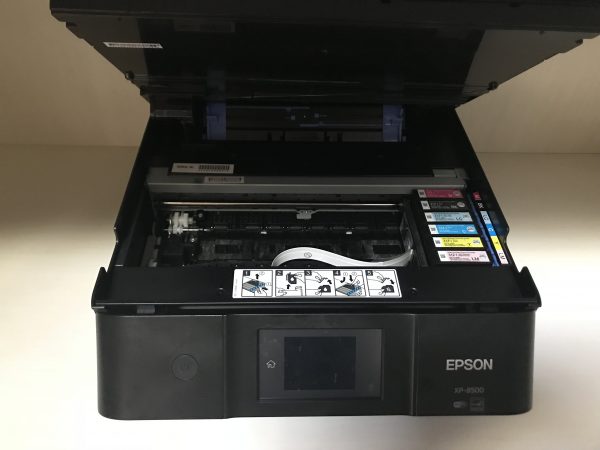 This printer has a small footprint (13.7″w x 13.4″d x 5.6″h) and it is lightweight (14.8 pounds).  You could easily place this on the corner of your desk and not lose much workspace.  Please note that these dimensions will be slightly different when the printer is actively printing because the paper output tray opens and slides out.
There are only two buttons – a power button and a home button.  The home button will take you to all the options – copy, print photos, scan, various prints, settings, and maintenance.  The Various Prints menu has a variety of options such as types of design paper, calendars, greeting cards and more.
There are three ways to load the printer.  The upper cassette is designed for photo paper in the following sizes: 3.5″ x 5″, 4″ x 6″, 5″ x 7″, 16:9 wide.  The lower cassette is designed for your copy paper, presentation paper, and legal sized paper.  There is also a rear paper feeder for one-off projects and it can accommodate a variety of paper sizes and types.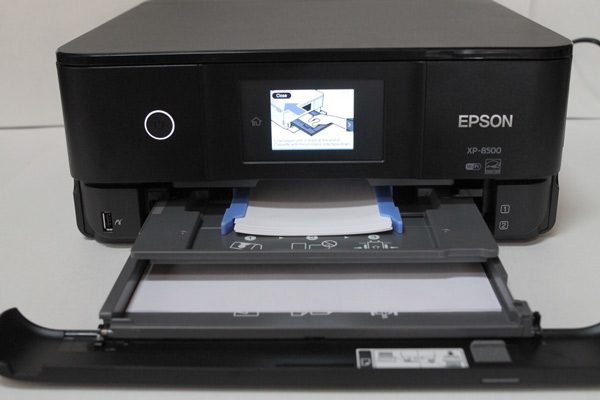 The printer has both SD and USB ports on the front so you can print without using your computer or phone.  I usually don't print directly from a memory card; however, for me, this was convenient when scanning a document so I could automatically save it to the device.  Also, with the Epson Event Manager software installed on my computer, I was able to select my computer as the destination and the scanned document showed up on my computer screen a few seconds later.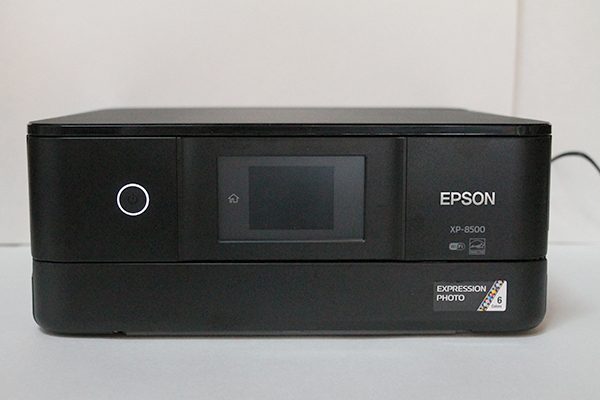 There is not an automatic document feeder.  To be fair, most printers in this class do not have them.  Since I mostly use my printer for printing photos this wouldn't deter me from buying this printer, but anytime I have to scan more than two pages at a time, I wish I had one.  This may be something for readers to consider if you feel that the scan and copy feature will be used often.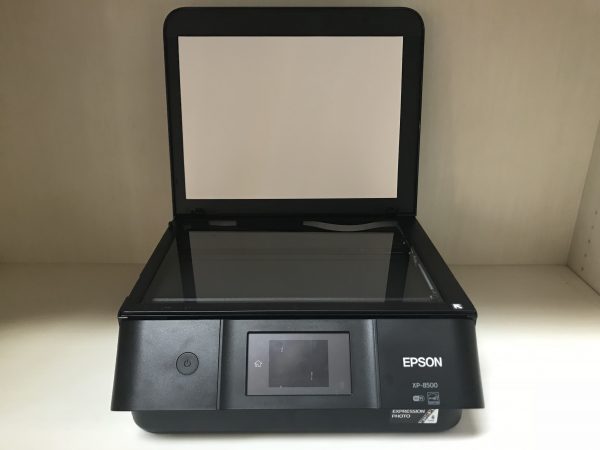 Let's start printing.  There is a catch in the paper tray when removing and inserting but I found if I was a little too fast it was easy to pull the tray all the way out or push it too far in.  Once I realized this, I was a little more careful and it was easy to feel when it was inserted correctly.  When you insert paper into the tray, there will be prompts on the screen to select the type of paper to ensure proper printing.  I have other printers that I can hear printing from an adjacent room but not this one.  The printer is very quiet.
For everyday document printing, the XP-8500 can print about 9 pages per minute.  It can also print two-sided documents to reduce the amount of paper used (print speed is 4.7 ppm for all black ink when printing 2-sided).  There are certainly faster document printers out there but this was sufficient for my home printing needs.  After all, this printer is a photo printer first.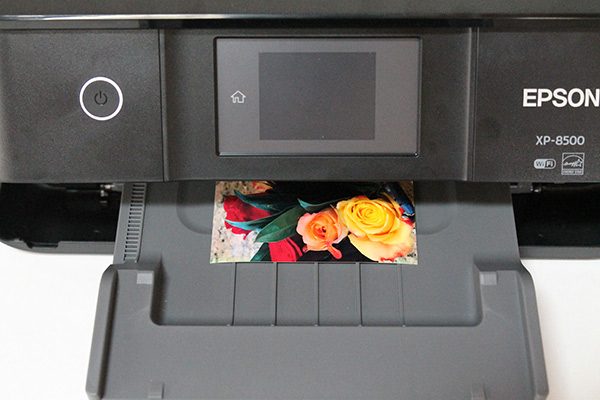 Epson says this will print professional quality photos in as little as 10 seconds when printing in draft mode and I found that to be true.  I printed a majority of my pictures in a higher quality but the time it added was negligible.  I have been printing pictures wirelessly from my phone for almost a month and it produces crisp images with vibrant colors.  Also, the ink used is the Claria Photo HD ink, which Epson says will produce images that last up to 300 years in an album.  As a scrapbooker, archival quality photos is a must and it is awesome that an at-home printer can produce them.
When selecting a printer for home use, there are a lot of factors to consider – primary use, print speeds, running costs, etc.  If you are looking for a printer to document your memories, the Epson Expression Photo XP-8500 Small-in-One should be a high contender on your list.  At a retail price of $249.99, I believe you get a great bang for the buck and would highly recommend this printer to our readers.
Source: The sample for this review was provided by Epson.  For more information please visit the product page and you can order from Amazon.